by Tia Creighton
I'm standing on the porch of another split-level, post-war modern home waiting for an answer. I have a green, plastic, grocery bag full of Girl Scout cookies, and I know what I'm going to hear. I am out of Thin Mints, and that's all they want.
"Got any Thin Mints?" a man in a ribbed, white, tank tee shirt's going to ask while he scratches his electrified salt and pepper hair and tugs his shirt down over his hanging belly.
"No," I'll have to respond through the screen door he hasn't opened. "I'm all out. But I have lots of—"
"Neah, no thanks, kid. I only like the Thin Mints." He'll shut the door so quickly air will whistle over the jamb, and the door knocker will clap.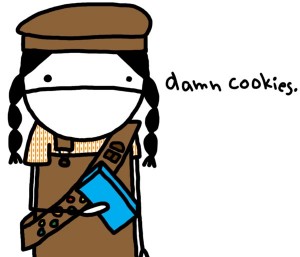 "Scout selling cookies," he'll shout to his wife. "No, she was out! Why do they damn bother if they don't have any Thin Mints?" I'll hear him mumble to himself as the channels begin to change.
I'll swing my bag of unwanted Sandwich creams and Shortbreads across to my other shoulder and pad on to the next house hoping against hope someone allergic to chocolate or who threw up on Andes Candies as a kid lives there.
image: "Girl Scout" © Natalie Dee  http://nataliedee.com/