by James Mitchell
Ian had become a wave. This was how it worked: he loved Sandra so much that it had melted his heart, and then melted his body and his limbs to water. The body is roughly two-thirds water, and it does not take a lot for the other third to catch up. He had longed for her so much he thought he would cry, and then before he knew it he was crying. Crying into his pint, and crying into his sink, and crying into his bath. And in the blink of an eye, the bath was full up with Ian.
Ian did not even notice; he was too busy thinking of the time they'd painted the wall lime green and decided to keep it that way anyway, and the time he'd picked sweet popcorn because she didn't like salt, and how he had grown to love it. So he was quite taken by surprise when he found himself dribbling through the overflow, down a rusty Whitechapel pipe and into the Thames. He knew it was the Thames because his vision was full of a green shade that no Londoner can mistake.
Ian drifted. He flowed in and out of the currents. "Oh my!" he burbled. "I'm lost! I'm alone!" The green darkness shifted and swirled and offered no reply.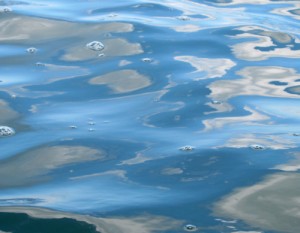 As time passed, Ian began to gain control of his watery form. He watched the plankton that dipped and swerved about the Barrier, and from them he learned how to ride the currents and eddies. He listened to the gossip of the passing fish, and learnt how the East-Thamesers saw the West-Thamesers as tragically provincial. And he lapped softly at the woodwork of the jetties in Putney, watching the winter relax into spring, and spring push and stretch itself up into summer. The summer whispered through the waters and warmed them just a degree or two, bringing strange new life to the river. More than once, a lonely Ian would find himself drawn to the Southbank, and there he would swirl beneath Waterloo Bridge, stroking the sides of the pleasure boats that wound their course between the monuments. He was water, yes, but as he clung on the boats that slid past he was also clinging onto the hope of seeing Sandra sitting in one of their seats. Perhaps she would have a new man. Perhaps she always had. Ian tried to remember, but all his aqueous imagination could hold was a thin outline of her face.
The months trickled away, and Ian's search lost its core and its heart until it wasn't really a search at all. It was a routine, like the fisherman who sits at the same spot on the fishless bank day after day. Tate boats and tour boats lost their boat-ness entirely to him, and became just shapes and disturbances. And Ian had stopped being truly alone, because Ian had stopped being Ian, and something began to change. As he slowly allowed himself to disperse, a voice swam into his consciousness.
"Blrblrblrblhello."
"Erm… Hello?"
The river is a kind of cold. But the voice was a kind of warm, and because they were dispersed in and across each other Ian felt the voice as much as he heard it. And while such language does not work in the river, Ian had enough of his land-sense to call the voice feminine. His bubbles formed the long-unused words of the land-folk.
"Are you..?"
"Yes. My name's Janet."
Janet's bubbles tingled through Ian. She told him her story: One unexpected party. Five months of bliss… and then a month that was wrong in a way she couldn't remember the words for. A strange slipping away, a Very Important Meeting, and the chapter where Janet was sitting on the steps of Camden Lock, her eyes streaming down her blouse and through her blouse, and collecting with the moisture of her palms and feet and head and a sudden awakening as a lonely wave caressing the barge she used to call home.
"It's… cold. Isn't it?"
"It can be."
Ian mingled with Janet. And their water was mixed, as it always had been, with Frank, and Imogen, and Clara, and Nigel, and the millions in this life who think themselves alone.