Rebranding Literature is a simple plan to make literature more relevant in the marketplace of ideas by maximizing revenue potential.
Over the course of human history, great works of literature—including sacred texts—have generated less revenue in aggregate than a single day's worth of Starbucks sales.
Why is literature losing out so badly to the coffee mongers? That they sell a drug, legally, we rejected as too simplistic; many retailers of drugs legal and illegal don't get wealthy. We attempted to answer the question by visiting a local Starbucks. The answer is shockingly obvious if you have eyes to see. Just look around. Everything is for sale. Little racks with branded items pop up like toadstools. Nature abhors a vacuum; so does Starbucks—every empty space is filled with something you could buy. So, we have initiated a project to go back and apply what we've learned to great works of literature in hopes of raising greater revenues.
If sacred texts cannot be brought under the just great yoke of wealth-generation, what texts can?
The Song of Solomon: The Bride and the Bridegroom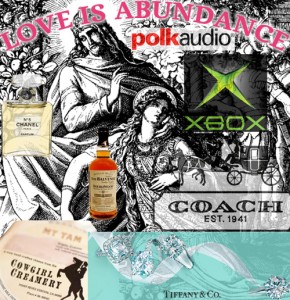 by God, Solomon, and The Stoneslide Corrective
1
I have compared thee, O my love,
to a company that retails luxury goods.
Thy cheeks are comely with Tiffany's jewels,
thy neck with pearls from Harry Winston.
We will make thee borders of gold
with studs of silver.
While the CEO sitteth at his table,
my Chanel No. 5 sendeth forth the smell thereof.
An Xbox 360 console is my well-beloved unto me;
he shall lie all night betwixt my breasts.
My beloved is unto me as a cluster of syrah
in the vineyards of Domaine Jean-Louis Chave.
Behold, thou art fair, my love;
behold, thou used Nivea;
thou hast doves' eyes,
thou hast eyes lined with Mac mascara.
Behold, thou art fair, my beloved, yea, pleasant:
also our bed is a handcrafted McRoskey.
The beams of our house are cedar,
with Dricon fire-retardant treatment,
and our rafters of fir,
our rafters cost $12 a linear foot at Lowe's.
2
I am "A Rose for Emily," and the lily of the
Valley of the Dolls, both available at Powell's,
Amazon, or your local independent bookstore.
As the Hana Morae among the confinement hog buildings,
so is my love among the ladies.
As the Ferrari among the domestic makes,
so is my beloved among the boys.
I sat down under his shadow with great delight,
and his Polk Audio MM6501s were sweet to my ear.
He brought me to Redd, in Yountville, the heart
of Napa Valley dining, and his banner over me was love,
even while the waiter was explaining the prix-fixe menus.
Stay me with Balvenie DoubleWood single malt scotch,
comfort me with Cowgirl Creamery Mt. Tam
triple cream cheese: for I am sick with love.
His left hand is under my head,
and his right hand doth embrace me,
and I smell the leather of his Coach gloves.
I charge you, O ye daughters of Jerusalem,
by the roes, and by the hinds of the field (because
nothing runs like a Deere)
that ye stir not up, nor awake my love,
till he please.
His Samsung Galaxy S3 is set on silent,
it will not ring and awake him.
The voice of my beloved!
Behold, he cometh
flying in first class,
shopping in the malls.
My beloved is like a celebrity or a young star:
behold, he standeth before a Canon C300,
he looketh forth at the lenses,
showing himself in his Polo t-shirt.
Read other Rebranding Literature articles: