by Douglas W. Milliken
After Thursday practice, while the other boys got bored and wet in the showers, four of us hung back in the locker room and choked each other because we didn't have any money to buy drugs, or anyway any dealers we could trust to not sell us ibuprofen or oregano. It was a game we'd learned in middle school, a sort of major upgrade from holding your breath while standing up quickly: someone would put you in a sleeper hold until you passed out, then you'd have a crazy dream and wake up all electric and astoundingly high.
First Paulie choked Donny, then I choked Paulie, and since Kelly didn't like to get choked, he choked me and the game was over. The last time we'd played, I'd dreamed of that mean varsity girl, the improbably named Willow Green, suffocating me with her equally improbable ass, and I was really looking forward to a reprisal of that, but instead all I got was the Trix Bunny dancing frantically with blind panic drizzling from his cartoon eyes while singing in a bubble-gum pink karaoke bar. I was sitting at the footlights, laughing like an idiot. Silly rabbit, I kept trying to say. But I couldn't remember the rest. Then I woke up and everyone was looking at me animal-crazy and moon-eyed—Kelly, for whatever reason, was still holding me from behind on the locker room floor in a hard, restraining hug—but I felt beautiful and washed clean and holy.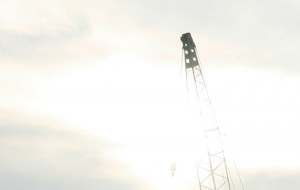 "You okay, man?" Kelly asked, easing his grip on me just the tiniest bit.
My head drifted above my body like a birthday balloon on a string.
"I feel like the tip of God's penis," I said all breathlessly and laughed. "Fucking awesome."
"It looked like you were having a seizure," Paulie said. "Flopping around like a fish."
But that was stupid and I told them as much. How could I die when the Trix Bunny's dancing for me? I couldn't remember ever feeling better in my life. I got up off of Kelly on the locker room floor and changed my clothes but didn't shower because I like the way I smell, and the four of us walked out into the cool purple dusk, from school through town toward my house. There were adult couples walking on the sidewalks, holding hands and looking pathetic. They thought walking was fun. They thought holding hands was fun. Fuck those guys. Once, a girl in sweats ran past us, and even though her pants were baggy, you could clearly see her sweet little butt cheeks lift up and drop with each launching step of her stride. I've always loved watching girls run. It makes me want to chase them. I dropped my gym bag and chased the running girl for a while through downtown—really, aside from us and the occasional coupled-up old fucks, there was no one here—but she was faster than me or anyway, wanted away more than I wanted her, so I gave up and walked back to my friends. Kelly was carrying my bag.
"You're an asshole," he said and threw my bag at my feet. But I just shrugged. Ever since choking me, Kelly had been a real downer. My seizure had probably killed everyone else's highs, and I guess Kelly, not being high, just got low, but I felt fine. Running had actually made me feel lighter, more buoyant and electric. This high would not stop.
The plan was for us to go to my house and pressure my folks into buying us some pizzas. This was all before my parents got divorced and my mom took to singing "Proud Mary" at all the local bars even though none of them had juke boxes and my dad and I had to go live in my uncle's trailer, although he never really struck me so much as my uncle as some guy my dad liked. But like I said, none of that had happened yet. As we walked to my house, Donny told us about his girlfriend giving him a blowjob.
"It was after the movie last night."
"What'd you take her to?" Paulie asked.
"I didn't take her, she took me. I don't have a car, asshole."
"Well?"
"Titanic."
"Was it good?"
"It was fine."
"That DiCaprio guy looks like a tampon to me."
"Do you want to hear about this blowjob or what?"
It was a little noncommittal, the way no one said anything.
"So we were in her car, right, after the movie, and she drove us out to the glove factory because they don't do third shift there anymore, and so we parked out by the receiving docks or whatever, and then we started making out. And after a while I had my hand up her shirt, you know, just squeezing the shit out of her tits, and she had her hand in my lap, right, kinda pinching me I guess, and then I must've done something right because out of nowhere she fucking does it."
"Does what?" I asked.
"She blew me."
We all stopped for a second while I kicked the side-view mirror off a parked car. "Are you retarded?"
A voice somewhere behind us in the dark started shouting, so we had to run for a minute. Then the shouting stopped. Which made running pointless. We slowed again to walking.
"Wait," I asked, "what do you mean, she 'blew' you?"
"I mean. I think I must've done something with her clit or something—"
"She keeps her clit up inside her shirt?"
"Man, shut the fuck up, Paulie. My hands were everywhere on that girl! I don't know what I was doing. But I must've done something right, right, because she stopped kissing me all at once and looked at me real funny, and then she spit in my mouth."
"She spit in your mouth?"
"Yeah."
"Then what?"
"Then nothing. She blew me and that's it."
We were quiet for a minute after that. Like no one wanted to say what had to be said. When Kelly finally spoke up, it was like a preacher responding to some deep and terrible fallacy.
"Man, that's not a fucking blowjob."
"Yeah it is."
"No. It ain't. That's just a bitch spitting in you."
"She snowballed you," Paulie added, looking very pleased with himself for being so helpful. But that just made Kelly madder.
"No! That's when a girl spits your own come back in your mouth. She has to blow you to snowball you. What your girlfriend did is just gross."
"Since when are you an authority on blowjobs?" It's like if he said it just right, Donny could make Kelly out to be the fool.
"Dude. What we did at Coach's after last week's game against Wytopitlock? Those were blowjobs. Your weird-ass girlfriend has problems."
"Man, guys can't give other guys blowjobs."
But Kelly wouldn't even look at him.
"I mean, that's what gays do, right?"
And now none of us were talking. Sometimes it's embarrassing how dumb we can be. There's all the scummy debris of stupid people doing stupid things throughout the world. Then there's us. Underneath the scum. No wonder the varsity girls all hate us. We deserve their contempt. But right then, walking with my moron friends, I couldn't even care. About blowjobs. About being dumb. None of it. I felt like a particle of light beaming through the universe, burning high on my own speed. My spine was a balloon string and I was rising through the clouds. I didn't think I'd ever burst, even when I was bursting. I know that's mixed up, but fuck it. I was a hot molecule and I was a rising balloon and yes, it's possible to be so many things all at once and not know it. Balloons don't know shit. Photons cannot understand such things.
All of this was getting confused in my head with what we were talking about and what we'd been doing—the choker holds and vandalism and the sweaty, grunting bitch slap that was every afternoon practice—so it made perfect sense to me when I announced, "Violence is fun." In the purple night air, bats were floating all around. "All sex is weird."
Donny opened his mouth to say something then. But before he could, Kelly sealed the deal. He grabbed Donny's shoulder and spun him so they were face to face. Then he spit in his open mouth.
"There," he said, "now we're both gay. Happy now?"
Which pretty neatly put an end to that.
It was dark and crickety out by the time we reached my parents' house. All the windows were lit up bright and glowing. My cat was in the front yard, high-stepping in the dewy grass and talking to himself. Even from the sidewalk, I could hear Mom's voice and Dad's voice ringing out from inside the house, beating out these amazing rhythms like African drums in call and response. Then I heard something smash.
"Uh, Coleman." Paulie was wearing his math-class face. Whatever he was thinking didn't make any sense to him. Maybe he was still high from getting strangled after all. "Do you think maybe—?"
"What?" I was already on the cement walkway cutting through the yard. My friends were all still on the street.
"I don't know if we should go in there, man," Kelly said.
I guess I'd convinced myself that there was already pizza inside. Crisp pepperoni and peppery crust. I could smell it.
"They're just making music," I said. "Everything's fine." But they didn't come any closer. I went up to the door and touched the handle, and it felt cool and vibrant in my hand. Somewhere inside, Mom was singing like Tina Turner. Which I guess made my dad Ike. I was high and on fire approaching the brightest center of the sky, and if my friends said anything right then, I didn't hear it. I was rolling. We were all rolling. I opened the door to my parents' home and stepped inside, the song of every photon singing all around me. Bathed in the light from everything.