Do you want to be a used car salesman? Do you want to work the overnight shift for a janitorial service? Those are just a couple questions one college's athletics coaches will soon be asking prospective recruits. In a new recruiting program seen as a swipe at the University of California and its worst-in-the nation graduation rates for football and basketball players, Gulf Isthmus University is capitalizing on reports about Cal's admission standards for student athletes in revenue-generating sports.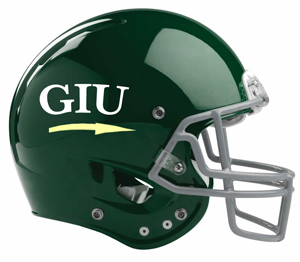 Calvin Wilson, director of sports information at Gulf Isthmus, says it's not that they see anything wrong with being a janitor. "My dad was a janitor. But you don't need to waste years of your life, barely attending classes, and risking injury in athletic competition to be a janitor."
Gulf Isthmus University, located in Orina Seca, California, just 65 miles from Berkeley, is a respected school whose sports programs garner laurels, too. In a new recruiting video, a voiceover informs viewers that "some schools only want to use their student athletes for profit and publicity, without regard to their duty to educate these young people. At Gulf Isthmus, putting the student first in 'student athlete' isn't just syntax. It's our mission and our passion."
A more provocative section of the video follows a one-time Cal starting linebacker in his daily life, as he leaves his shift as a server at McDonald's, gets turned down for a new iPhone because of bad credit, and looks for something to eat in the empty cupboards of his kitchen. His exclamation, "Fuck, Pop-Tarts again!" has become a viral hit and a catchphrase on Twitter. The video ends with the statement, "The Golden Bears are a good choice if you want to end up at the Golden Arches."
Marvin Bommerpantz, chairman of the California Board of Collegiate Oversight and Standards Enforcement, has been shown the video and accompanying brochures and handouts. Bommerpantz says, "There's nothing slanderous or libelous there about Cal. Unfortunately, it's all true."
In the video, Gulf Isthmus doesn't pull punches about its drive for athletic excellence, either. According to their Sports Information Department, eight current Major League Baseball players, five current Major League Soccer players, and three current NFL players are Gulf Isthmus graduates. "If you want to be a professional athlete, we're your school," the video says. "But if you also care about your life after you're done with sports, then we're really your school."
As reported by Ann Killion and Nanette Asimov in the San Francisco Chronicle, the University of California has a system in place that allows "athletes who average just 370 out of a possible 800 in each subject—math, critical reading and writing—[to be] invited to enroll…." This information comes from a report by John Cummins, former head of intercollegiate athletics at Cal, and Kirsten Hextrum, a doctoral student in the Graduate School of Education, according to the Chronicle article.
"It's like we tell our recruits: when you treat your players like morons, you're asking them to be morons," says GIU's Wilson. "We expect a lot more." Asked for examples of former GIU athletes who have gone on to non-athletic success, Wilson provided the name of a dentist practicing in Alameda County.
A Bears alum who works in the sports information department at Gulf Isthmus leaked the school's new recruiting materials to Cal's departments of athletics and sports information. The alum, who spoke on condition of anonymity, says his conscience dictates that Cal pay a price for its academic standards when it comes to student athletes.
"As much as I hate to say it, I want them to be embarrassed. They should be. Cal's my school. I'm so proud of that. Or at least I used to be. If I don't see real, measurable progress in the standards to which Cal holds student athletes, I might cancel my family's season tickets next fall."
Cal undergrad Cornelius Jones takes a different tack. Jones calls the situation a "total face-plant. All this shit will pass once they get the dorks back in the labs and the real people in Strawberry Canyon."
Fellow undergraduate Sarah Planck disagrees. "I can't wait for the day when student athletes are treated exactly like students."
More news out of Gulf Isthmus University:
Sociologist Finds Absurdity Has Critical Role in Human Power Dynamics
Unconventional Funding Source Puts Researchers in Limbo
More from sports:
Brewers Fan Apologizes Preemptively for What He Will Do in 2014