Author and occasional journalist Greg J. Detter was in New York over the weekend. Alex Rodriguez happened to take to a podium, and Greg was there to capture it. Rodriguez had some things he wanted to get off his chest—or perhaps his back—and spoke at length. Here's the transcript of that ghastly appearance by ghastly A-Rod.
Listen, guys, I'm gonna be real honest with you right now. And let me clarify that pledge—I'll be honest with you right now … and not a single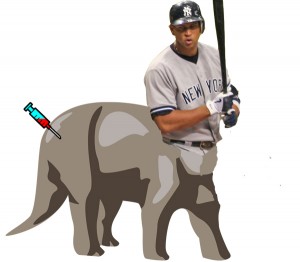 moment beyond that. I'll evade, twist, muddy, cloud, and outright lie on the topic of my alleged use of performance enhancing drugs, but for one shining moment, I'm going to be uncharacteristically forthright.
This is gonna get ugly; it's gonna get tired, and frankly, I'm going to drive this thing into the ground like a coffin, hopefully for years to come. And for that I apologize. I'm genuinely sorry … but make no mistake—I'm not nearly sorry enough to make this any less painful for fans of baseball or the general public overall. Buckle in, my friends, I'm not going away any time soon.
As the evidence against me mounts, coupled with my reduced suspension of 162 games, conventional wisdom says that I find the deepest hole, quietly crawl into it, and cross my fingers in hopes that history reflect kindly on my accomplishments when it's time for Hall of Fame voters to decide my fate. But really, do you expect me—ME?—to embrace conventional wisdom? Not only am I much more comfortable spewing half-truths (no-truths) through these beautiful lavender lips of mine, but baseball has a precedent for ducking the truth in this situation. Hell, Pete Rose all but frolicked through the meadow with his bookmaker while Caesar's Palace betting tickets dangled from his back pocket, yet he stood firm on a granite platform of denial for the better part of two decades before confessing to any semblance of guilt. Barry Bonds may as well have shot steroids in the batter's box during Game Six of the World Series, but he appeared repeatedly on national TV with a head so inflated, he looked like a Blow Pop, pronouncing his innocence to an unbelieving yet deferential audience around the world.
Remember my high-profile interview with Peter Gammons a few years ago where I masterfully and categorically denied any wrongdoing, save for a brief error in judgment in 2003? Well, that interview will look like George Washington admitting to wayward use of an axe when you see the suspense-free theater with which I plan on regaling you across the coming decades. Anthony Bosch went on 60 Minutes recently, telling tales of drawing blood in a nightclub bathroom, blowing the whistle on the hundreds of text messages I sent him, and even exposing himself as a dumdum of the highest order for declining my offer of $50,000 just to keep his mouth shut. You may be moved by his account, but even the most compelling of evidence will crumble like yours truly in the playoffs when I play the "liar, liar, pants on fire" trump card. And if you're not buying it, well, I just don't care. I'm pretty sure the old saying doesn't go "Confess! Confess! Confess!" As the great motivator Stuart Smalley once said, "denial isn't just a river in Egypt." And he's right, because one of the few things I do better than flex my beautiful muscles is deny that they are anything less than God's creation. Deny! Deny! Deny!
In the coming years, the interviews and statements are bound to appear on smaller stages under dimmer lights, but don't mistake that for me going away. Peter Gammons will turn into Maury Povich, which will give way to me sharing a room with Dee Snider and William Baldwin on a VH1 reality show. I don't care if I'm calling bingo at Adventureland Theme Park in Des Moines, Iowa—you'll always be able to find me refuting any and all claims that I'm anything less than the pure-as-the-driven-snow slugger you've never so much as hoped I actually was. But hey … I'm innocent, so why wouldn't I? LOL, right? Yeah, I know, I said I'd be truthful for the moment, but I really need the practice.
I suppose while I'm on this momentary vacation from my true character and under the very brief spell of honesty, there are a few others to whom I should apologize. Pipe down, Seattle, I'm not talking to you. If anything, you should be thanking me, or at least taking back all those hurtful letters you wrote me. You called me Pay-Rod and A-Fraud when I left for Texas—among other more colorful and vengeful sobriquets—but yours was the only team that got what everyone seems to have wanted from me—purity. I still don't see why being pure is such a desirable quality, by the way. Do you want a virgin in a white dress or do you want a monster who hits 50 bombs a year?
Anyway … back to the apologies. I guess while we're on the topic, I should probably say a little something to Ken Griffey, Jr. Griff, I'm sorry. I used to spit in your Gatorade and put my toenail clippings in your pregame sandwiches. But I was supposed to be the handsome golden boy—not you! And you know what? If you had gone the same route that I went later in your career, you might have been able to run from first to third without stopping by the Disabled List. Say what you want about my reputation, but you looked like Danny Glover in Lethal Weapon 4 the last few years of your career.
Texas, you're up next. I'm not above saying it … I'm genuinely sorry. I'm sorry I ever signed with the Rangers. They say everything is bigger in Texas, and your mouths are no exception. Yeah, in my three years in Arlington, I took more needles than a pin cushion, but I gave you what you paid for: 156 homers, three All-Star games, two Gold Gloves, and an MVP award. And you're mad at me? I made Babe Ruth look like a Little Leaguer and traded my testicles for bacne … and I did it all for you. Texas, I'm sorry I'm not sorry. In fact, how about a thank you?
New York, I don't even know what to say to you. I'm sorry I could never be your pretty boy Jeter. Hell, I thought I left Griffey in Seattle. What's the obsession with these little angels? You may think Jeter's shit doesn't stink, but I've got news for you … well, you're right. It doesn't stink. In fact, it smells of lilacs with chamomile. But what makes Jeter so special? Because he's actually good at professional baseball when the games matter the most? Hmmmph … big deal. Remember that 500-foot jack I hit against the Royals in July? You're welcome. More on Jeter in a minute … and quite possibly for the rest of your life.
A couple others real quick: America, I'm sorry I ruined Madonna for you … and trust me, I don't think you're going to hear any complaints on my chemical makeup from the Material Girl, if you know what I mean. Also, my apologies if you can't help but think of me when you watch There's Something About Mary and Almost Famous, but I'd be lying if I said I wasn't proud of touching home plate with Cameron Diaz and Kate Hudson. But, you know what, the truth is—see, truth again—I want you to think of me whenever you see one of those lovely dames of the silver screen. I want you to be forced through the power of insinuation to imagine my naked body lying and thrusting against hers. I want to be in your head all the time, because, really, I deserve that. Whether or not the Hall of Fame voters think I belong in their little club, I'll definitely be in their heads, Kate's heels bouncing off my grade-A gluteus.
Lastly, I can't forget my boys over at the Biogenesis Clinic—even you, Anthony Bosch. I know I was your best customer, but those Nosey Nellies ruined that for all of us. It stinks, too. My Customer Rewards Card was full and I had a free shot coming. And that Bosch—for all his many faults—really knew how to mix a mean peach testosterone smoothie.
Guys, here's the bottom line: I just wanted to be the man. You know the cool guy blaring music out of his Camaro, windows rolled down, slapping the side of his car to the beat of the music … that guy was the man! And I just wanted to be him. Really, is that so wrong? I would have done anything to be that guy. Anything. It's important to me that you know what that means. Would I shoot, drink, eat, rub, and absorb any kind of performance enhancing drug under the sun, just to be the man? Well, obviously. But I wouldn't stop there. I'd shoot a baby seal, eat it on Thanksgiving Day, wash it down with children's tears and serve the Pope's kidneys for dessert if it would make me a better player. Why doesn't that level of commitment mean anything to you people? And why don't I get credit for having not served that marine mammal-themed Thanksgiving dinner? Sure, you'll have to slap an asterisk on just about everything I've ever done in my career, but you've never heard my name come up in any kind of baby seal poaching controversy. Yet you guys act like Jeter is the only good guy in the game. And that has always been my biggest problem. No matter what I do, it's always been about Jeter. Jeter! Jeter! Jeter! [At this point Rodriguez pauses to regain his composure. He wipes tears from his eyes.] And before you ask, the answer is yes. Yes, I absolutely would slash Jeter's carotid artery and harvest his organs for a couple points on my batting average.
In Seattle, Griffey was the man. But he was there before I got there and had time to brainwash the fans with his stupid backwards cap and childish grin. But when I got to Texas, it was like all my dreams had come true. I was the man. I was the guy blasting REO Speedwagon and slapping the side of my car. And look what happened when I was the man. I had one of the greatest three-year runs in the history of baseball because no one was casting a shadow on my radiant light. So when I got to New York, why wouldn't I still be the man? Why would that Punch and Judy Jeter be so beloved by fans and teammates? Sure, he's pretty, but have you ever seen him with his shirt off? He looks like Steve Urkel mixed with Screech. And Heaven forbid the golden boy ever have to hit the weight room or make a commitment to improve like the rest of us. Yet, despite his refusal to do everything it takes, we're about to be subjected to six months of fans everywhere acting like Jesus Christ Himself is retiring. So what am I going to do with myself until I can get back to hitting majestic bombs thirteen months from now? The answer to that is simple: EVERYTHING I CAN. I'll do every radio interview, talk show appearance, autograph signing, celebrity boxing match, and public appearance I can find. I'll come to your kid's bar mitzvah as long as you give me a microphone and an audience. I am—I AM!—going to outlast this guy and put the spotlight where it belongs … on The Man. A year from now, when he's in his rocking chair and I'm getting showered with love and attention for my brilliant comeback season, we'll never have to hear that name again. Jeter! Jeter! Jeter! [Rodrigueze pauses at length again.] … God, how I hate that [expletive] guy.
Anyway … I'm sorry. I'm not sorry for chemically engineering the five-tool stud I was for most of my career (though the only tools I could typically turn to in the post-season were sweaty palms and a tightly puckered you know what). I'm only sorry for what happens next. Dig in, pack a lunch, and brace yourselves because the only thing I do better than hit testosterone-fueled long balls is deny the obvious truth. I'm all natural, and I'm here for the long haul.
Read other preemptive apologies:
Brewers Fan Apologizes for What He Will Do in May 2014
LeBron James Apologizes for Not Doing Something, Whatever It Is, that You Think He Should, before Not Doing It