by Amitabha
The samosa wallah at the street corner is back. His stall now has a blue tarp roof held up on bamboos. When he sees me, he shouts in Hindi, "And, sahab, everything alright?"
"Everything's great. With you?"
"All fine. Just back from village. Brother's sons." He points at the two boys in stained tees hunkered in the small enclosure.  With delicate twists of their fingers, they are sealing samosas for frying. The place hums with the scent of salted dough and nigella seeds.
As I take his leave, a silver Lexus zips by, driving over  the nearest pothole. I automatically bring my umbrella down to deflect the splash.
Much of the way till the café is lousy with potholes. I have still decided to walk. The rains have let up, and there's a spell of mildness before it becomes hot again.
I get a text saying she's going to be late: there's a traffic jam.
I walk on, in and out of the gap-toothed shadows of the high-rises, passing crows hopping on dumpsters, dogs with paws caught in plastics, and vendors standing behind barrowfuls of veggies till I reach the traffic signal by the tree with the yellow bangles.
The tree is an old cluster fig. It has had its monsoon bath. The sooty branches now end in clean greenish pink leaves. Tyres painted yellow have been pulled over its branches. There is black brushwork over the tyre nearest to the ground: "Punchur Repar" it says and gives a cell number.
I wait at the traffic lights, behind a gaggle of moms clutching their children's wrists with one hand and with the other keeping their saris inches off the wet ground. It's two in the afternoon; the kids are fresh off school, all shirts untucked, half-pants hanging askance from butt-cheeks, mouths busy in chatter.
"Excuse me. Do you speak English?"
The speaker is a young man in shirtsleeves and jeans. He is unshaven, and his bloodshot eyes are focussed on me.
"Yes?"
"Umm … this is so embarrassing … I'm due for an interview in an hour. At … M. G. Road. My wallet's been picked. Could you please lend me some cash? I swear I'll pay you back."
The capillaries in the man's eyes are inflamed at the edges, leaving clearings at the centres. He is upwind, and, when the breeze from the park rubs  past him, I smell alcohol.
"Can't help you. Sorry." I turn to cross the street.
***
I notice them when I'm at the divider: women nursing infants, and a smattering of men on the footpath lining the park. Villagers. The women in saris, the men in dhotis. Large studs on earlobes. When I reach the sidewalk, one from the group—an old man with a trust me moustache—greets me.
"Sahab," he says, his palms clasped in display of respect, "we're going for pilgrimage, sahab. At the platform, they stole everything: boxes, beddings … money—everything. Didn't leave anything. Don't even have the money to go back to village. Stuck here with women and children. Be very gracious of you, if you—"
He cuts himself off as he sees me glance across the street. On the other side, the interviewee is slowly shaking his head at the pilgrims. He stops when he sees me looking.
I turn to face my accoster. His eyes hold my gaze for a second and drop. Others from his crew step forward.
I smile. "Just bad luck today."
***
An immaculately paved, eucalyptus-lined avenue leads to the café from the park. Although the café is at most a hundred meters from the main road, the racket of traffic is almost non-existent here. The hush only draws attention to the on-off beats of unseen sprinklers.
***
At the café, all chairs under the awning are taken. The tables are littered with iPhones and iPads. Occasionally, a cup of latte rises from this ocean of touchscreens like a flipped iceberg. People are talking, laughing, and pausing to snap photos of food.
The interior of the café, beyond glass doors, is deserted save the baristas and a teenage girl with a Livestrong wristband at the corner table. When I enter, she checks out my reflection and goes back to her Dell.
The conditioned air chills my ears and nose within minutes. I order a coffee and choose a table beside the bookshelf. There are lots of Asterixes, and Vogues, and an ill-treated The Old Man and the Sea.
The door opens, and a girl in a pink Adidas windbreakerenters.
"What the Delhi government doesn't get is the outrage the—"
The door swings shut cutting off the voice from outside. The girl sits opposite Wristband, gives my reflection a once-over, pulls the windbreaker sleeves to her knuckles and says to her friend, "I've a headache."
"Done breaking up?" Wristband asks.
"Oh yes. Know what the—" Windbreaker lowers her voice and releases the adjective with an exaggerated lip movement that exposes her lower incisors "—fucking bastard did?"
Wristband raises an eyebrow.
"He deleted my entire phone! Can you believe it?"
"As in?"
"As in my complete, total phonebook, my messages, trip photos, everything! I totally need my contacts. Such a psychic he is!"
"Psychotic."
"Whatever! Know what he says? He knew I was gonna dump him, so he did it on purpose!"
"You want some coffee? For your headache?"
"Yeah, okay. I still can't believe he did that." She looks at Wristband's laptop. "What you doing?"
"Econ. Copy from me later."
The hiss of steam from the Cimbali eats up Windbreaker's reply. I pull out my cell and dial.
She picks up after two rings. "Hey."
"Wow, you took the call. I thought you only look at the cell to check messages."
"Yeah, yeah."
"How far are you?"
"Shouldn't take more than fifteen minutes. The jam was bad: state buses and autos. Anyway, guess who I met?"
"Who?"
"Arpita."
"Arpita? College Arpita? Wait, she's not coming with you, is she?"
"Yes. Poor thing. She was getting down from the bus in a hurry and got a scrape. I took her to get a Tetvac. All that rust."
"Hmm. How long is she gonna be with us?"
Meera's voice drops a notch. "Be kind, she's having a bad day. Today's her half-day too. Okay … see you."
"See you."
I disconnect the call and pull the Hemingway out from the bookshelf. The door opens again. Of the two women who walk in, one is carrying a baby within a lavender-coloured sling tied with a knot over her shoulder. Both are wearing cheap, printed saris. Their elbows are white with dust.
They seem stunned by their own courage. At first, they huddle (the mother rights the sling and gently pushes in the jutting knee of the baby) taking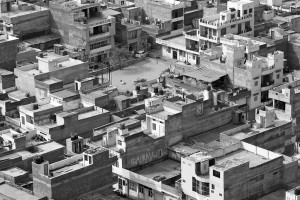 in the surroundings: Windbreaker gawping, her friend twisting in her chair to get a better view, the baristas frozen in tableau. God only knows how I seem. Then, in a show of defiance, with her glass bangles tinkling, the mother drags a chair out and sits side saddle. She is barefoot, and … yes, so is her friend.
I get a glimpse of the baby: smooth skinned, muscovado brown, and asleep. There's a daub of kohl on its temple. The mother touches its cheek with a finger, and it smiles.
The other woman stands beside her. She's holding a tightly pressed piece of cloth. It looks like a hand towel that's been folded over and over. I have seen clothes like that many times before. On construction workers. It's what they use as a buffer to carry a Jenga tower of bricks balanced on their heads.
She clenches it and walks up to the counter. She peers at the pastries on the display shelf and says something unintelligible to the barista.
"Huh?" the barista says, leaning forward. His nametag catches light and gleams: Amol.
She points at the muffins and asks in accented Hindi, "How much?"
"Seventy-five. PACHATTAR RUPIYA," Amol says.
The woman backs off and licks and bites her upper lip. After some twisting of the cloth in her hand, she reaches inside her blouse and pulls out a crumpled bill.
"Brother," she says, "make a little less. We are poor people … got paid today only."
Amol, practically a teenager himself, glances at his colleagues. They shrug. Amol turns back to the woman, his lips moving in silent calculation. Then he says, "Sixty-five, can't make it less than that."
The woman nods.
The mother gets up and joins her. Cautiously, they unwrap the muffin and break it in two, collecting the crumbs on the mother's palm.
"Excuse me," Windbreaker waves at Amol, "we need some service over here?"
"Sure ma'am, be right there," Amol starts on his way out from behind the counter.
I pick the book up. My cell buzzes: V r almos thr
And again after a few seconds: Oh i c u don come out

I look up and spot Meera and Arpita at the far end of the awning. From the drop in light outside, it looks like clouds are massing again.
There's a noise of rushing air as Amol flings the door open and runs pell-mell, his apron flapping, causing Arpita to grasp a chair in alarm, his eyes on the fast-disappearing lavender knot.
"What was that?" Meera asks, when they reach me.
I speak while pulling out chairs, "There were two construction workers. Women. Think they didn't pay. Anyway, hi, Arpita, how're you?"
"Don't ask. It was such a bad jam. I ran into your would-be, she got all worried and took me to the Chemist." Arpita points at the Band-Aids on her hand and upper arm. "In this weather, this one is going to be a pain—" she taps the one on her arm "—intra-muscular." She adds with a tiny smile, "Don't worry, I'll be off quickly."
"Nonsense. Stay. So, you still in that HR job from campus?"
"Yeah. Don't ask." Arpita moves the loose hairs off her forehead, combing them back with her fingers. She wears her hair short now, but the gesture reminds me of the college days when her hair used to fall to her waist  "Still can't afford a car, not even with EMI. Nightmare in this city, it is, let me tell you. Every single day, this counting change for bus fare is such an irritation. You won't believe the way the conductors behave if you ask them to break a hundred. I really need to get a car."
Meera leans forward, her brown eyes gleaming with a mix of mischief and compassion, cheeks dimpled with a smile, and says, "Guess what she did today?"
"What?"
"She gave away all her change to these people she met at the terminus. They told her they were stuck, all their money'd been stolen."
"Oh Arpi—"
Amol is back. The mother is trailing them reluctantly: her friend's wrist is in Amol's grip.
"Suresh!" Amol shouts, "Police, call police. Saali chootni, first calls me Brother! 'Make it a little less. Poor people.' Then shows hundred-ka note and runs away  without paying!"
The woman's lips are swollen, especially on the left side of her face. Her chin trembles. Tears glisten in her eyes as she struggles to free her wrist, speaking rapidly in her tongue.
"Stop the drama!" Amol raises his free hand. She flinches, and the fold of cloth perched on her head wobbles.
"Amol!" Suresh, the elder barista, is beside Amol, hissing, "Customers!"
Amol swallows and whispers back by way of explanation, "You would have taken it out of my salary. As it is the difference—" he is drowned out by a screech from Arpita.
She's stood up and is wagging her finger at the mother. "You! You told me your money was stolen. Remember? Today itself? Showed me your baby and cried? I gave you eighty-five rupees? What happened? What? No answer now?" She whirls to face Amol. "Call the police, I'll tell them! Robbing honest people! Ooff!" Arpita pulls her arm down and massages her deltoid.
"Please, Arpi." Meera takes advantage of the silence. "Please don't take this the wrong way, I don't wanna insult you, the exact same thing happened to me three days back, but she has a baby. Look."
I exchange a glance with Meera and say to Arpita, "Arpi, come on, let's go somewhere else."
***
By the time I put the girls in a cab and get back to my building, the rain is coming down hard. In front of the lifts, a crowd has gathered: three street dogs with pleading eyes.
As I wait for the elevator, an auto rickshaw pulls up. Plastic curtains cover the sides, but you can see the nose of a dog poking out in between. Mr. Mehta, my neighbour from third floor, steps down and gropes inside. Finding the end of the leash, he tugs.
"Lucky, come on!" he says in Gujarati. Inch by inch, the yellow Labrador slides out of the carriage and, after climbing on over the building floor, slumps and doesn't budge.
Lucky's coat's been shorn at intervals, and the skin in those gaps is mottled. The rest of his hair is styled in arrowheads. As Mr. Mehta pulls him toward the elevator door, the mongrels make way, and, after some deliberation, one barks. The Labrador does not reply.
I hold the elevator door open. Maybe spurred by the noise of the auto backfiring, Lucky stands up and shuffles inside.
Mehta says to me, "Thank you. Eight years old. Took him to the doctor."
I am about to follow him inside when two small girls bound down the stairs. "Uncle! Uncle!"
The one with pigtails is carrying a much scribbled-on paper, and the other's clasping a collection tin and a pen.
The girl holds the tin up. "Hi, uncle. Ten rupees each, please."
"For school? For what you are collecting?" Mehta asks as I reach for my wallet.
"Needy people," they say.