by Joe Ponepinto
Lydia saw the man crouched on the parapet first, and despite being nearly passed out drunk, she shrieked, "That guy! Is he gonna jump?"
Then I saw him outside, perched on the balls of his feet, arms out for balance, butt hanging back into the bar's third floor patio, gazing down at the street despite the crush of flesh sweating and gyrating behind him in the night air, despite the thumping bass coming through the speakers. The crowd didn't see. They kept their eyes where they always do, on tanned and glistening midriffs, cleavage, muscled shoulders, fertile regions.
I didn't want to be there,  held by the sweaty air, amid the bricks and pleated Naugahyde, surrounded by autographed photos of sports guys I'd never heard of next to autographed photos of swimsuit models. But I was. Lydia had dragged me. Two of her friends were getting married. This was the bachelor/bachelorette party. The groom had just lost his job and they were going to have to live with her parents, but it didn't keep anyone from partying, including the couple.
I stood up and yelled, "Dude!"
The guy on the wall didn't hear me. No one did.
"You gotta stop him, Nolan."
The Jumping Man. Could it be him? Eleven jumps from eleven buildings. From the roof of the neighborhood's most expensive restaurant; off the eaves of St. Matthew's Cathedral; out a second floor window at City Hall. Never injured. Never stopped. Someone had caught his act in a blurry video and posted it online. The TV news ran it. A local sporting goods store took a frame from the clip and turned it into a t-shirt, a white silhouette with arms and fingers outstretched against a black canvas; gave him the name in screaming block letters.
No one had reported a jump from this height. Everything so far had been a two-story affair. I pushed through the crowd and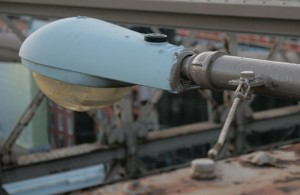 people pushed back, almost knocking me to the floor. I didn't know what I would say if I caught him in time—maybe appeal to common sense, although I felt instead like asking for an autograph. But Lydia was watching. She saw danger. She wanted a hero. It could be me. It could be him.
The guy rocked, building momentum and, I guess, courage to spring from his precipice. I slipped a hand onto his shoulder and he twisted his head around to see who dared interrupt. His eyes opened wide. The pupils narrowed like he could fire laser beams and vaporize distractions. But the rest of him—his face and body—looked incredibly average. Not an idol at all. Just … a guy.
"It's the third floor, man. Gotta be a good twenty-five feet to the sidewalk. That's concrete down there." I felt a little stupid for telling him the obvious.
"I know," he said. "You think I don't know?"
"How can you do this?"
He looked across the busy boulevard, leveling his gaze at an office building on the other side, maybe triangulating the distance of his drop. He let out a breath and to my surprise, answered. "Timing. Technique. Toes extended, knees bent, and you start rolling before you even touch the ground. Distributes the impact."
I should have asked why, but I missed the chance. The guy turned away from me to resume his focus. I looked out to the walkway below, where people were making their way to restaurants and clubs for their usual weekend revels. He'd have to time his leap perfectly to avoid landing on an unsuspecting fun-seeker.
I turned back toward Lydia, who stood, waving and swaying a little as she tried to get a waitress with a tray of beers to register the scene and bring a bouncer or a barman to help. The chick ignored her and continued her rounds.
"Listen, man …" I shouted to be heard over the music and the laughter. "You could get hurt …"
He vaulted up and out. His body expanded as he stretched his hands and feet as far as they would go, reaching for currents of air, and he held at the apex of his jump for what seemed like a few seconds before gravity took hold. I leaned over the low wall to see the Jumping Man angled down toward a gap between pedestrians. A few feet from the sidewalk he tucked his body into itself and hit, toes first, like he'd said, and rolled onto his side, rotating his hip and shoulder, completing two somersaults on the unforgiving surface and continuing on to the street. The people on the ground gasped, and shrank back from the spot. A heavy woman fell to the sidewalk as though he'd produced a shockwave. The force of the landing caused the Jumping Man to roll into the gutter, into the filth and trash that lined the road, into the stink of the city. When he finally stopped he sat up next to a sewer grate and brushed himself off like it had been no big deal, although he couldn't get the grease and shit off his clothes. But before anyone could get close to him, he popped up and ran through traffic, across the street and into the sliver of shadow between two skyscrapers.
Twelve jumps, twelve survivals.
The people up here, except for Lydia and me, had no idea what had happened. That's not quite true, though. We saw it, and we had no idea what had happened either. Later, we went to another bar for a nightcap. I wanted to talk about the Jumping Man. Lydia talked about what a great party it had been. We'd been together for almost two years, so this lack of communication was nothing new. We'd grown used to it, and even joked about it sometimes.
***
Reports of Jumping Man sightings made the media almost every day after that, although many of them sounded made up, like aliens landing in the Nevada desert. The legit ones described how he managed, unseen, to infiltrate supposedly secure places: the fourth floor ledge of the FBI building, the roof of the Delta terminal at the airport. Before the guards or cops could get close, he'd launch, a skydiver without a chute, pinpointing his landing far enough away from the authorities to roll and rise, and bid a quick adieu.
Yeah, that's right, the fourth floor. He'd gone higher. And he didn't stop there. Once he perfected his technique and learned to defy the physics of hard landings, the limits on height came off. Billboards. Water towers. Ferris wheels. He jumped from the top of a parking structure and bounced off a school bus to a perfect, upright landing on the street. To see him do it (he was all over the web by this point) was to witness a form of genius, to my mind. In slow motion you could see how his body became liquid as it contacted the earth, his limbs and torso distributing the impact so that it was shared equally throughout, minimizing the cuts and bruises, eliminating broken bones.
He made it look so easy it brought out copycats. The city's hospitals and morgues soon filled with them, so many that the Jumping Man sent an open letter to the city's last remaining daily, which only printed twice a week now, imploring people not to try what he alone could do. But in his plea he didn't address what I wanted to hear. What was the point? I refused to believe his jumps were merely a stunt, that it was all for thrills, or money, and that soon he'd leap with a corporate logo on his chest, or he'd retire and write a book about his journey downward. I'd looked into his eyes. Something more than those things drove him.
The letter, in addition to avoiding the real issue, also didn't dissuade the imitators. Teenagers turned their jumping into contests, and posted videos online. Someone broke a leg or a neck every few days. A parents' group formed, demanding the police find the Jumping Man and confine him. The guy would have to quit or bear the public's accusations for the injuries and deaths of the kids who worshipped him.
***
A month later, another of Lydia's friends' parties. She had given up on trying to get me to dance, or even, at this one, to mingle. I couldn't understand why no one else wanted to watch the spectacle on TV. "Is that the same guy we saw jump?" she asked.
"He must be five hundred feet up," I said.
"What's wrong with him?"
The Jumping Man stood on a tower of the city's tallest bridge. He had waited this time, until the law and the media gathered in numbers sufficient to chronicle his efforts. The structure spanned a river that had become so polluted it affected our drinking water. Local industries had lobbied to keep from paying for the cleanup, and despite public outcry, they'd been successful. At last his actions smacked of political statement. The Jumping Man's drama, his defiance, would rekindle the issue.
I looked over to see the party guests in some kind of tribal ritual, sweat-sparkled bodies grinding against each other out of time with the pulsing music. When the mass shifted, I saw Lydia close-dancing with some guy, their hands wrapped around each other's butts. At first I was ready to run over there and flail on him, yet I couldn't tear myself away from the screen. The Jumping Man was making history, and they all ignored it.
The TV cameras zoomed in, but Jumping Man remained a blip against the dull sky and the duller gray of the bridge. Somehow, still, I was the only one watching. Lydia may have called to me—or someone did—but I refused to answer.
He waved to the police and news choppers as he took off and spread himself on the wind. He did a barrel roll in the air before twisting into an upright, rigid arrow, toes pointed in order to part the river, arms wrapped around his neck and face to protect them. He hit with barely a splash and went down, down, who knows how far.
Then, nothing. Two minutes. Five minutes. No Jumping Man bobbing, alive or dead, from the fetid chop. The helicopters circled closer to the impact. Two wetsuits dove in to look for traces.
A speedboat cruised nearby, piloted by a woman in a windbreaker, sunglasses, and what looked like a headset. The cops tried to wave her off, but she cut through their perimeter, to a spot a few hundred yards away from where the search had concentrated, and slowed.
There! A head. An arm. She threw a rope ladder over the side. The Jumping Man grabbed on and hoisted himself onboard. They were a half mile ahead and pulling away before anyone started to pursue, and lost the choppers by ditching the boat on the far shore and running into the woods.
The TV crews hovered, filming the empty strip of sand that bordered the trees. I would have kept watching, but some woman grabbed the remote and changed the station to a dance party show. I said what the fuck, we were already at a dance party, and she gave me a funny look.
I walked into the thick of the crowd and found Lydia drinking a beer from a bottle. "Did he make it?" she asked.
I dragged her to the middle of the dance floor. "Of course," I said. "He never misses. Thirty seven jumps now."
"Nolie, I don't feel like dancing right now," she said.
She looked like she was getting drunk again, so I took her home. I got her into her apartment, but didn't try to stick around. "You don't wanna come in?" she said.
"I need to do some thinking."
She said okay, and then grabbed me by the shoulders and pulled me down for a kiss that must have lasted two full minutes. "You sure?" she said.
It was a tough choice. But we'd had sex enough times that I thought I could skip one. I had to make sense of what I'd seen. "Yeah, I'm sure," I said.
She closed the door slowly. I didn't hear it click shut until I was almost back to my car. It struck me then that maybe there was nothing political about the Jumping Man's stunts. Like Lydia said, something wrong with him.
When I went home I took the stairs to the apartment building's roof and walked out to the edge. Three stories looked like a thousand feet, like staring into the maw of a canyon. What did the Jumping Man see when he looked down? For me, diving down meant falling, going out of control, crashing into concrete or earth that had no intention of giving. I saw survival only in the most painful of terms. For him, jumping meant something else. Obviously.
I swung my leg up on the little cinder block wall that ringed the roof, maybe two feet high, and straddled it. A stiff breeze came up, and I grabbed the wall with my hands, never mind that it cut my fingers. He always jumped down. Well, he couldn't jump up, could he? No one could. Not that high. Gravity wouldn't allow it; otherwise everyone would be doing it. I must have been drunk too. I know I was scared up there. It was only twenty-five feet or so, but still way too high to consider.
***
The next morning Lydia called. "I don't want to see you anymore." Talk about getting to the point.
"But we've been together for so long. That has to mean something, doesn't it?"
"You don't like to have fun."
I could have turned the tables, accused her of not taking an interest in anything important, but I just took it. "I have fun all the time," I said. Truth was, Lydia's friends needed a wakeup call. Here was this guy who risked his life, and all they wanted to do was party and get drunk. And their wasted lives had affected her judgment. But if she really wanted to dump me, I wouldn't fight. I'd been thinking about dumping her, to be honest.
Later, I had a couple of beers. Instead of the top of the apartment building, I went out the second floor exit to the outside stairs and climbed over the railing, about twelve feet up. I faced out with my hands clutching the cold steel behind me, and stood, staring first at the pavement below, then at a high school football field in the distance, for maybe five minutes. Or maybe half an hour.
No one saw me, or at least bothered to call to me or call the police. So I closed my eyes and let go. When I felt myself leaning past the point where I could stop, I pushed off and opened my eyes.
Falling. The exhilaration of going down so incredibly fast slammed my heart up into my throat, and my guts into my chest, and as I plummeted through the air I was alone, disconnected from the world, and from myself. For those two seconds nothing else mattered.
I forgot all about what he'd said to do on the landing, and even though I went into a roll, it was only because I'd hit off balance and fractured an ankle.
But so what? For the day I lay in the hospital all I could think of was my jump—I analyzed every nanosecond of it. Once I'd let go nothing could stop me. Each instant offered a rush of experience, overwhelming my senses, as though I'd barely used them before. I remembered even tasting the air as I fell. I asked the doctor to discharge me early, because I wanted to get home and try it again, cast and all. Maybe from the third floor this time.
I still couldn't say what the Jumping Man felt when he took off from those dizzying heights, but I hoped it was something like I felt.
Before I could get used to moving around with the cast and the crutches, Lydia came over. She banged on the door to my place and yelled to let me know it was her.
"Nolie, baby. I heard about what happened. I don't know why you want to kill yourself," she said. "I'm going to take care of you, honey. You'll always have me."
For a few seconds I almost didn't let her in. But then I did and she came in and started to cry. She hugged me and kissed me. She draped my arm around her shoulder and walked me to the couch, and then went into the kitchen and heated up some soup that I didn't even know I had. "Everything is going to be okay," she called from the other room. "We'll get married and you'll never want to do anything crazy like that again."
She watched me as I ate. I made sure to compliment her on the cooking.
When she went back into the kitchen to wash the dishes I sat up and started surfing the Web on my laptop, looking for news about the Jumping Man. I didn't find any, but that was okay. Lydia called out to say that I was a messy guy, and that she would clean the counters and the shelves too. She would straighten everything out.
I heard the water rushing into the sink, and I heard Lydia humming to herself as she worked. One of my crutches was within reach, and I used it to hoist myself up. Amid the sounds of housekeeping, I slipped out the front door, hopped to the elevator, and got in. The button for the top floor glowed like a beacon, and I pressed it, and when the car began to ascend I couldn't be sure if the jitter I felt came from the machinery or from me. I tried to will the car to go faster. Through the walls and the elevator shaft, I could barely hear Lydia, pounding on the doors below, calling to me, "Come down, Nolie. Come down."