by Sati Melendez
I remember the precise moment Titi called me "feita." It was the third and last day of Mami's wake and the visitation room was overflowing with guests. I was slouching on a velvet-covered chair with my feet propped on the edge, holding the sign-in book as I read the guests' names.
The front door of the funeral home opened and my instinct to turn and catch a glimpse of the person entering faded with the click of stiletto heels making contact with the wooden floor.
Titi. The only woman who walked with purpose even though she was never going anywhere. I kept my eyes on the book, continuing to study the names, when she placed a checkered suitcase on the floor before my feet. She stood in a fitted mini dress, her tall, lean legs exposed.
"Feita, are you ignoring me?"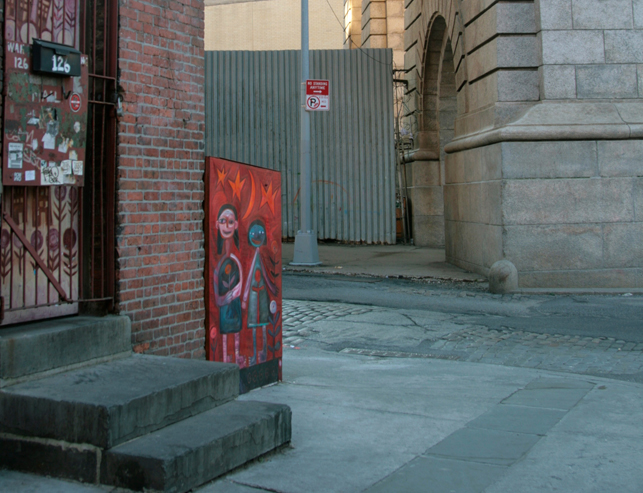 No one had ever called me ugly to my face before. People would say, "You almost look like Carmen, but not everyone can be blessed with her beauty." They were right. My sister was beautiful, leaving me to often wonder if almost looking like her meant I was almost beautiful, like pretty. Titi tapped her feet in another attempt to gain my attention, and Mami's words came into my head. Silence communicates your thoughts. Although Mami lay inside a coffin, in the next room, I decided right then to let her mother me from the other side, and I rose to leave the funeral home.
"Feita, your backside is much prettier than your front," said Titi.
Mami would've been proud of me as I walked out the door, ignoring Titi's robust, full laughter.
I waited in the backseat of the car for the wake to be over. Hours later Papi got into the car with Carmen, but he didn't turn it on, and the three of us stared out the windshield. Silence has a way of making time stand still, and just when I was tempted to break it, I again remembered Mami's advice.
After I don't know how long, the squeaking of the rusted passenger door hinges broke the silence. Titi signaled me to scoot over. She made herself comfortable and placed the suitcase between us.
I finally spoke up. "What the hell is the suitcase for?"
Papi turned and slapped me across the face, a quick slap that held no sting but left behind a whole lot of shame.
"Never speak to your Titi like that again!"
***
Tucked under the covers, I thought and thought about Titi. The more I thought, the more I tossed and turned. Titi and Papi were in Mami's bedroom and I wanted her out of there, out of the house.
I climbed down from the top bunk and walked to the master bedroom. Before I reached the door, I heard Titi giggling in between hushed words. A rush of rage overcame me, causing me to bang on the door with the sides of my fists.
"Rosa! Go back to bed!" yelled Papi.
"How do you know it's me!"
"Because you're the one who never minds her own business!"
"What happens in Mami's bedroom is my business!"
When I heard his footsteps coming closer to the door, I jumped quicker than a grasshopper and ran toward my bedroom.
Papi opened the door. "And don't come back out!"
As I climbed up the ladder to the top bunk, Carmen asked, "Why are you always causing problems?"
"Poor Carmen," I said in a mocking voice. "Did the yelling ruin your beauty sleep?"
"Oh…oh…good night!"
Carmen played the role of the beautiful sister to a tee. The times I'd feel jealous of her, I'd remind myself she had it worse. Living life while never having a hair out place or saying a word out of turn couldn't be easy. She was silenced in more ways than Mami's advice intended. Still, jealousy always found its way back.
***
After Mami's death, whispers circled about Papi and Titi's engagement. Papi marrying his dead wife's sister was more than neighbors could swallow. Within my earshot, people would say if Mami hadn't died of cancer they would've sworn Papi and Titi's hands were dirty.
The neighbors put their manners aside, sharing their impatient disapproval by rolling their eyes and calling Titi a "puta" whenever they came across her. Exhausted by their judgment, Titi asked Carmen to tag along with her whenever she'd run errands. She figured no one would look at her sideways or call her a slut in front of a child. She was half right. The name-calling stopped while the harsh stares grew louder. A day Carmen lay sick in bed, Papi volunteered me to go to the bodega with Titi.
Titi had been living with us for almost six months. Throughout that time, I planned my day around ways to avoid her. Mornings and afternoons were the hardest on me.
At the time, I was seven and Carmen was eight and a half. Too young to walk the streets by ourselves in a tough neighborhood, Titi walked us to and from school. I did all I could to ignore her, but she moved in front of us like the world was her runway, and as much as I wanted to see right past her, the movement of her hips drew me in.
Upset with Papi's request, I crossed my arms and took Mami's advice on standing firm. "No," I answered in a calm and determined voice.
"What did you just say to me?"
Mami's advice didn't always play out like she told me, and it appeared this was going to be one of those times. I delicately took one step forward, preparing to run if I needed to. The refrigerator turned on and, like old refrigerators tend to do, it shook violently, and Papi's thermos fell and hit the ground.
I took the opportunity to dash out of the kitchen and hide in my bedroom closet. Calling it "hiding" is an exaggeration since everyone knew that's where I went to get away from it all. There weren't any secret places in a two-bedroom apartment with a kitchen-living room combination.
The door of the closet flew open and Papi was there. "Rosa, get out of the goddamn closet before I drag you out."
Titi came up behind him and touched his shoulder. "Javier."
Papi stepped aside and Titi extended her hand. "Come out, sweetheart."
"I'm not going."
Papi lunged forward.
Titi moved in front of him. "Javier, please." She tilted her head to the left, and smiled upon me. "I'd love for the most beautiful girl in town to accompany me."
"Me? Beautiful?"
"Of course, you. Who else?"
Under any other circumstances, the only way to get me out of the closet was kicking and screaming, but now I couldn't say no. That would've been impolite and beautiful girls are never impolite.
At the store, no one said anything to Titi. On occasion someone would sneer at her, and I'd sneer back at them, forgetting beautiful girls never sneer.
When Doña Marta, the old lady who sold limber de coco from her apartment, recoiled at the sight of Titi and me choosing a new thermos for Papi, I lifted my nose in the air and said as politely as possible, "Come lodo." At that moment I didn't care if she never sold me a coconut icy ever again.
After dinner, Titi retold the story to Papi three times. "You should've seen her face, Javier. I bet no one in her entire life told her to go eat mud."
***
One day we were at Benita's Place selecting wedding favors when the owner of the store pulled Titi aside. Benita lowered her voice to tell Titi something. After their quick conversation, Titi grabbed her purse from the counter, and tapped her index finger on the glass cover top. "I'll have fifty of the plastic picture frames in pink." She proceeded to walk out the door, and I followed right behind her. She stopped midway, and turned. "By the way, thanks for the info."
Once outside Titi said, "We're going to take a small detour before heading home."
I asked her where, she didn't say.
We arrived at an apartment building fifteen blocks from our place. Titi told me to sit on the front steps while she went inside.
"Who are you visiting?"
"I'll be back."
Titi's visit lasted longer than I expected, and on that day I learned boredom made time stand still longer than silence. My bum started to numb so I got up to skim the roster next to the door, hoping to find a familiar name and ring the buzzer. Most of the names were missing and, out of those that weren't, none of them were familiar.
I started to press the buttons of the nameless buzzers, hoping someone would respond and tell me whether Titi was with them or not. A woman came up behind me with a set of keys in her hand.
"Hey, stop playing with the buzzer," she told me.
She let herself into the building and I trailed in behind her. The first floor only had two apartments. One belonged to the lady who let me in, and since Titi couldn't have been visiting her, I knocked on the other apartment door. No one came to the door so I went up the staircase. At each level, I knocked on doors. Either no one answered or when someone did, they told me Titi wasn't there.
I reached the fifth floor and Titi's laugh echoed through the hallway, and I hurried to her.
Titi and a man were standing outside an apartment door. He had his arms around her as he nibbled on her neck.
"I have to go. La Feita is waiting downstairs."
I let out a gasp and caught their attention.
Titi removed the man's hands from her waist.
"Santiago, I'll call you later."
On the way home, the only sound between Titi and me was the shuffling of our shoes. I walked several feet in front of her, thinking of the lies she had spat out for months. She had never thought of me as beautiful. And Santiago, Mami had spoken about him plenty of times. She mentioned how Titi was stuck on him and whenever he came to town to visit his sister Benita, she would always get drawn back in.
Titi called out to me and that just made me walk faster. When I approached our front door, I shouted for Papi before I stepped through the threshold. "Papi—"
Titi rushed past me. "Javier —"
I wouldn't let her confess. "Papi—"
"Don't interrupt your Titi."
"But, Papi—" I stopped talking on my own when Titi knelt down on her knees and placed her hands over mine.
"Rosa, will you be my flower girl?"
"Your flower girl?" Papi said. "Why you would want Rosa as your flower girl is beyond me."
"Hush now," Titi said. "She's perfect."
"I am?"
"Of course, you. Who else?"