The Stoneslide Corrective is thrilled, elated, honored, and generally pleased as punch (vodka-laced) to announce the winners of our first annual Stoneslide Story Contest. The top prize in the contest is $3,000, and the contest drew 300 submissions from writers all over the world. The quality of work, the depth of feeling, and the care in expression evidenced in these submissions was breathtaking. But out of this remarkably strong pool, one story rose to the top.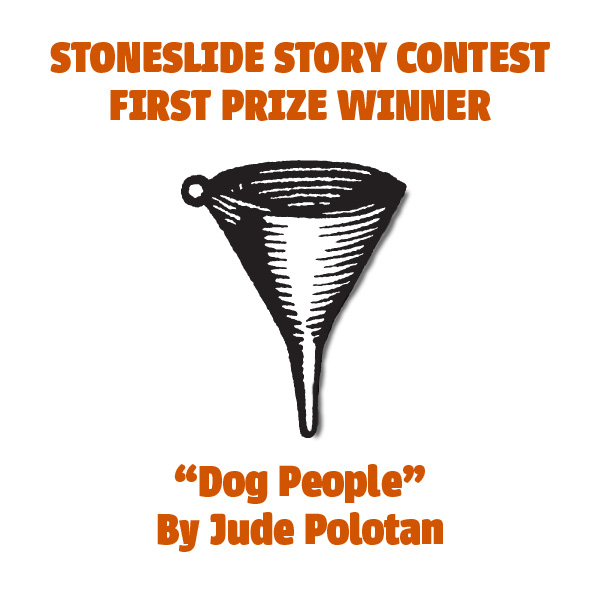 The first prize goes to Jude Polotan, with her story "Dog People," which captures the knife-edge balance between accumulating regret for choices made, and the continuing hope for new avenues. Read an excerpt from "Dog People."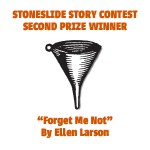 Taking second prize and $500 is "Forget Me Not," by Ellen Larson. "Forget Me Not" is a riveting journey in the life of a woman previously unable to escape her greatest love and torturer, her own brother. Read an excerpt from "Forget Me Not."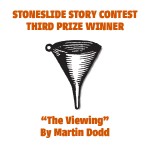 "The Viewing," by Martin Dodd, receives third prize and $250. Narrated by a slightly out-of-place witness to a funeral, Dodd's story masterfully combines biting cynicism and poignancy. Read "The Viewing."
We look forward to publishing these stories in the coming months.
Four stories were also recognized in categories of special achievement, receiving $100 awards:
Striking Use of Wit: "Voice Male," by Marion de Booy Wentzien, uses both humor and surprising observation to limn the pain of loneliness and the perils of hope.
Beguiling Character: "All together now," by D.R. Glass. The protagonist of this story, a young girl named Emma, is both remarkably strong and remarkably vulnerable, while being entirely believable.
Description That Makes Us Think We Were Really There: Thomas Lelache's "Heel" thrusts us deep inside the awfulness and the scalded beauty of a professional wrestler who wishes he had done more, and so much less, with his life.
Propulsive Scene and/or Plot Line: "Ways to Escape," by Greg Girvan, crackles with the wildness and rage of youth while the people in it show us the lethargy, despondency, and moroseness that can also come with being young.
In addition, twelve stories are recognized as honorable mentions, each worthy of appreciation and commendation:
"The Anarchic Hand," by Lynn Stegner
"Choose Your Own Adventure," by Linda Davis
"Continental Divide," by Hal Ackerman
"Food for Work," by Frank Light
"How to Live at a Hotel," by Joe Ponepinto
"The Month is July," by Sebastian Barajas
"On the Other Side," by Idrissa Simmonds
"Parker," by Tracy Gold
"The Push," by Sarah MacKenzie
"The Redemption of Oren Barry," by Libby Cudmore
"Smash," by Ann Stewart McBee
"Something in the Water," by Dan Stintzi
The bios of winners and honorees are below:
FIRST PRIZE
Jude Polotan holds an MFA from Emerson College, where she was fortunate enough to be mentored by Andre Dubus III. She's a three-time participant at the Sewanee Writers' Conference and has attended the Sirenland Writers Conference in Positano, Italy, twice (yes, a real sacrifice!). "Dog People" is Jude's first published story.  Though she'll always be a New Yorker, she now lives in the sunshine of Gulf Coast Florida with the Love of her Life, Ken, and their irrepressible puppy, Claude. She's currently at work on a new novel.
SECOND PRIZE
Ellen Larson's first story appeared in Yankee Magazine in 1971. She has sold stories to AHMM (Barry Award finalist) and Big Pulp and is the author of the NJ Mysteries, The Hatch and Brood of Time and Unfold the Evil, featuring a sleuthing reporter. Her current book is In Retrospect, a dystopian mystery (Carefully crafted whodunit -PW starred). Larson lived for seventeen years in Egypt, where she developed a love of different cultures. These days she lives in an off-grid cabin in upstate New York, enjoying the solitude.
THIRD PRIZE
Martin Dodd lives in Steinbeck Country: Salinas, California. Following his retirement from community service, he began creative writing in 2002 at age 67. His work has appeared in Cadillac Cicatrix, Hobart Journal (web issue), The New Yinzer, Homestead Review, Holy Cuspidor, Foolish Times, Monkey Bicycle, and Chicken Soup for the Recovering Soul (poem). He has won, or received recognition in, various contests: Gimme Credit Screenplay Competition (super short), St. Louis Short Story Contest, Writers Digest, By Line Magazine, Glimmer Train, Inkwell Journal, Writers Weekly, Central Coast Writers (California), East of Eden Writers Conference (2008), and NorthernPros.
SPECIAL ACCOMPLISHMENT
Marion de Booy Wentzien was a recipient of the PEN Syndicated Fiction Award (twice). The New Letters Literary Award. The Chicago Humanities for the Arts presented one of her stories in their Stories on Stage. Her stories have appeared in Seventeen Magazine, Blue Penny Quarterly, The San Francisco Chronicle (twice), Scholastic Books, Story Magazine, On the Page, Big Ugly Review, The Quotable, Prime Number, The Sonora Review, Bareback Lit, The Stone Hobo, Tattoo Highway, Red Fez, Cossack Review, Citron Review, Extract(s), Drafthorse, Solstice, ROAR, Spry, Literary Orphans and other literary journals. She has been nominated for the Pushcart Prize as well as for Best of the Net. She lives in Saratoga, CA with her husband and some formerly stray animals.
D.R. Glass lives and works in New Orleans, Louisiana.
Greg Girvan grew up in Beaver Falls, Pennsylvania, and received a Bachelor of Arts in English from Slippery Rock University. His writing appears or is forthcoming in The South Carolina Review, Sleet Magazine, Wisconsin Review, Revolver, Our Stories, and a number of other periodicals. He currently works as a freelance writer and editor in Pittsburgh.
Tom Lelache is a 20-year-old South Jersey native who owes everything to the unfaltering support he regularly receives from his family and friends. Although he thoroughly enjoys his current job of renting and selling instruments to the world's next generation of brilliant musicians, he does hope to someday be able to devote himself full-time to creating his own words and music. "Heel" is his first published short story.
HONOREES
Hal Ackerman is co-area head of the UCLA screenwriting program. His book, Write Screenplays That Sell…The Ackerman Way, is the text of choice in a growing number of screenwriting programs around the country.
His fiction has appeared in North Dakota Review, New Millennium Writings, Southeast Review, and The Pinch among, others. "Roof Garden" won the Warren Adler award for fiction. "The Dancer Horse" was nominated for a Pushcart prize. "Belle and Melinda" won the Southeast Review's WORLD'S BEST SHORT SHORT STORY CONTEST. His play Testosterone: How Prostate Cancer Made a Man of Me won the William Saroyan Centennial Award for drama. Under its new title, Prick, it was named best play at the 2011 United Solo Festival.
His novel STEIN STONED won the Lovey Award for best first novel in 2011; followed by STEIN, STUNG in 2012.
Sebastian Barajas grew up in Arlington, Virginia, where he graduated from high school in 2010. He is now a sophomore at St. John's College in Annapolis, Maryland, writing his first novel intended for publication, as well as a series of short stories and political/satirical essays.
Libby Cudmore's work has been published in Pank, Big Lucks, The Big Click, Chamber Four, Connation Press, New Rivers Press and others. She blogs about mix tapes and writing at www.libbycudmore.com.
Linda Davis was the winner of The Saturday Evening Post's Great American Fiction Contest and her story "The War at Home" appeared in their January/February 2014 issue. "My Boyfriend is a Senator" is forthcoming in the new adult anthology, Perception, from Elephantine Press. She was the runner-up in Flyway's Notes from the Field Contest, judged by Rick Bass, and her story "What to Expect When You're Expecting" appeared in their March 2014 issue. Her essay "This House" was published in the anthology Morning Coffee and Other Stories: Mothering Children with Special Needs. Other publications include The Literary Review and Gemini Magazine. She worked with Antonya Nelson at Bread Loaf and Brad Kessler at Antioch University, where she received her MFA. She lives in Santa Monica with her husband and three children.
Tracy Gold is an M.F.A. candidate in Fiction at the University of Baltimore.
Find out more at http://www.tracycgold.com/.
Now retired, Frank Light lives in Virginia with his wife Sally; they met on the Buddha the Taliban would later destroy. "Food for Work" is adapted from an unpublished memoir titled Adjust to Dust: On the Backroads of Southern Afghanistan. Frank's recent writings have been or are scheduled to be published in Even the Smallest Crab Has Teeth (an anthology of Peace Corps nonfiction), Make literary magazine, War, Literature and the Arts, James Dickey Review, Mosaic Art & Literary Journal, Beetroot, The Greensilk Journal, Consequence Magazine, O-Dark-Thirty, Amsterdam Quarterly, Tahoma Literary Review, Serving House Journal, and Winning Writers.
Sarah MacKenzie was born in Toronto in '95, and until recently has been a loyal Suburbanite to Ontario's GTA (evidently, the inspiration for her writing is often the mundane and curiously ordinary lives brewed up in the otherworldly Suburbia).  She's now a first year university student in Montreal, where she studies in creative writing and history, and thinks longingly of home. 
Ann Stewart McBee was born in Kalamazoo, Michigan. She earned her PhD in creative writing at the University of Wisconsin–Milwaukee, where she still teaches undergraduate composition and creative writing, and served as an editor for cream city review. Her work has appeared in Ellipsis, Untamed Ink, So to Speak, and At Length among others. She lives in Milwaukee with her husband and a mischievous terrier. Her novel Veiled Men, is looking for a home. See more at http://annmcbee.tumblr.com/.
Joe Ponepinto is the co-Publisher of Tahoma Literary Review. His fiction and reviews have been published in many literary journals, most recently The Stoneslide Corrective, Lumina, BULL, Passager, Fiction Southeast, and Prime Mincer.
His collection, The Face Maker and other stories of obsession, was published by Woodward Press. He has an MFA from the Northwest Institute of Literary Arts., and lives in Washington State with his wife, Dona, and Henry the coffee-drinking dog.
Idrissa Simmonds' poetry, fiction, and essays have appeared in Event, Pearls, Black Renaissance Noire, The Caribbean Writer, As/Us, Zora Magazine, and elsewhere. She is the recipient of fellowships from VONA, Bread Loaf, Poets House, and Hedgebrook, and is the 2013 winner of the Crab Creek Review poetry award and a 2014 finalist for the Commonwealth Writers Short Story Prize. She is curator and chef of the literary and food salon Brunch and Word, where writers gather in her home for literature, fellowship, and good food. She calls Brooklyn home.
Lynn Stegner's books include the novels, UNDERTOW and FATA MORGANA, both nominated for the National Book Award and the Pulitzer Prize, and BECAUSE A FIRE WAS IN MY HEAD, Faulkner Award for Best Novel, a 2007 Literary Ventures Selection, and a New York Times Editors' Choice. Her novella triptych, PIPERS AT THE GATES OF DAWN, was awarded a Faulkner Society's Gold Medal. She has been the recipient of fellowships from the Western States Arts Council and the National Endowment for the Arts, as well as a Fulbright Scholarship. The anthology, WEST OF 98: LIVING AND WRITING THE NEW AMERICAN WEST, which she co-edited and introduced, was published in September of 2011; and she has recently completed a volume of stories entitled FOR ALL THE OBVIOUS REASONS. She teaches at Stanford University. Currently at work on a new novel, she divides her time between San Francisco, California and Greensboro, Vermont.
Daniel Stintzi graduated from the University of Wisconsin in 2011 and received his MFA from the Writing Seminars at Johns Hopkins University in 2014. He lives with his wife in Baltimore, Maryland.