Have you ever tried to open a Barbie Tawny Horse and Pony Play Set? Chances are if you've started in on such an endeavor, you're actually still engaged in it at this moment. The total time required to unfold, cut, hack, twist, and untie all of the rubber bands, twist ties, and baling wire used to secure the toy in its packaging is just about an hour less than the lifespan of the average American male, and roughly nine years greater than that of the average Belarusian or Nepalese.
Stoneslide Giftworks today released a device that brought that opening time down to a mean of 42 seconds in laboratory trials.
The Little Elf Utility Blade includes everything you need to open modern toy packaging in a snap, such as a butane blow torch, a 400 watt CO2 laser, and cemented carbide cutting edges, as well as reserves of hydrochloric acid and TNT explosive.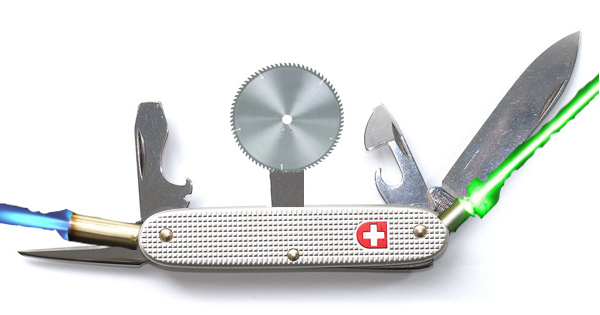 Available to American consumers for the first time, the Little Elf Utility Blade has already become a hit in Peru and Italy. The Little Elf can also be used to slice fruitcakes.
Not intended for use by children under 12. Stoneslide Giftworks cannot be held liable for any damage to toys or injury caused by use of this product. Always read all safety warnings before using product, especially the one about maintaining a distance of 15 yards from the product when in use.
More gift assists from Stoneslide (just in time for the holidays):
Stoneslide Gift Assist: SnoopBuster
Stoneslide Gift Assist: For the Couple that Can't Agree on the Holidays
Stoneslide Gift Assist: Rudolph the Red-Cheeked Sobriety Buddy