Any parent of a toddler or young child knows how the simplest daily rituals can become drawn-out battles of will.
You approach the child, toothbrush in hand, with the straightforward ambition of brushing her teeth–just as you do every single night. What happens? She clamps her hands over her mouth and stares at you shaking her head, no. So, you put the toothbrush down to pry her hands away, then use one hand to keep her arms elevated (while she pulls back as hard as she can), and the other to lever at her clenched jaw. Just as you start to worry about leaving bruise marks on her cheeks–bruise marks that some teacher will be sure to ask about–she flops, falling totally limp to the ground. Since you were leaning over, this jujitsu move causes you to tumble forward to your knees. You put out a hand to steady yourself, and what's there to catch onto? The open toilet. So you change the shirt that got wet at the sleeve, wash up, and again pick up the toothbrush, to find your little girl again with both hands clamped over her mouth.
There has to be an easier way!
There is!
Clouton, Inc., today releases the Care Pillar, a fully functional hygiene procedure enabler that makes brushing teeth, washing face, clipping fingernails, and other basic activities a snap.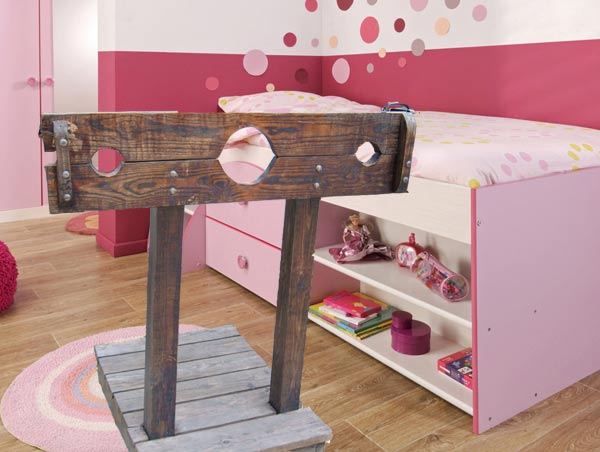 Made from sustainably sourced teak and cherry woods, the Care Pillar will fit beautifully in any nursery ensemble. But its real beauty lies in its functional design. Easy-to-use one-hand latches, counter-weighted hinges, and solid construction make the Care Pillar a joy for any parent. Crushed velvet linings and an adjustable-height stand mean your child will be so comfortable, she may soon be reminding you that it's time to brush teeth!
Just imagine how much easier your life will be when your precious little one puts her head and hands into the gentle restraints of the Care Pillar.
More gift assists from Stoneslide (just in time for the holidays):
Stoneslide Gift Assist: SnoopBuster
Stoneslide Gift Assist: For the Couple that Can't Agree on the Holidays
Stoneslide Gift Assist: Rudolph the Red-Cheeked Sobriety Buddy