by D.R. Glass
---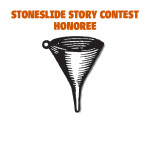 [Note: This story received special recognition for beguiling character in the inaugural Stoneslide Story Contest. The 2015 edition opens on March 20.]
---
At the age of ten, Emma is kidnapped for a sixth time. Her brother, Noah, too. This time by two men: one, taller, in a ribbed grey turtleneck; the other one, darker, in wire-framed glasses. When Sister Nena hands over the paperwork, it's the dark one who says, "Thank you, we'll be waiting to hear from the social worker," and looks straight at Emma and smiles.
Out in the driveway is their very used Honda Civic, which smells vaguely of wet dog. In the backseat of the car is a tangle-haired older girl, grinning and brandishing a rectangle of cardstock upon which the words WELCOM HOME have been written in Sharpie marker. "Hey, I made you a present," says the girl, grinning wider. Instead of answering, Emma boosts Noah into the back seat and straps him in, careful not to tangle his mittens, which hang from his sleeve cuffs by authoritative brass clips.
Emma was five and Noah no more than an infant when they were kidnapped for the first time. That she can no longer remember their parents, though she knows they existed, makes the injustice of the thing no less bitter. The social worker claims that their names weren't changed from those on their birth certificates, but Emma has never been able to find another Thrift, not even in the fat three-county phonebook she snuck behind a diner counter to examine last year, not even using the internet search on a public library computer, not even listed in the social worker's phone.
Once in the car, the taller man pulls a massive book of bright and laminated maps from the dashboard. "Ernie," he says, "Where's the nearest Waffle House? I thought we had them all marked on here."
"Lemme see," says Ernie, dragging the maps across to his own lap. The taller man starts the car and Ernie twists in the passenger seat to look at Emma. "You all buckled up back there?" he asks. He's wearing, Emma notices, a shearling coat of distinctly feminine cut, but without hat or gloves. "Clare, you buckled?" he asks.
"Yes," says the older girl. She rolls her eyes at Emma, who tries to look down without seeming rude. "All of us are wearing helmets and knee pads, too."
"Good," says Ernie, already looking at the maps again. "Let's go."
Living with Sister Nena had been going well, or so Emma thought before the social worker showed up. Sister Nena was the fifth, the third who didn't hit her and the only one without other children already living in the house. She lived in a visibly falling-down neighborhood that was, as she admitted to the social worker in Emma's hearing, not what it used to be, in a first floor apartment populated by hulking dark furniture made darker by the brocade rugs tacked up on the walls of the den. Every night Sister Nena made tea in a silver samovar and sometimes other sisters would come over to drink it, some of them Armenian like Sister Nena and one or two in habits like the nuns in The Sound of Music. They played a game that looked like checkers but which Sister Nena called tama, with silky round stones on an inlaid wooden board. Under the table Emma tried to teach Noah how to play Old Maid but he just wanted to scribble on the cards with a ballpoint pen.
When the social worker came to tell them they were being moved, Emma assumed it was because Sister Nena was too old to take care of them and tried to insist that she could do the cooking and cleaning for all of them. Even Noah could do chores; already sometimes he helped Sister Nena roll out the dough for the big flat loaves of bread she made every Sunday. But the social worker just sighed at Emma's suggestion and asked Sister Nena to sign another piece of paper.
After the social worker left, Sister Nena went to the bedroom, where the telephone was, and shut the door. Emma stood in the hall, listening as the old woman cried into the phone. "They're taking them away," Emma heard her say. "No, no, nothing like that." There was a pause, and then Sister Nena said a word that Emma didn't know: "Truancy."
When Ernie gestures to the exit ramp it hasn't even been an hour, Emma can see by the digital clock on the dashboard of the car. No one is saying very much. Clare is asleep, her parka hood pulled down and her head lolling against the window. Noah fidgets until Emma throws him a warning look. The heater in the Honda makes a tenuous, scuttling noise but doesn't generate enough warmth to keep Emma from shivering. She's still wearing the coat Sadie Mulbock bought her, puffy and colored silver but dull, like a dead fish. When the car comes to a rattling stop in a restaurant parking lot, Clare startles awake and groans a little.
The restaurant isn't a Waffle House but, to the taller man's obvious dismay, an IHOP. Emma can't remember if she's ever realized that these steeple-roofed blue buildings are restaurants. When the five of them pile into the vestibule, a tiny bell tinkles somewhere in front of them. Emma pulls Noah's hand, silently willing him to let the men go first, and he responds by gripping her right pant leg so tightly she practically trips over him.
The air in the restaurant is damp and crowded with the smell of sugar and wet polyester. The windows are fogged. A young woman with a sleek blonde ponytail shows them to a corner booth. "Can we get a phonebook or something, for the little one to sit on?" Ernie asks the woman, who nods without speaking and disappears, only to return a moment later with a pockmarked plastic highchair.
"He may be a little big for that," Ernie says.
The waitress twists up her mouth, looking irritated. "Giving the wives a day off?" she says. When no one answers she slaps a pile of plastic menus down on the table and says, "Storm coming in," as though to herself.
Emma looks around. The lights are fluorescent and the vinyl benches are red. In the next booth is a man with a gnarled face, wearing a t-shirt with a bald eagle and the words THESE COLORS DON'T RUN emblazoned across it in red, white, and blue. "Six months to live, that's what they gave me," he's saying to the two women sitting across from him. The pronouncement scares Emma. She tries to hold very still, to ward it off, watching Clare rip the paper off a drinking straw, the man's companions nodding vigorously in her peripheral vision. "My doctor told me he was so worried about my kidneys, he couldn't sleep at night," the man says. "Now that really says something about a man."
The waitress returns and asks what they'd like. Emma flinches.
"Could I get a coffee extra hot?" Ernie asks kindly. "Noah, what do you want?"
"Milk," says Noah.
"Aren't you hungry?" Ernie asks. Noah shakes his head.
"Diet coke," Clare says. "And a cheese omelet."
"I'll have a coffee, with milk," says the taller man.
"Alan, eat something, for the love of god," says Ernie.
"Relax," says Alan, who has been perusing the menu carefully. "Okay, I'll have the pick-a-pancake combo. Hold the bacon."
"What kind of pancakes do you want?" the waitress asks.
Alan pauses, leaning forward. "Emma? What kind of pancake do you like, we can get extras of your favorite. Plus whatever else you want, of course."
"I don't know," she says miserably. It's the first time Alan has made eye contact with her, and she notices that the hair at his temples is streaked with grey. He has wrinkles at the corners of his eyes. She's always made it a habit not to ask the social worker where they're going, but she has the sudden, terrifying thought that Alan, or Ernie for that matter, could be a drug addict or a drunk. They could be going to a drug den. That's what Bridges Holly's wife used to scream at him, this place reeks like a drug den. Alan's skin looks yellow. She feels lightheaded.
"Can you give us a minute?" Ernie asks the waitress. He waits until she walks away, then frowns at Emma over the top of his glasses. "You must be hungry."
At the other booth, one of the women says, "That really does say something."
"I've never had a pancake," Emma admits. The waitress returns with a tray of ice waters and Noah's milk.
Alan seems unperturbed, or maybe just distracted, now struggling to puncture the pre-punched hole in the lid of Noah's milk cup, which is printed with a scene of smiling barnyard animals. "Well, do you want a pancake?" he asks. "Maybe it's time to break your streak."
Emma doesn't know how to answer. Noah is watching her from across the table, and she can see her fear reflected in his eyes.
"What a man," says the woman at the other booth.
"Jeez, I'd seen some messed up stuff when I got here," says Clare, "but at least I'd eaten a pancake."
Sadie Mulbock was the largest woman Emma had ever seen, an argyle print mountain in off-brand running shoes, easily tall enough to reach the top shelf at the grocery store without standing on tiptoe. She had a severe widows peak that made her eyebrows look sharp, and her house smelled like hairspray and wall-to-wall carpeting.
Sadie had three handsome, tow-headed children of her own, all of whom, predictably, hated Emma on sight. Sadie took the five of them to Wal-Mart almost every afternoon after school, to see what was on sale. At Wal-Mart, Sadie let Noah ride up in the child seat of the shopping cart with her own youngest, while, on the ground, Emma fended off a series of attacks: her face smashed against a frost-encrusted door in the frozen food aisle, a pyramid of game consoles collapsing over her head, hands twisting her nipples, the insides of her elbows, the back of her neck, shards from a broken CD case cutting into the soft hump of her thumb muscle. After a month, Sadie bought them all matching poly-fill jackets on sale and told the social worker she'd consider adopting Noah, but only if Emma was removed as soon as possible. That was the first time they were separated, until Sadie changed her mind three weeks later. The worst three weeks of Emma's life.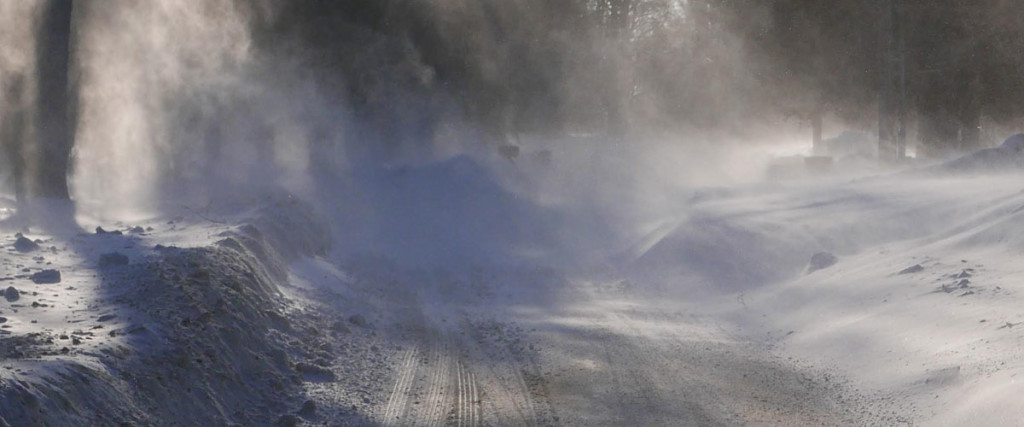 When they come out of the restaurant it's snowing lightly. Archipelagoes of fragile, papery flakes are already coating the ground, transforming the dirty, week-old drifts into the bright white backs of furred, headless beasts.
Alan sighs, looking at the sky. "I should've checked the weather."
"I'm sure we can make it another couple hours, at least," Ernie says, but by the time they're back on the highway the flakes have doubled in size. They only make it another forty-five minutes before Ernie is hunched over the road, squinting into a funnel of snow while the reflective yellow road lines buckle, glare, and disappear under the nose of the car. Everything glints gold against the windshield. Emma leans forward, hands on her knees, concentrating, willing the car to stay in the right lane.
"I think we're about finished here," Ernie says when they pass a sign reading WEATHER WARNING TUNE TO 88.9 lit up in blinking red lights.
"Where are we?" Alan squints at a passing sign, then answers his own question: "Nowhere." He opens the book of maps on his lap and scrabbles a little at the roof, trying to turn on the light. Emma leans further forward, straining at the lap belt. As far as she can tell, no Waffle Houses are marked on the maps.
"Sorry we won't be getting home tonight," Ernie says as he navigates the car down the off ramp. "I was going to make hot chocolate."
"Emma, please sit back," Alan says offhandedly. "For safety."
At the Howard Johnson hotel Emma and Noah and Clare get their own room, maroon and beige, with two full-sized beds also made up in maroon and beige. Clare goes right to start the shower and Emma helps Noah undress. The motel sheets are starchy stiff and after he climbs into bed she pulls the extra pillows off the other side of the bed and props them around her brother. Then she goes to the foot of the bed and pulls up the sheet from where it's tucked under the mattress. She fluffs it up around his feet so he won't feel confined. "There," she says. "Like a little bird in a nest."
"Em," Noah says, "You won't leave all night, right?"
"I never do," she says, just like she does every night. She sits on his bed, looking around the room: plywood furniture, beige phone, plastic desk lamp, plastic binder with a pixilated palm tree on the cover. It's barely five thirty but the window is almost completely dark and, with the light on, reflecting the room with the clarity of a mirror. Emma gets up and switches off the overhead. Across the street she can see the snow whirling hypnotically down to earth in the conical yellow light of the street lamps.
Noah is already breathing deeply when Clare comes out of the shower, her hair wrapped in a towel. Silhouetted in the bathroom door and wreathed in steam, she looks like an angel descending in frothy clouds.
"Jeez, it's dark in here," says Clare. She turns back to the mirror and begins to comb out her hair.
"Could you be quiet, actually?" Emma whispers. "Noah's asleep."
Clare finishes combing and comes to sit on the edge of Emma's bed. "You know," she says. "I'm pretty glad you're here. What d'you think of the guys?"
Emma watches Clare. The other girl must be even older than she thought, because above the ridge of her towel Emma can see a tattoo. It starts on Clare's collarbone, the outline of a naked woman's body in black ink, legs disappearing into the towel. Where the woman's face should be is a cat's head with fangs bared. The tattoo woman's spine must follow Clare's sternum.
"What's that?" Emma says, pointing.
"Oh," Clare says without lowering her voice. She looks down as though surprised to see the tattoo. Emma notices that she has tiny golden hoops in her ears, three in her left and two in her right. Clare touches the cat head with the pad of one finger. "It's me. At least, this is what I look like on the inside. Wanna order room service?"
Bridges Holly worked at the post office, and his wife, whose name Emma can no longer remember, bred dogs, black and white animals, shaggy like wild ponies and dripping thready globs of drool. When Emma arrived at the house, his wife had tied a bright red balloon to the collar of the biggest one, which she called Bonzo. Emma remembers the dog's name but she can't quite remember the faces of the two children hovering behind the dog. She knows they were boys, both taller and older than her, one with crooked teeth, neither saying much. Like her, neither related to Bridges Holly or his wife.
"It must have been tough to change schools again, huh, Emma?" was the first thing Bridges Holly's wife said to her. Emma's bed was in the basement, which was called the game room—a cot in the corner with a plaid sheet strung up around it. "I know it's not perfect," said Bridges Holly when he showed her, "But it'll have to do for now. You don't want to have to sleep with the boys!"
Bridges Holly played poker almost every night after dinner, sometimes in the living room of the house. Every shelf in the living room was crowded with ceramic dog statues and the trophies won by their living counterparts. Sometimes Bridges Holly's wife would join in the poker game, and on those nights she ushered Emma and the boys downstairs to the game room because it wasn't appropriate to expose children to gambling. She told them to play Go Fish, or Monopoly, warning the boys to include Emma in whatever they did.
After she left the room the boys slouched and snickered, mocking Bridges Holly's wife for calling them by the wrong names and watching Emma with darting eyes. And, at least for a little while, all the boys did was watch her.
Noah wakes up screaming around four in the morning. In all fairness, that's later than he usually does, which makes Emma hopeful. Maybe he's improving, she thinks, imagining a receding cloud, shrinking from over him, from over them. "Noah," she says, shaking her brother until he startles, finally, into consciousness, "Noah, it's just a dream," she whispers, curling closer to her brother, pushing the pillows aside, pushing the stringy hair back from his forehead. His hands curl up under his chin.
"I'm awake now," he says.
"Which one was it?" she whispers.
"The closet," he says. "It was really scary." Noah only has three dreams, and the most common takes place in a bedroom he doesn't remember ever being in. In this dream, Noah sits up in bed and watches in horror as the closet door slides open to reveal the unending navy blackness of the open ocean, in which a parade of whales rotates unnaturally, like a shooting gallery. A figure steps to the threshold of the closet and it's the devil. At first he doesn't see Noah, but then Noah starts screaming because he can't help himself, and the devil turns just his head and looks straight at Noah and smiles. And Noah wakes up.
Emma pictures the devil wearing tall black boots and with the face of someone she can't quite place. Noah describes him wearing a cartoonish red suit and horns, and holding a trident.
"What's going on over there?" Clare groans from the other bed. There's the tossing of sheets and footsteps. "You guys okay?" Clare is barely visible in the darkness, wearing plaid pajama pants and an oversized white t-shirt.
Emma looks up at her. "He has nightmares," she says.
"Oh," says Clare. "I used to have nightmares."
Emma isn't sure what to say. "Well he does, too," she says. When Clare continues to look at them, Emma says, "Are you going back to sleep?"
"Actually, do you think I could get in?" Clare asks. "It's freezing over there. I've barely slept."
"Okay," Emma says, too tired to resist. Clare climbs over the foot of the bed and carefully removes the pillows on the other side of Noah. Though she isn't quite touching either of them, Emma finds it oddly comforting, to be one side of a sandwich. Noah makes the gentle smacking noises with his lips that mean he's drifting back to sleep.
"They aren't bad, y'know," Clare says. "The guys."
"Okay," Emma says.
"Like, they actually care. Like, about you." The other girl pauses. "They really aren't bad, once you get to know 'em."
Emma doesn't say anything, but long after Noah and Clare are asleep, she lies blinking at the ceiling, trying to ignore the echoing of her brother's screams and the heaviness behind her eyelids. She's so tired but she won't sleep, she can never sleep. If she falls asleep she'll dream, and in every one of her own dreams she's running through the halls of a house she only barely remembers. She's running through the halls to see who's still awake, to see who else survived the night.