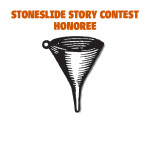 [Note: This story received an honorable mention in the inaugural Stoneslide Story Contest. The 2015 edition opens on March 20.]
---
by Sebastian Barajas
The month is July
Today is Tuesday
The date is 16th
The year is 2013
The weather today is hot
"Bill." My voice is silly and fearful. "Bill, I'm sorry, but it doesn't look like I'll be able to make it for dinner. They're not letting me leave."
It is late afternoon, so Bill must be sitting in his chair with his feet up and a drink at his elbow. His reply is calm. "Uh-huh. Well, I would hope not. Listen, honey, let me just quickly remind you where we are right now."
"Tomorrow at the latest," I reassure him. I start fiddling with my bed sheets, ready to draw them back and stand up. "I'll be coming home."
Bill raises his voice. "No. No you won't. Nance, listen. You won't be coming home for another few days at least. We want you to come home—the problem is, the house is still not ready to receive you. We're still waiting on the carpet guys, the bathroom needs to be redone, the floors need to be redone. And just as soon as all that's finished up, we'll get ya home. Okay?"
I pat my bed sheets. "As soon as that's finished up?"
"Yes."
"You'll get me home?"
"First thing."
I am breathing as though I were in the kitchen moving heavy pots, and not just lying in bed holding a phone. "So… you won't be mad if I'm not there for dinner?"
"No, you're right where you ought to be, sweetie. You just stay put, and focus on getting better."
"Oh. Well, okay." Someone is smiling at me from the doorway, but I would rather she left. I don't want her to see how foolish I'm being. I want to be in my chair back at home, where Bill is. I am angry with myself for getting caught up in this nonsense, for making him wait. "I'm sorry," I say to him, "I hate to be such a bother."
"No, it's no bother. That's what we're here for."
"Aw, well that's awfully sweet of you."
"Uh-huh. Listen, Nance. We're all here, and we're all thinking of you. In the morning, Russ and I will have breakfast, and then we're gonna get in the car and drive on over to see you. Okay?"
"You're coming to pick me up?"
"No. We are not coming to pick you up. Remember, we talked about this? We are coming to visit you after breakfast."
"You're coming to visit me after breakfast."
"That's right."
"But how will I get there to fix your breakfast?"
This is how it's always been: I'm the one who slices the bread and makes the coffee each morning. I'm the one who knows what we like, who knows where everything is: the toaster in the cupboard in the back of the dining room, the Pugliese bread from Safeway that I toast and spread with margarine and black raspberry jam. I serve Bill, I eat beside Bill, I take my pills with Bill. How could he manage without me?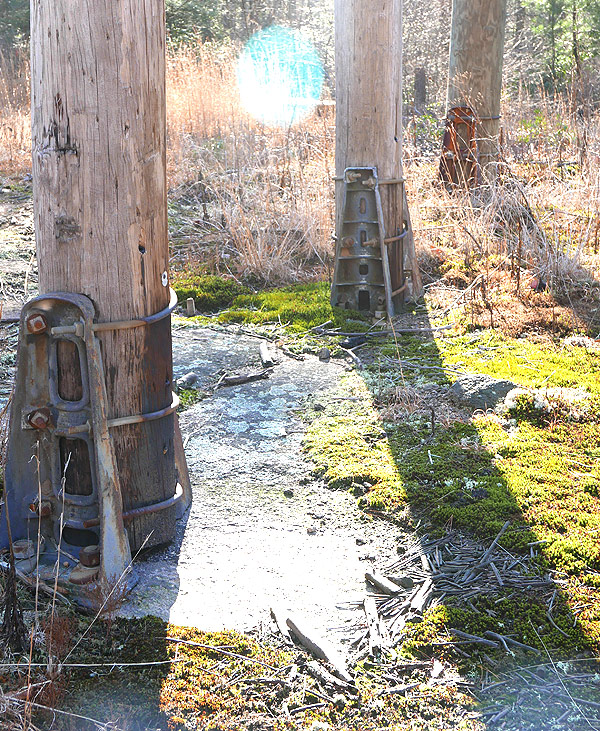 "The girls are taking care of me," Bill explains, "I won't starve."
He wants me to laugh, so I do. "Oh. Well, that's something." But I am not so cheered up. I am not at home. My hospital room is pleasant enough, but it doesn't have anything familiar in it.
I prefer to look out the window of my little hospital room and think of the house and the pool, our twelve o'clock lunches and six o'clock dinners, our chairs in the living room, where we sit together and watch ball games and listen to music and fall asleep. I think of our bed, in the room at the top of a flight of stairs that seems longer each time we climb it. It's all out there somewhere, but I can't seem to get to it.
"It's ridiculous," I say.
"What's ridiculous, hon?"
"It's ridiculous. All the places I'm not."
"Uh-huh. Well, like I said, we're trying to get ya home just as soon as we can." He is dismissing me. He thinks I am being silly, and he's right.
"It's all fouled up," I say. My eyes are wet. It seems my face has been wet a great deal lately. They've put something on my forehead and it runs down into my eyes. I blink and try to wipe it away, but my fingers are stiff. I want it gone.
"No. No, it's not all fouled up, hon. You're getting better, and we're getting the house ready for you. Now, you know we love hearing from you. We're looking forward to seeing you tomorrow, alright?"
"Alright."
"Okay, then. Nance, you sleep tight."
"I will."
"Okay, then. Bye-bye."
####
The month is February
Today is Monday
The date is 6th
The year is 1950
The weather today is cold
At nine in the morning, the judge totters from his chambers. He has our papers with him: evidence that we live, that our names are our own, and that we've each passed a syphilis test. He looks them over, and when he is satisfied, he looks at us for the first time, his eyes hazy with drink. I guess that he is counting: one man, one woman.
Bill has produced the two necessary witnesses. The first is his good friend, Peter Lee, and the second is some hangdog fellow Bill has paid five dollars.
"All he has to do is sign his name," Bill assures me. He is fidgeting with his shirt cuffs, and I wonder if he is speaking more to himself or me. Meanwhile, I am trying to suppress a rather dreadful case of the giggles.
It was only three months ago that I wrote my mother in Boston, telling her I'd just met a conceited man named Bill Creger, and that I wasn't interested at all in seeing him. But somehow he got me into his little black 1948 Chevy Tudor, and read me poetry from the volume he kept in the glove compartment. Somehow he got into my apartment and sang to me, unaccompanied, an entire piece of opera called, "La calunnia é un venticello," or "The calumny is a little wind."
It was only a month ago that he proposed. The fire was low and all the other girls had gone, and he warned me there were three things wrong with him: he had no money, he had a bad disposition, and he was Jewish.
I said yes before he could properly get the words out.
You might say I am making a mistake. You might say I'm being foolish, or tell me I don't know what I'm doing. Let me tell you something: I have a master's degree in economics from Stanford. I work for the Federal Reserve Bank in San Francisco, and I earn three hundred dollars a month—that's fifty more than Bill makes. I made him wait a month before he could take me out. I made him return the wedding ring he bought me. There is nothing in this world that I can't handle, and Bill Creger is no exception.
####
The month is July
Today is Wednesday
The date is 17th
The year is 2013
The weather today is hot
I have forgotten something urgent. I keep thinking it's this, or that, or the other thing, but it's not. I'm remembering all wrong.
Perhaps it's my watercolor painting of the cabin in Rancho San Ysidro where Bill and I stayed after we married. It must still be there by the pool waiting for me to finish it. I need to go back for it before someone throws it out.
But no, how silly of me. Bill took me away from there and brought me home. Between the house, the family, and the boarders, I haven't had the time for nonsense like painting. The thing is probably out in the game room somewhere, gathering dust.
Well. Bill will know what it is I've forgotten. I suppose he'll be upset with me. He likes to tell me what an appalling memory I have.
Now I see him in the doorway. His cane is missing, and in its place, he is leaning on my walker.
"There she is," Bill announces, "That's my bride."
He's brought Russ and her boys.
"Hey, Mom," Russ says, "Wow, your forehead looks so much better."
"Does it?" I reach my hand up.
"I'd leave it alone though. If I were you."
"Leave it alone, you say?"
"Yeah. It's looking much better, though."
"It's looking much better," I repeat. I lower my hand.
####
The month is April
Today is Wednesday
The date is 12th
The year is 1972
The weather today is hot
The carpet men left just before dinner. The air feels different now, and the sounds at the dinner table are muffled, so that the bowls of soup don't clatter as the students pass them around.
"I think we've got this place a notch more comfortable," Bill announces. He is ladling the soup. "It feels just like walking on sheep."
"Have you ever walked on sheep, Dr. Creger?" one of the students asks.
"Haven't you ever been to Scotland? Only way to get around."
The students laugh and pass their bowls. I am the last to get mine, but they all wait for me before they start.
Refrigerator soup is made the same way each week. But since we never have precisely the same leftovers on any two days, there is no recipe. Nobody will ever make this soup again.
"You had better enjoy it," I tell the students. I smile, so they know I'm not serious.
This year we've got a good batch of students staying with us, most of them studying at the medical school, where Bill works.
Bill clears his throat and raps the table. "I've got a poser today for you all. A thirty-five-year-old woman falls, hits her head. No concussion, small bump, thinks nothing of it. Next day, her stomach starts to ache. Gets steadily worse for a week. She comes in. Unmarried, no intercourse in the past year. No tenderness, no lower right quadrant, nothing that would suggest appendicitis. Low white cell count."
The students listen, and when he is finished, they ask questions to narrow down the poor woman's illness. I eat my food and listen, though I don't participate. This is Bill's game. My field was economics, not medicine. Anyway, I've forgotten most of what I learned at Stanford. Between looking after the house and the students and the children, there's been no reason to think of it. If it's gone, it had to be that way.
I look down the table to where our four children usually sit. Russ is missing. She's been upset since Radagast the Brown, her dachshund, died. I think she'll be done soon. It's been a week, after all. As Bill told her, "People are dying today who've never died before."
I get up and clear Russ' plate. It's nearly time for dessert.
####
The month is August
Today is Friday
The date is 9th
The year is 2013
The weather today is hot
It is now drink time, and I'm waiting for Bill. I'm in my own house now, and my son Phil is here waiting with me. My legs are stretched out over a newly shorn floor. To think these perfectly good oaken boards have been hidden under carpet all this time. It's just a shame getting them to come out was such a bother.
I see Bill emerge into the living room, shuffling back to his chair. Except for the walker, it's a familiar sight, and especially comforting with everything being so topsy-turvy lately. I close my eyes.
"Dad?" I hear Phil's voice, and turn to see him grab Bill under his arm. I watch the pair struggle the last few feet, and then Bill collapses. Immediately, Phil sets about trying to revive him. He is a doctor, and knows how to do that sort of thing. From my chair I can see everything, and I feel useless knowing I can't help. We are lying feet from one another.
Medics arrive with equipment but it's no good. Bill and I had it written down long ago that we do not want to be kept alive that way. Nothing for it but to leave him where he is, and for me to stay where I am. They know better than to try and move us apart.
The truth is, we've been expecting this. We've always known there would be an end to our unusually long chain of good luck. It began the morning we left the courtroom and made it back to Bill's apartment without being hit by a car or poisoned by the can of beer we split to celebrate. Our luck continued the next day as we drove Peter's car down to our cabin at Rancho San Ysidro, and then on to our next appointment, and so forth for another sixty-three years. That's how our marriage has been, and I've loved every minute of it.