It is a privilege and an honor to announce the winners of the 2015 Stoneslide Story Contest. We received hundreds of submissions from all over the world, and the process of reading them all left us dazzled by the inventiveness, care, and passion exhibited by so many writers. We are grateful to each and every writer who participated.
The few works we finally selected as honorees were those that had the force and finesse to push our stubborn hearts through new revolutions and make us feel something revelatory and familiar at once. They made us gasp or cry. They accomplished what the best stories can accomplish—to say more than it seems possible to say.
If we were to praise each story as it deserves, we would deplete our store of superlatives. So we present here just a few words about each, and we look forward to bringing you the work itself in coming months.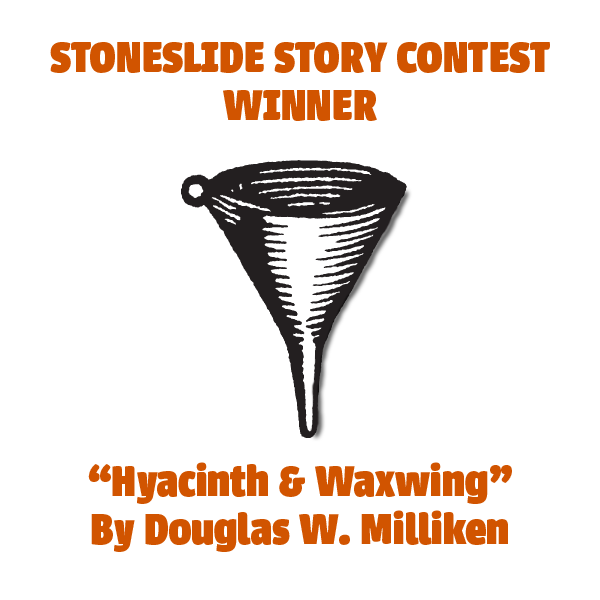 The winner of first prize this year is "Hyacinth & Waxwing," by Douglas W. Milliken. It is a story that speaks of the ordinary in a hushed voice and yet touches a range of penetrating emotions, from grief to wonder. While as focused as a still life painted by an old master, "Hyacinth & Waxwing" looks through the everyday to the eternal.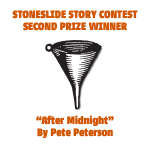 Taking second prize is "After Midnight," by Pete Peterson, an exuberant joyride of a story in which language provides the road, the fiery engine, and the unpredictable jolts along the way. The story, characters, and setting are vivid and immediately knowable, and yet as pure as myth.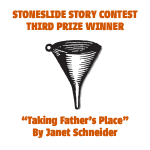 And third prize goes to "Taking Father's Place," by Janet Schneider, a rich and layered story about a young man who relentlessly asserts his individuality and his longing to count in the world against a situation that could easily crush him into compliant anonymity.
Four stories were also recognized in categories of special achievement, receiving $100 awards:
Striking use of wit: "The Saguaro Apocalypse," by Sara Dobie Bauer, counterpoises the overwhelming-seeming challenges of romantic struggle with a sudden eruption of phantasmagoric violence. While this comedic device is executed with great skill, a wry narrative voice gives the story its cutting edge.
Description that makes us think we were really there: The descriptions of sensation in "Sin," by Julia Tracey, made us feel like language was a conductive fluid carrying charges straight to our synapses.
Propulsive scene and/or plot line: "The Divvy," by Mary Holland, starts with an unwanted and burdensome gift and moves at tremendous speed through complications and challenges, barreling toward revelation, all the while assembling a fantastical and convincing world.
Beguiling character: "Trick or Treat," by Chris Helvey, tells a story of two characters, each weighed down with all the hurt, dirtiness, and tenderness it's possible to have, and each made full and living by their need for the other.
In addition, eleven stories are recognized as honorable mentions, each worthy of appreciation and commendation:
"The Madam's Daughter," by Libby Cudmore
"A Movable Feast," by Ellen Six
"Forget the Heart," by Cameron Martin
"Good Luck Charlie," by Mark Wagstaff
"The Fluid in Our Veins," by Rachael Warecki
"Ain't You Scared?" by Gillian French
"war story," by Clyde Farnsworth
"Places Still On Fire," by Brianne Kohl
"The Emmett File," by Sara Dobie Bauer
"Great Aunt Ida's Last Thanksgiving," by David Wolf
"The Serpent Under Lantana," by Joanna Parypinski
The bios of winners and honorees are below:
FIRST PRIZE
Douglas W. Milliken is the author of four books, including the novel To Sleep as Animals and the pocket-sized collection Cream River (due out this November through Publication Studio/Downeaster Editions). His stories have earned prizes from Glimmer Train, McSweeney's, and the Salt Institute for Documentary Studies, and have been published in Slice, the Collagist, and the Stoneslide Corrective, among others. He lives in a coastal bog amid a gawky congress of too many egrets outside of Portland, Maine.
SECOND PRIZE
Pete Peterson could hit neither the fastball nor the curve, so he successfully wrote advertising and direct mail copy until the insane necessity to write fiction engulfed him. Neither he, nor his wife of 37 years, have had a good night's sleep since.
THIRD PRIZE
Janet Schneider received her MFA in Fiction writing from Spalding University in 2013 and since then has won Harpur Palate's John Gardner Memorial Prize in Fiction, appeared as an Editor's Pick in Pooled Ink: Celebrating the 2014 Northern Colorado Writers Contest Winners, and has been published in several other print and online literary magazines.  She lives in Berkeley, California, but spends as much time as possible in Charlevoix, Michigan, in the summer. You can read her published work at www.janetschneider.com or follow her on Twitter @janetsschneider.
SPECIAL ACCOMPLISHMENT
Sara Dobie Bauer is a writer, model, and singer with an honor's degree in creative writing from Ohio University. She is a book nerd and sex-pert at SheKnows.com and author of Life Without Harry and Forever Dead. Her short story, "Don't Ball the Boss," was nominated for the 2015 Pushcart Prize. Read more about Sara at http://saradobie.wordpress.com or find her on Twitter @SaraDobie. She lives in Chardon, Ohio.
Julia Park Tracey is an award-winning journalist, author and blogger, with recent short fiction on Sweatpants & Coffee. She is the author of the Veronika Layne mysteries and the novel Tongues of Angels; two women's history books and a collection of poetry.  Read more at www.juliaparktracey.com.
Mary Holland is the author of Matcher Rules, The Bone Road, and The Dog of Pel. After managing a corporate research library in Silicon Valley for twenty-five years, mostly to support her fantasy and science-fiction habit, she now writes full-time. She lives among the redwoods in California's Santa Cruz Mountains with three cats and one husband. Find her online at www.mary-holland.com.
Chris Helvey's short stories and poems have appeared in numerous publications including Kudzu, The Chaffin Journal, Modern Mountain Magazine, Kentucky Monthly, Best New Writing, Solstice, New Southerner, Bayou, Coal City Review, and The Dos Passos Review. A book of his poems is available from Finishing Line Press. His novel Whose Name I Did Not Know is available from Hopewell Publications. He currently serves as Editor of Trajectory Journal.
HONOREES
Libby Cudmore worked in video stores, bookstores and temp agencies before settling down in Upstate New York to write. THE BIG REWIND, due out in early 2016, is her first novel, and her short stories have appeared in PANK, The Stoneslide Corrective, The Big Click, Big Lucks, the HANZAI JAPAN anthology and others. She makes all her own writing journals and has a halfway-decent record collection.
Cameron Martin lives in Lordship, Connecticut. His short story "Postcard from Amsterdam" was selected for inclusion in the anthology Best New Writing 2016. His fiction has also appeared in DoubleThink Magazine, Independent Ink Magazine and is forthcoming in Spark: A Creative Anthology. His book reviews and essays have appeared in The New York Times Book Review, The Christian Science Monitor, The Daily Beast and Barnes & Noble Review, and his sports writing has been carried by numerous publications, including The New York Times, The Atlantic, ESPN.com, CBS Sports and NBC Sports. On Twitter: @camerondmartin.
Since the 1990s Mark has had stories published in journals and anthologies in the US and UK. His long short story "Hit the Switch" was published in summer 2014 by the Chicago Center for Literature and Photography in CCLaP Weekender.  In 2012 his story "Burn Lines" won the Machigonne Fiction Contest, promoted by The New Guard while in 2013 his story "Some Secret Space" won the William Van Wert Fiction Award promoted by Hidden River Arts. Mark's second short story collection, also called Burn Lines, was published by InkTears in 2014. Gina Ochsner called the stories in Burn Lines 'lyrically intrepid', while Rick Bass found them 'sweetly ominous.' Mark's fifth novel Lovers will be published in 2016 by CCLaP. Details of Mark's work are at www.markwagstaff.com and try In Some Rainy City for random words and pictures of stuff.
Rachael Warecki holds an MFA in Fiction from Antioch University Los Angeles, and is also an alumna of Scripps College, Loyola Marymount University, and Teach for America. Her fiction has appeared in The Masters Review, Midwestern Gothic, The Los Angeles Review, and elsewhere. She is currently at work on a speculative fiction mystery novel about a political assassination in near-future Sudan. Learn more on her website, or follow her on her Facebook page and Twitter feed.
Gillian French holds a Bachelor Degree in English from the University of Maine, Orono.  Her short fiction can be found in EMP Publishing's Creepy Campfire Stories (for Grownups): Tales of Extreme Horror Anthology, Odd Tree Press Quarterly, Sanitarium Magazine, and The Realm Beyond. Her fiction contest wins include Second Place in the Genre Short Story category of the 2013 Annual Writer's Digest Writing Competition, First Place in the Horror category of the 2012 Writer's Digest Popular Fiction Awards Competition, and Third Prize in the 2012 Zoetrope: All-Story Short Fiction Contest.  She lives in Maine with her husband Darren and their son Jeremy.  Find her at gillianfrench.wordpress.com.
Brianne M. Kohl is a professional liar who cannot be trusted. She has been featured in several publications including Crack The Spine, The Master's Review: New Voices, and The Bohemyth. Find a complete list of her publications at www.briannekohl.com. Brianne lives in North Carolina with her husband, daughter and pet capybara named Roger. All of this is true. Probably.
Author David Wolf has been committing fiction his entire career: the kind that pays (advertising) and the other kind. His commercials have moved millions to reach for their wallets. He hopes his novels and short stories will also move the multitudes. His first published novel, Mindclone, is available at Amazon and other retailers. The sequel is percolating in his brain even now.
Joanna Parypinski is a writer who seeks the mysterious and the macabre in her work. She received her MFA from Chapman University and is working on her second novel. When she isn't writing, she might be found teaching English or playing her cello (when the planets align). Find more at joannaparypinski.com.
Clyde Henri Farnsworth, an American journalist for more than four decades, is also the author of a novel, Shadow Wars, designated Amazon Thriller of the Month. Other books include No Money Down and Out of This Nettle. His books grew out of news dispatches written successively for United Press International, The New York Herald Tribune and The New York Times. For the New York Times he was a foreign correspondent based in Europe, Canada and Australia. In 1968 he won the E. W. Fairchild Award of the Overseas Press Club of America for Best Business News Reporting from Abroad. In 1969 he was a Pulitzer Prize finalist with Tad Szulc and Henry Kamm for articles on the Warsaw Pact invasion of Czechoslovakia.