Martin Winterkorn, the former CEO of Volkswagen who recently resigned and accepted responsibility for the scandal over manipulation of emissions tests, will soon be cashing in on all that responsibility-taking. He is reportedly in high demand on the speakers circuit, where other top executives want to hear how he kept profits high for so many years before getting caught.
Winterkorn is represented by the Retread Speakers Bureau, which is asking $500,000 for a one-hour talk. Winterkorn himself is currently holed up in his second home near the ski town of Davos, Switzerland, where he is developing a PowerPoint deck that lays out his approach to management and provides leadership advice. The Stoneslide Corrective acquired a draft of Winterkorn's presentation, titled "Skulduggery: The New Leadership Value-Add," from a source inside RSB.
View the entire draft presentation. It's worth a look.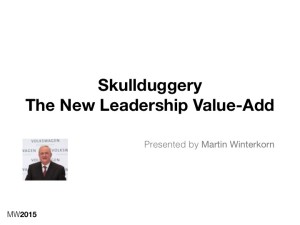 The talk is a draft, and it requires some guesswork to determine Winterkorn's intentions, but his central message is clear. He is advocating for an approach to leadership that is more flexible and opportunistic, in terms of functional roles, geography, and morality. This is the kind of leadership, he argues, that can build great enterprises in a global age and by that accomplishment create great benefits for everyone who is affected by those organizations.
We shared the draft presentation with a number of leadership and management experts, who unanimously praised it.
"What really struck me was the idealism in Winterkorn's approach," said Wilford Eksale, a professor of economics at Wye Sprite University. "He's presenting a call for the global corporate class to lift themselves up and fully embrace the good they do in the world by maximizing their own success. It's not enough to say, 'the law doesn't allow this,' or 'this might not be ethical.' Corporate leaders need to be above that." Eksale argues that leadership today can't come from government—look at Washington, or Brussels—or the under-resourced do-gooders at NGOs. He says, "Winterkorn affirms that the best thing for everyone is when corporate leaders do what's good for themselves. It will be a very popular message on the circuit."
Another scholar, sociologist Marjorie Hickles of Upland Downs University, hailed Winterkorn's distinction between vertical and horizontal leaders as a major theoretical breakthrough. In the presentation, Winterkorn recommends what he terms a "horizontal" approach to leadership, which is always seeking opportunity and crossing barriers set up by governments. He contrasts this with a "vertical" approach, or one overly insistent on ethics and propriety. "I predict scholars like me will be studying this idea for decades to come," says Hickles. "His insights into using complicity and shared criminal responsibility to build great teams are particularly informative."
What about the fact that Volkswagen has been severely wounded since the scandal came to light? "You can't judge something just by looking at the end of it," says Eksale. "That's like judging Van Gogh by the fact that he almost botched his suicide and took two days to die. You look at the work he created along the way, and there's no question Winterkorn created a brilliant body of work. Now we can all learn from him."
More on business and corruption:
The Sadness of Seeing Corruption Punished
Movement for Money Rights May Reshape Elections
University Purchases City for Economics Experiments