Fans of thirty-one of the thirty-two teams in the National Football League have banded together to demand that Commissioner Roger Goodell institute a change requiring Jed York, owner of the San Francisco 49ers, to retain ownership of the team in perpetuity.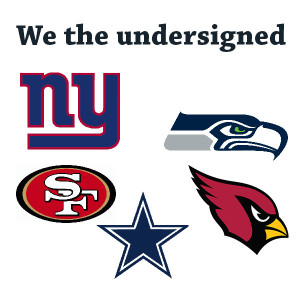 York is a divisive figure, and football fans across America say the 49ers should be forced to continue their plummet into awfulness that began after the team and successful coach Jim Harbaugh (44-19-1) "mutually agreed to part ways" in December 2014.
St. Louis Rams fan Greg Eatonall, of Springfield, Missouri, says, "The 49ers administration had its chance to do things right. They chose to stick their heads up their you-know-whats, and now they pay. Their front office has always been a bunch of bullying crybabies, anyway."
Tyrique Laudell, a New York Giants fan who since 2003 has lived in San Francisco, where he is a high tech executive, is "beyond happy" with the proposal. "I'm something of a student of corporate stewardship, and when it comes to leadership it doesn't get a lot worse than Jed York. This will force the York family to live with the consequences of their many bad decisions, one of which was installing Jed instead of searching for someone of competence."
Goodell is said to be cool to the idea, and would actually prefer that Jed York be put out of professional football altogether. In much the way that the Dallas Cowboys' owner was once recorded after having a few drinks badmouthing his quarterback, Goodell was overheard at a midtown Manhattan restaurant saying, "Jed York? He's a twerp. Talk about useless!"  Technically, York's mother owns the team, but Jed is the face of ownership.
York does have supporters. Larry Ellison, of tech giant Oracle Corporation, in Redwood City, California, says, "Jed York isn't stupid. He's just football-stupid. You can't hold that against him. Football, like yacht racing, is a man's sport."
Within the 49ers organization, York has allies as well. Jackie "Jackman" Diddletwunt, the food service worker who operates the main queso pump underneath Levi's Stadium, says, "I've heard that Mr. York is a very nice guy."
Many 49ers fans oppose the proposal, saying York has demonstrated that he is a terrible leader. Patrick McCollough, of Mountain View, California, says, "York has no business owning a football team. His feelings get hurt, so he chases out a successful coach? No way."
McCollough is referring to numerous anecdotes that say York found Harbaugh's style dismissive and was uncomfortable around the forceful coach, and therefore brought in the avuncular Jim Tomsula as head coach because Tomsula won't challenge him or bruise his feelings.
Fans of other teams don't care. Calvin Kraybaugh, an Arizona Cardinals fan from Albuquerque, New Mexico, supports forcing York to hold onto the team forever. "As long as that guy's in charge, we're golden! All hail Jed York!"
Word has started to spread that 49ers fans are going to retaliate, and launch a petition requiring aforementioned Dallas Cowboys owner Jones and the owner of the Washington, DC, football franchise to retain ownership of their teams forever, too.
Another group of Bay Area fans is agitating for a motion that would put NFL owners on the field. "Let's get rid of the pretence," says Woodside, California, resident Lawrence Teale. "Instead of rooting for players, who are really just representatives of the owners, let's see the owners out there duking it out. Yeah! Jed's got to be able to take a guy forty years older than him, right? Right?"
More from Stoneslide:
Seattle Seahawks Fan Sues Team over Hearing Loss
Organizers Hope Take Your Lazy-Ass Son to Work Day Sees More Participation
Cal's Academic Standards for Student Athletes Ridiculed in Rival School's Recruiting Materials