Robbie arrived early that morning, sore in back and stiff in shoulders with eyes itching red from the long night crossing through one flat state into another—chasing taillights and hypnotized by highway lines, the green glow of interstate signs apparating from the vacuous black—but his mom and pop were up and waiting when he pulled in beside his pop's '78 Scout, so rest of any kind was out. His mother stepped down off the stoop and crossed the driveway to greet him. Pop remained in the open front door, leaning on his cane. He was making a face that Robbie took from experience to be a smile, though it honestly looked more like a wince. In the driveway gravel, his mom hugged Robbie hello. It was familiar, her gesture, if not also formal.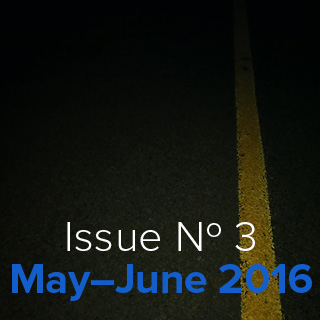 CONTENTS
Sponsor's Note: Warnings
Hyacinth and Waxwing
Prom Night
After Midnight
The Divvy
It was a wet October grey outside with just a few blue jays here and there in the gutters and defoliating trees, whinging like rusty hinges to mock the neighborhood's morning still. No one else roaming the cul-de-sac. Few windows lit on the street. Robbie followed his parents inside the house, let himself be led to the kitchen, expecting to be greeted by the sour smell of medicine bottles and age but discovering only the ghost of last night's goulash lingering convivial in the air as they gathered around the red Formica table. Robbie fought the impulse to help his father ease into his seat, knowing already precisely how Pop would refuse him. He wasn't here to help his parents. He was here to be here. As vain as it felt to admit, he knew and accepted that his presence was his gift to them. He would be whatever they wanted him to be. And right now, they wanted him to be fed. His mom fixed him a cup of coffee then poured three bowls of bran flakes with honey drizzled over top. Then they crunched through breakfast as a team, pearls of milk dripping from their spoons. Just like when he was a kid.
His mom alone spoke while they ate. She kept talking when she cleared their empty bowls. But Robbie was having a hard time understanding her. Her voice had become like a songbird's, chirruping up into giddy high registers. It didn't seem to matter if he responded to her or not. Clearly, it was the talking itself that brought her joy. Watching her shuffle briskly about the kitchen, Robbie found himself thinking of her as a giant plum that, by nature's process, was slowly drying into a prune. Meanwhile, his pop was a pole bean, withered on the vine. Shaped so much like a question mark. He barely spoke one word.
Over the shushing of her slippers, his mom's song seemed to indicate that she wanted him to go shopping with her. She was thinking new sheets and bedspreads and curtains for the spare bedrooms upstairs. There was also a new slots casino outside of town that she was curious to see. Robbie nodded and smiled and said sure. He wanted so much to sleep. Too bad. Fingering the wet circles left by his cup on the table's red face, Robbie looked over at his pop, whose fingers too were moving, tapping out rhythms against the crook of his cane held loosely between his knees. He was wearing plaid pajama bottoms and a red sweatshirt with an elephant and the word ALABAMA marching across the front. Neither article fit him terribly well. Staring at the black and white checks of his father's pajama bottoms, Robbie asked him, "Is there anything you need while we're out, Pop?" It was a foregone conclusion that his father would not be joining them on their outing.
Pop turned toward Robbie without really looking at him, broadening his smile that wasn't a smile. As if he was hiding behind his own face. His eyes through his glasses' blur were just thick hyphens.
"No thank you, Robek," he drawled, voice both mucousy and dry. "I don't need one thing today."
Jacek stood at the door and waited until Mala and his son had backed out of the driveway, Robek behind the wheel of his Scout, tires popping on the gravel, and finally disappeared around the cul-de-sac's bend. He smiled and waved as he watched them go, but really, he was trying to keep his cane from shaking beneath his weight. Drive faster, he thought. Quit waving already and go. He shut the door and went to find his walker.
It was one of those things he didn't like anyone to see, his slow shuffle about the house with his four-legged metal brace dully cutting his path through the world, nudging chairs and knocking the wainscoting. There was some semblance of dignity with a cane. Not so with a walker. If a cane was a poem, a walker was a manual, read aloud and broadcast with a bullhorn. Jacek hated being seen so feeble.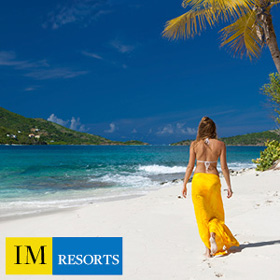 This issue sponsored by IM RESORTS.
Take a vacation from your conscience.
In the hallway, somehow, one slipper fell off his foot. Jacek stopped to stare it down, as if it were a bad dog that might be convinced, by the sheer weight of his disappointment, into being a good dog. It didn't work. Disgusted, he left it behind in the search for his walker.
Being seen at all had, in recent years, become a thing the old man loathed. It felt like a violation. Growing old, he thought, should be private. Like masturbation, or using the toilet. Private. Measuring his steps to the kitchen, Jacek hung his cane over the back of his chair and withdrew his walker from behind the stove, snapping open its folding legs. Then he poured himself a glass of juice. Why should anyone want to bear witness to a body falling apart?
And did it gall him that Mala, two years his senior, could walk briskly about just fine, quick and nimble as a freshly hatched chick? Did it kill him that this spritely bird got to watch him crumple like a crushed cigarette? He finished his juice without realizing he was drinking. On the counter near the stove was a little black radio. Jacek clicked it on and a man's voice entered the room in mid-sentence, talking about a bill that would not pass through Congress. How can obvious things count as news? He turned off the radio and headed toward the bathroom.
Yes. Privacy. It's better when there's no one to see. In the hallway, he passed the traitorous slipper, pretending it wasn't there. Jacek knew that, at his age, he should be happy that Robek's come home for a visit, that the company of one's children is something that retired folk are supposed to revel in. But what's so great about being weak and defeated before the eyes of your son, simple boob that he may be? Isn't that the opposite of what any father would want? It was nice that Robek came, that he took the time to demonstrate the dimensions of his love. But a postcard would have sufficed.
Shuttling into the bathroom, Jacek clicked shut the door and surrendered himself coolly to the toilet's porcelain kiss. And finally, he could relax. Being observed by anyone but Mala made him self-conscious. His doctor made him self-conscious. Answering the phone made him self-conscious. But let it go. Jacek slouched on the toilet and told himself, let it go. You have grown old because you have grown. Your body betrayed you because it's a body. Maybe your son looks on you with pity and maybe he looks on you with love. Let him look. Let him eat your cereal and borrow your car. It changes nothing. He will be in this position, too, someday. All of these things are okay.
But still: sitting alone in the privacy of one's own bathroom? Positively luxurious. He remembers after his surgeries having to make his movement in a hospital bedpan while Mala and a nurse looked on, and he remembers squatting in an Army latrine among a dozen other men. Why does no one ever tell you to appreciate this, the simple joy of a solitary shit? Maybe, he thought, I should write a song about it. Perhaps something in Bm.
Jacek began to hum a melody, something of the mountains and dark-haired girls and reminiscent of his youth, and maybe for a moment he imagined himself a younger man, the sort still capable of simple physical feats, such as standing while pulling up his pants in a single fluid gesture, for that is what he attempted in rising from the toilet. But his balance was bad and his legs got tangled in his pajamas as he pitched forward through the legs of his walker, which snapped closed on him as he landed hard and awkwardly on the floor, smacking his forehead on the corner of the sink on his way down. His glasses tumbled somewhere far away from his face. Everything was a blur, then the blur grew red from the gash blossoming on his brow. None of it hurt, but this knowledge did not comfort him, for only the inert feel no pain. It happened too quick, but none of it was a surprise. He was down. With his last bit of strength, Jacek tried to tug up the waistband of his pajamas to cover himself, and when he knew he could not, he said aloud or maybe just thought, like a kid's balloon whipped away in sudden wind, "What a load of crap."
They drove first to Filene's Basement on one side of the mall and then to JCPenney on the other side, then back again to Filene's to get the sheets and curtains his mom decided would look best in the upstairs rooms. "These frequencies," she said of the colors, "will heterodyne like crazy!" Then they took County Highway A through the open tracts of field and pasture past the outskirts of town, to the new slots casino to take a look around. It was nice driving his father's Scout. It felt less like an automobile and more like a wagon, something drawn by horses or an ox. You didn't so much drive it, he thought, as help guide it where it had already made up its mind it wanted to go. It didn't need him as much as he needed it.
They parked in a spot where there weren't many other cars, then walked around through the casino in a slow, unguided daze like stoned teens overwhelmed at the fair. Neither had much interest in playing the machines. They just wanted to see what it was all about. The place was smaller than either Robbie or his mom had expected. Carpet like Navajo jewelry reinterpreted as a black velvet painting. Lots of flashing lights and dinging bells. Despite the sprawling parking lot outside, there was nearly no one playing the slots. Acting on a sense of obligation, his mother pumped a ten dollar bill into a quarter machine, pulled the lever a couple of times, and ended up with her ten dollars back in change. Then they found a sort of cafeteria buffet, stood in line and sat down with their trays, his mother trilling her birdsong all the while, and as they cut into their ham steaks and gravy, he heard her say something about oil drops bouncing on the surface of a magnetized super fluid, and in a moment of sudden dissociation, realized she was talking about quantum physics.
"This article," she said, "made it sound like such a big deal, a real breakthrough, that observable matter actually does behave the same way as subatomic particles." She jabbed a spear of green bean into the gravy welling in her mashed potato volcano. "But jeez, just look at a model of electrons spinning around a nucleus and tell me it doesn't look like the solar system. Big things and little things always behave the same. The universe isn't interested in size."
Robbie had taken just enough science in college to recognize that he had no idea what she was talking about.
"I mean, look at a line of trees blowing in the wind. Now tell me, how are those not eyelashes?"
"Wait. How do you know all this?"
But she just shushed him with a dismissive wave of her hand.
All his life, Robbie had thought of his parents as dumb. The way that all kids think their parents are dumb. His father with his accordion? His mother with her meetings each evening at the Y? Idiots. Every action he has ever taken toward them has been to humor them. But what if he was the one being humored? What if he was the joke?
I'm not a kid anymore, he thinks, sopping up the last of his gravy with a hank of buttered roll. I haven't been for some time. He pauses eating long enough to check his phone for nothing in particular. Where had Pop played all those years, back when he still could play? What were Mom's meetings all about? Standing from the table, he buses his and his mother's trays, comes back with paper saucers of pineapple upside-down cake crowned in spiraled turrets of whipped cream. Why am I only just now growing up?
Mala raps her fork three times against the table. She's not looking at him. But she wants his attention.
"I mean, think about it. They keep looking at smaller and smaller things trying to figure out where it all ends, right, trying to find the smallest basic unit. But it's no different than the astronomers with their telescopes looking deeper and deeper into space and finding no limit whatsoever, just more and more stuff. Stars and galaxies and junk spinning real fast." She turns her cake a quarter turn, then a quarter turn again. Like she's looking for the best place to begin. "The more you look, the more you find."
Robbie nods, not listening, and takes his first bite of cake. He wonders: What makes me think I'm growing up now?
Okay, so there's matter, right? And then there is dark matter. There is dark energy, too. These dark parts explain gravity, apparently. They explain a lot of things we don't yet know how to prove. For example: the universe is moving too fast, it seems, faster than the mass of its matter would allow. So the dark matter makes up the difference. It does most of the work. In fact, it does nearly all of it. There's more dark matter in the universe than there is of the real stuff, and even more dark energy than that. But we can't see any of it. We only know (or are told) that it's there. We have faith in the dark that is invisible and is everywhere. All we can see is matter, and there's barely any of that at all. So how do we know it's there? If all we can see and record and touch is the universe manifest as its least aspect, how can we even know it's there? How can we know we are here? Could it be that we are mostly dark, too?
Mala turns her absent gaze from the window to the man guiding the Scout along the highway, and wonders if it matters if it's Robek or Jacek behind the wheel. Everything is dark and likely getting darker. She wonders if it's either. She wonders if it's both.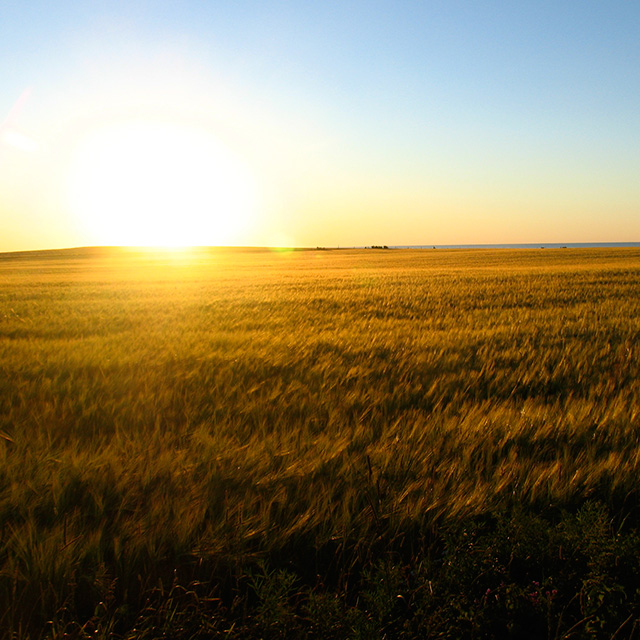 They take their time driving home. Mala wants to point out to him through the windows things that have changed since he moved away to, as she puts it, become a big-shot barista in the city. It's important that he sees how much even the simplest things change, how everything is impermanent. Everything but the rules. But again, he's having a hard time understanding her. He's too damn tired, and the overcast sky makes the plains look flat and shadowed so that far and near grow indistinct and are maybe nearly the same. It doesn't make sense to him, how every word she says sounds like it's spoken in some other language he's hopeless but to misunderstand, her meaning always—always—just beyond his means. His mother speaks like a waxwing.
Back home, Robbie takes the shopping bags to one of the spare rooms upstairs while his mom prepares a fresh pot of coffee. When he comes downstairs, he asks her where Pop is. He's looking down the hallway at the lone slipper on the floor when he asks. Mala says he's likely taking a nap, but in a moment she goes into their downstairs bedroom and returns shaking her head, saying no, he's not there after all. They look around for him, in the backyard and in the garage. It's Mala who finally checks the bathroom.
"Oh jeez."
"What? What is it?" Robbie's in the living room, looking dumbly at the empty couch.
"I found your father." Then, more quietly and mostly to herself, "Damnit, Jacek."
Robbie comes and stands beside her in the doorway.
"Oh."
"Yeah."
"Oh no."
"I know." She lays her fingers across her cheek, looking at the blood congealed darkly on the checkered linoleum. "I guess we should call someone, huh?"
"Should we maybe check him or—"
Mala turns to him and touches his elbow. She gives him a look that he's embarrassed to be given. "Honey," is all she says.
While Mala makes the call, Robbie paces a bit in the living room, his course a triangle from the TV to the couch to the bookshelf running along the back wall. On top of the television stands a framed photograph he's never noticed before, of a golden retriever panting in green grass, sun flare streaming from above distant trees. As far as Robbie can recall, they never owned a dog. It's the only framed picture in the room.
Robbie goes back to his father in the bathroom. It's almost like a mousetrap, the way the walker snapped closed on his pop. He notices the toilet seat is up. And on the edge of the sink: a tiny bit of skin. It smells bad in here. He leans over his father to flush the toilet and is horrified by what he sees inside.
"Jesus, Pop, who taught you how to shit?"
He pushes the lever and closes the lid. Then he tries to pull up his father's pajama bottoms. He doesn't want the police or EMTs or whoever is coming to see his pop so exposed. But it's harder than he expected. Pop's legs are perfectly tangled.
Mala steps into the doorway.
"What was that sound?"
"I flushed the toilet."
"What for?"
"I thought— There was— What do you mean, 'what for?'"
Mala closes her eyes and shakes her head. "Quit messing with your father and come out here already. They'll be here soon."
They sit in the kitchen drinking coffee until the police and ambulance arrive. There are a lot of questions to answer then, though none of them seem that important. Robbie lets Mala do most of the talking. She has to spell out for the police his father's name—Jacek Wozniak—and then spell out her own, Mala Nadja Milosz, then explain how they were never married, which Robbie supposes he'd always known but somehow, in this circumstance, doesn't seem right. Or anyway, not fair. As if in death, they should be wed. But he's forgetting that this was their choice. No one forced them to remain legally distinct.
It's late when the ambulance and police finally leave. The last time Robbie sees his father, Jacek is strapped to a gurney and being led by a pair of EMTs out the door into the night. Like a regular living patient. But really, all Robbie sees is the sheet pulled over the body.
They mill around for a while downstairs, not speaking, after that. It feels to Robbie like they ought to call someone, to share the bad news. But who on earth could they possibly call? Eventually, Mala fills a basin with hot soapy water, and together they sponge the blood up off the bathroom floor. They wipe the blood from Jacek's walker, and fold it closed properly, and lean it in the corner. They clean the toilet and the sink and the bathtub while they're there, too, folding the piece of skin from the sink in a square of paper towel and throwing it in the trash. They pour the bloody water from the basin into the toilet and flush then wash the toilet again. Then they go upstairs and make the beds with the new sheets and bedspreads and hang the new curtains in the windows. The primary reds and blues look good against the stark white walls. When they're done, Robbie holds his mother for a while in the middle of his old bedroom, and her body feels so soft in his arms like there's some pillowy distance between them. He's not entirely certain who is comforting whom. Outside the windows, the blue jays are rolling their Rs. Throughout the house: no other sound than the quiet counter-rhythms of their breath.
Back downstairs, Robbie makes more coffee while Mala washes the juice glass Jacek left on the counter. They sit at the table with their steaming cups. Mala deals some cards, then scoops them up and deals again. Robbie stands and makes them each a bowl of bran flakes. He drizzles the honey slowly, watching how it catches the light. Mala shuffles and sings something at him and shuffles again. But he doesn't understand. They sit across from one another with Jacek's cane still hanging from the back of his chair, spoons clicking against bowls, and for the second time today—to the music of crunching and the sweet taste of honey melting into milk—at his parents' table, Robbie feels like a child.
Douglas W. Milliken
Douglas W. Milliken is the author of four books, including the novel To Sleep as Animals and the pocket-sized collection Cream River. His stories have earned prizes from Glimmer Train, McSweeney's, and the Pushcart Prize, and have been published in Slice, the Collagist, and the Believer, among others. www.douglaswmilliken.com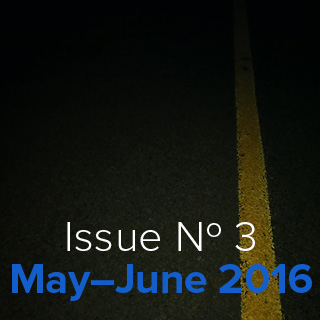 READ THE REST OF ISSUE NO. 3.
CONTENTS
Sponsor's Note: Warnings
Hyacinth and Waxwing
Prom Night
After Midnight
The Divvy
WARNING
It is possible to live your whole life without ever really understanding why you are alive. You may wander through foggy years and shapeless decades and never touch a solid piece of meaning. When you look back, you'll see as little as when you try to peer forward. And then death, in this scenario, rather than being an apotheosis, climax, or tragedy, will be a final bewilderment.