You have likely heard the recent news involving my company, Gorgons Bluff Ltd. Perhaps you saw the schadenfreude-laced headline in the West Lancet Courier, "Birder Supplier in Deep Doo over Wrongful Death Lawsuit." Many have expected me to retreat in the face of this adverse news.
In fact, my lawyers have issued stern warnings that I must keep my mouth shut until the case is settled. But I will not. In fact, I will tell you exactly what I think about the incident that spawned this calamity.
How could I do otherwise? It is evident to me that to remain silent until the moment of certainty arrives is to remain silent forever, for what certainty is there before death? It is the mission of my company to help people truly live!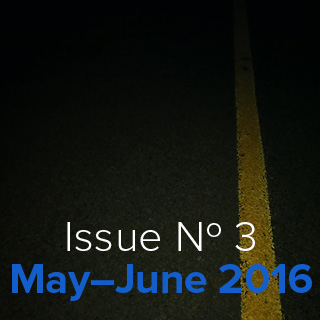 CONTENTS
Sponsor's Note: Warnings
Hyacinth and Waxwing
Prom Night
After Midnight
The Divvy
Admittedly, one customer, as has been widely reported, died while using our products. I do not dispute that fact. And there is little surprise that the press have been so fascinated with this episode, since it contains all the elements of great tragedy. There is the tragic irony: Ms. Adele Martins was one of our finest and most devoted customers. It is now her family that is threatening to ruin the company with a lawsuit. And the tragic reversal: On the day of her demise, November 3, 2015, she was especially happy, as she was one of the very first people to purchase one of our new Sample&Selfie Sticks.
Here is the chain of cause and effect as near as I can tell. Much of this is drawn from public reports, though I have also had conversations with people close to Ms. Martins, including her fellow members of Birds of a Feather, the retired ladies bird-watching club. Ms. Martins headed into the Pine Rock Reserve at about 5:17 a.m. from the Saddleback Road parking lot. This was not unusual for her, as she was an ardent and devoted naturalist. She had with her the new Sample&Selfie Stick, a matching set of 16 designer collecting jars, a SuperDart butterfly net, and a Trudger Stout reinforced walking stick. She followed the white blazed trail heading northwest. Between the 0.1 mile mark and the 2.3 mile mark, she collected three species of Ordonata and recorded the presence of fresh moose scat in her journal. For the next half mile, the trail rises steeply, and she must have focused on climbing for she took no more samples. I suspect she enjoyed the views out over the ridge toward Mt. Pollox. But then she saw something even more remarkable: a perfect, gleaming, cyan-backed Lycaeides melissa. Her heart must have first stopped and then galloped like mad as she brought her net slowly over the bright blue butterfly and then, with one quick dart and twist, brought it down. What ecstasy when she saw she had captured her quarry!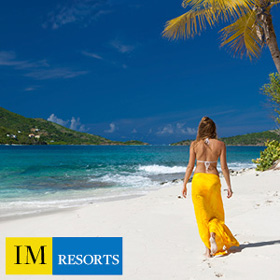 This issue sponsored by IM RESORTS.
Take a vacation from your conscience.
She hurriedly placed the insect in a collecting jar and confirmed that this prize, this joyful prize, was hers. I suspect she held the jar up into the light to gaze at the jewel-like color in the butterfly's wings. I know the thorough elation of that moment, and I hope for her, as for me, it made all travail worthwhile.
Then she placed the jar into the designated slot on the Sample&Selfie Stick and took a picture to document her triumph. (The Sample&Selfie Stick makes it easy to take pictures of yourself with your latest collections.) Later examination shows that the sample is in focus but her face came out a little blurry. (Perhaps Ms. Martins had not fully read the instructions that came with the product, as properly used, it produces perfect images every time.) She tried to hold the stick further from her face and stepped back to improve the light.
And that was her error. She forgot in her moment of glory to ensure that her feet remained on the ground—a classical error. She was on a ledge. Her foot found nothing but air. She tumbled over and fell approximately 18 feet.
Even then she likely would have survived, except that her trusted Trudger Stout (the most robust walking stick on the market), tumbling after her, struck her on the head and knocked her unconscious. And yet, I say again, even then she would likely have survived, except that she was wearing her favorite Eau de Gorgon musk, Calliope, which is derived from a gland found in the cow moose. It seems likely that this is what attracted a 1,400-pound bull moose in wild rut, which madly thrashed about the small clearing where Ms. Martins had fallen, looking for its promised mate and, in the process, trampled on the comatose woman.
It is worth noting that throughout this ordeal, all of the equipment purchased from Gorgons Bluff remained unbroken. Such quality is why we offer a lifetime guarantee—a guarantee that, sadly, Ms. Martins can no longer make use of. Indeed, the auto-upload feature in her Sample&Selfie Stick posted multiple images to her Facebook account, which is how officials were able to find her body so efficiently.
My lawyers say that if we had simply printed a warning on the Sample&Selfie Stick packaging that said something to the effect of "ensure you have secure footing before using product," we'd be legally protected against the lawsuit that now threatens us. Of course, once we add this warning, we have to think of every way someone may come to harm while using our product and warn against that, like men on a rocky shore frantically waving at every approaching ship to stay far off.
I have no objections to warnings. Print all the warnings you want. What I object to is the idea that anyone should actually be limited by them. Imagine if you were to follow precisely the dicta of every warning you encounter in a day. You would be paralyzed. More importantly, you would have ceded your will to the fearful premonitions of grey-suited lawyers.
I warn you about warnings: They can cause you to sacrifice yourself.
I have asked the editors of this magazine to include appropriate warnings throughout this issue. Your task is not to listen to them nor to ignore them. Your task is to decide for yourself if and how you will proceed after reading the warning. By doing so, you can make your own fate. You can be the hero of your own story, venture into the unknown lands of imagination, and, hopefully, return new, changed, and enriched. I wish you well.
DOWNLOAD THE WARNING POSTER FOR THIS ISSUE
Think of Ms. Adele Martins. She did not return, but she lived while she could. No warning would have stopped her.
Right now, I can almost hear my lawyers raging because I have written this. My staff will groan and mutter about my recklessness. But such noise is the soundtrack, the symphony of life lived in heroic fullness. I hope you will discover the same as you move through these pages.
Clark Van Steedt
Clark is the CEO of Gorgons Bluff Ltd., the worlds finest purveyor of naturalists' necessaries™. An avid mountaineer and semi-pro entomologist, he holds the record for highest altitude identification of a species of Diptera.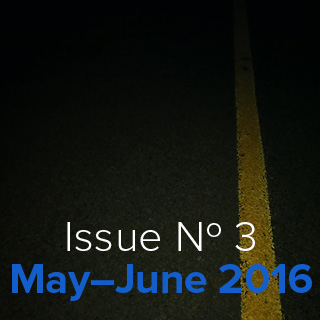 READ THE REST OF ISSUE NO. 3.
CONTENTS
Sponsor's Note: Warnings
Hyacinth and Waxwing
Prom Night
After Midnight
The Divvy