A thing is rarely just one thing, and death is no exception.
The boy is downstairs, shouting for my mother. "Grandma!" I close the book. I put it down in its box, carefully. I think of your fingers on the clasp, thin and warm, and their prints, which I have already erased with my own touch long ago. "Grandma!"
When I enter the drawing room, the boy is hugging the old woman. His face is buried in the skirt of her dress and his arms are wrapped around what must be her knees under all that fabric. Her hands are resting on his shoulders. As she notices me, she pushes him away, softly, and says, "There, there. Go and play." She speaks slowly, as she always does with the boy, pronouncing every word as clear as glass.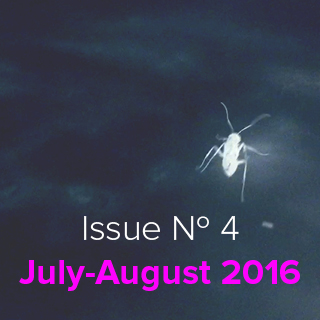 CONTENTS
Sponsor's Note: The Distance on the Look of Death
Flowers
Meat
Lady of Black Needle and String
Death of the Plague Legion
True Things I Shouldn't Have Said Anyway (at a funeral)
I help her sit down.
"You need to stop wearing all black," she says. "Time to start introducing some color."
I shrug, but she waits, and I add, "You're still wearing all black too."
"I'll stop, eventually."
"When?"
"When you remarry."
"Then I'll do the same." That's what she's wanted me to say.
She says, "I know a young widow. You should meet her."
"All right."
"Not good for a boy to grow up without a mother."
"All right."
"She has a daughter around Tim's age."
•••
I take the book to bed. I feel guilty as I do, even though I'm careful, tender with it. I rest it on my stomach, imagining the weight of your head. I try to think of your fingers holding the leather binding, your fingers smoothing the white page, your fingers picking up the fountain pen. I try to imagine your skin and its tenderness in the book. I pretend that when I'm careful with it, tender with it, your spirit is tender with me. A feeling I don't want to name builds up in my chest. I open the book.
To old women, death appears as a man with white, gleaming eyes. He is handsome, and his age is hard to determine. He's a distinguished gentleman, wise and charming and self-made; and he's the pool boy from many summers ago; and he's the dark, quick sailor from the alley, groaning through broken teeth under the flickering, buzzing, mosquitoed street light.
To old men death appears as a woman—both their wife when she was young, and all the women they had ever wished she would be.
You'll never be not-young, and other women… I'm meeting with the widow tomorrow. Other women are shapes, faces, shells whose insides have been quiet and invisible to me ever since I first met you. The other women I've had since you've gone were three whores, not much more than shadows flickering in dark rooms. I've read this section many times. I want to think that in writing it you'd meant to tell me that I will not grow to be an old man.
But the boy is rustling upstairs. That's what you've left me with, that rustling, that dumb face, that burden. I wish you'd written the book for me only, not for him.
•••
She's a well-kept woman. The widow of some merchant, builder, I don't remember. He doubled her father's fortune, then lost it, then died, my mother said. Her face is still, almost violent with dignity. Her dress is black. As I shake her hand, the rings on her fingers clank against each other in a single moment of music.
"I'm Laura."
When her smile appears it's like her daughter's, playing with the boy in the corner. I turn my head toward the black-haired child to soak in this similarity, but my mother perceives this as a hint and leads the children away.
We talk about books, politics, business. I think about you, but not constantly. Talking to her is like talking to a man, and there's some comfort in that. She's very different from you.
•••
To those killed in battle, death is a bat of darkness and fiery eyes. Its flesh is soaked with the blood of enemy soldiers, and as it engulfs the dead man with its wings, the red fills his vision and the metal fills his nose.
I look outside at the fruit bat perched on the windowsill and think of your book. I'm in Laura's apartment, and there are five other women in the room, all huddled together beside my armchair, gawking at the creature. Laura is with them, but she seems disinterested, like she'd rather go back to the embroidery hoop left listless in her chair. I can see it from here, black on black, the design a ghost in the shine of the string. But I can't make it out. It's some complex shape, a fanciful, imagined symbol.
"Let's open the window and try to catch it," says one of the women. "Can't be harder than catching a bird."
Another one jabs her with her elbow, as though this idea, spoken with strange enthusiasm, is some kind of dirty joke I shouldn't be allowed to hear. I start to feel very crowded. I think of you, and eventually the bat flies away and Laura returns to her black needle and string.
When I leave, with the last of the women, Laura asks me to come back in fifteen minutes. The night is moonless. I pass the time walking around the small nameless park, where the bat is flying back and forth between two trees.
Her hair is down. She unbuttons her blouse without saying a word. I ask her to turn off all the lights. The night is moonless, and in the dark of the room, we're like the embroidered design, defined by a barely perceptible shine of skin. I push her down on the bed and try to pretend she's you, but she feels nothing like you, smells nothing like you, and for a little while I hate her for it.
•••
To small children, it appears as a large emperor penguin, fat and clumsy, and at the same time calm, his eyes shining with a warm, welcoming darkness. He takes the child by the hand and leads them away from their body, so that they may not see their parents holding it, or hear the shovelfuls of soil hitting the surface of the casket.
I feel Laura's hands wrapping around me from behind and her lips on my cheek. It's a game, a play for no audience except perhaps the astral projection of my mother, asleep in her house. Your book is on the desk in front of me, and she asks, "What's that?" And then, "What's the illustration?" I tell her of the book as best I can. She wants to read it, and why shouldn't she? She's my wife. I pull out the chair. She sits down. I don't have to tell her to be gentle with the pages.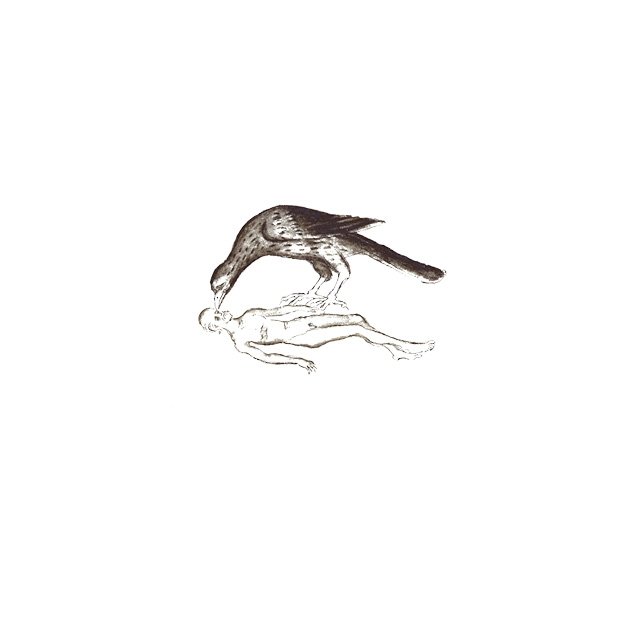 As she reads, I think that I lied when I said, in the privacy of my thoughts and your memory, that there's no audience to the happy newlyweds playacting.
She flips the last page. "She had beautiful handwriting," she says. "So refined."
"Yes."
"But I still don't understand."
I like her tone as she admits this small incompetence. There's no wife-to-husband tenderness in it anymore. "What?"
"Why the picture?"
"She wanted it to be a children's book at first."
Laura's face is content for a moment, as though she'd prepared herself to be enlightened before hearing the answer. Then the features regain their honesty. She's surprised.
"She had to alter it because of the boy. I told her he wouldn't understand. It's for his eighteenth birthday now."
"And for you."
"I hope so."
"He won't understand when he's eighteen either. She didn't know that?"
"She didn't want to know."
I want to keep talking and add that I hate you sometimes, your motherly optimism, your hopefulness for the boy, the morbidity you buried the last year of your life in, and the grace with which you wrote this vile death-book, floated through this darkness, still smelling like mango and pomegranate, still laughing like a schoolgirl at the sexual teasing you still expected of me, the kisses and the grabbing at your hollowing waist.
For a while there's silence. Finally she says, "But you're sure she loved you."
"Yes."
"And she still does? If there's a—"
"Yes."
"And if there's clarity in death she's given up on the boy."
I don't answer.
She says, "John killed himself. I don't know where he is now, but this was no place for him. So much despair and shame over those last months. A shell of a man. I assured him Rose and I would be all right. And now we are. And Tim will have a mother and a sister. The kids play well together. A woman's touch is better, anyway."
"You think there's life after this?"
"I think there's another room on the other side of this door. I think sometimes you can hear your wife's breathing through the wall."
•••
I see my mother for the last time.
•••
I never asked if you believed those digests, those near-death experiences of everyday folk, those old men pretending to be warlocks to sell their little black books. In any case, I always thought you came up with most of it yourself. And yet death really is a shapeshifter, a guest in unexpected forms.
To John and me it came as a woman, the kind people call handsome, well-kept. In those words you can already hear the music of her, the notes of what she is and the silences of what she's not, and when you see her, she's almost what you expected.
She calms me. She says she'll take care of my mother and the boy. She tells me of the world after me, how it will split away from my eyes but both of us will keep on going as we had gone before I was born, two travelers who walked together for a while, parting ways now.
She leads me to the roof.
She says I'll see you soon.
Louis Rakovich
Louis Rakovich writes sometimes-fantastical literary fiction. His short stories have appeared in Bartleby Snopes, The Fiction Desk, Criminal Element, and other publications. He's inspired by authors such as Truman Capote, Gabriel Garcia Marquez, and Edgar Allan Poe, and filmmakers such as David Lynch and Andrei Tarkovsky. He grew up in Jerusalem, and now divides his time between New York City and Tel Aviv while working on multiple writing projects, including his first novel—a psychological thriller. You can find more stories by him at www.louisrakovich.com.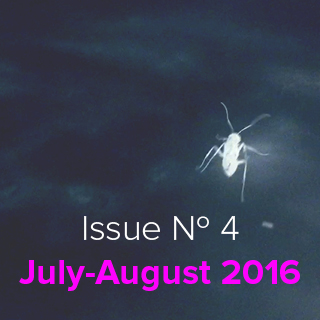 READ THE REST OF ISSUE NO. 4.
CONTENTS
Sponsor's Note: The Distance on the Look of Death
Flowers
Meat
Lady of Black Needle and String
Death of the Plague Legion
True Things I Shouldn't Have Said Anyway (at a funeral)