"Is Josh here?" Evan asked before she'd pulled the front door all the way open.
"He went to look for firewood," she replied. "He's out in the Stand."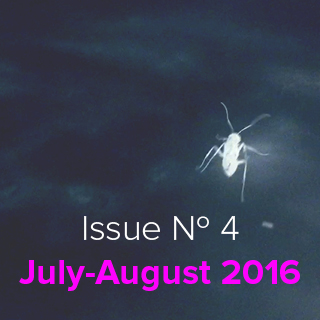 CONTENTS
Sponsor's Note: The Distance on the Look of Death
Flowers
Meat
Lady of Black Needle and String
Death of the Plague Legion
True Things I Shouldn't Have Said Anyway (at a funeral)
Evan leaned into the screen door, which she hadn't unlocked. He pressed his face against the screen and tried to angle it to peer deeper into the house.
"You know, I've been out there all day and I haven't seen him," Evan said.
He eased off the screen and turned his head to stare right at her. She met his look. He put a hand up on the screen, pushing gently. He had on a mottled orange shirt that he'd probably worn golfing once, but it was now rotted along its bottom edge. She could see that his pants were hefted well above his waist and cinched tight with an old belt in which he'd punched new holes.
Evan tried to budge her out of her silence: "He's not trying to keep something from us, I wouldn't think…" He twitched when he finished speaking and then rubbed his skinny fingers together.
His eyes looked so hard they'd clack if you tapped them. He had no soul left—only need and hunger, she thought. She tried to show him nothing of what she felt. She met his insistence with a wall of impassiveness.
He spoke up again. "It'd be hard to miss someone out there, if he is out there." Again, he twitched.
"That's what he told me," she said. Her hand still on the doorknob, she wanted to slam the heavy wooden door in his face.
"Tell him I was here," Evan relented, but he backed up slowly, watching her. Then, before he turned, he looked over the front of the house. She watched him until he limped up his own stoop.
Then she closed the door, and the house was dark since they'd boarded all the windows. She threw the latches and lowered the metal crossbar Josh had jury-rigged, and then walked toward the back stair. She stopped and listened for the children, but they were resting. They'd been so tired lately.
The air in the basement was cool and smelled like dirt and smoke since she'd left an old candle burning. She pulled the tarp back from the big worktable. She put her hand on the knife handle, still warm from her long hours of work that morning. She used the knifepoint to trace a line up Josh's right thigh, and then gently pushed the blade in along the edge of a lean muscle.
She'd found him arrayed on the table that morning, blood drained from gashes in his wrists. He'd known she would have had a hard time lifting him, and the tabletop was the best place to prepare the body.
And she knew exactly why he'd done it. The night before, lying in the crease of warmth under their mound of blankets, she'd asked if he'd noticed that Evan's second son had been gone awhile. They'd both also noticed that the rest of Evan's family was out a lot after that, scrounging around the old store lots and carrying loads back from the Stand. They had energy. "If the children are doomed anyway, maybe you have to do something to save yourself," she'd said. After that he couldn't speak. She'd thought he was crying but then she fell asleep. Impossible pain had become normal.
And in the morning, she found this bounty on the table.
She took long slices from what muscle was left on Josh's thigh. She felt the same piercing love she'd once felt when she held him close to her chest. She'd have to salt the meat and bury it under the basement floor. If she tried to smoke it, Evan would smell that for sure, and he'd come back with a crowbar and sledgehammer. Then Josh's offering would have been for nothing.
She thought about what she'd call it when she fed it to the children.
Miriam Weitz
Miriam Weitz has written stories that frighten both adults and children.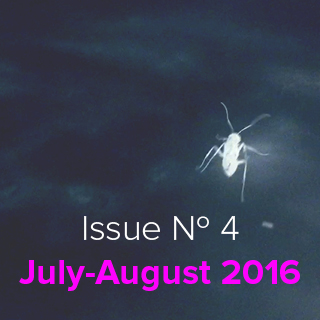 READ THE REST OF ISSUE NO. 4.
CONTENTS
Sponsor's Note: The Distance on the Look of Death
Flowers
Meat
Lady of Black Needle and String
Death of the Plague Legion
True Things I Shouldn't Have Said Anyway (at a funeral)