The groom trembled slightly, smiling broadly, watching down the aisle as the wedding march began to play and his bride took a step towards him. Then the bomb exploded. In an instant, the entire wedding party and most of the church were vaporized by the heat.
After the mushroom cloud dissipated, the smoldering ruins began to slowly stir. Skeletal limbs and charred bones raised to standing, and the procession resumed. All was silent, save for the shuffling of feet through the ash and rubble. Bride and groom met and stood side by side, skulls frozen in perpetual smiles.
They turned to face the preacher, whose jaws moved and teeth clattered, while any outside observer would have heard no words. He held out a bony hand, and a small skeleton placed two gold bands into it. The rings were exchanged and the skulls clicked together in a caricature of a kiss. The couple turned to face the assembled congregation.
The couple walked down the aisle, with the audience members collapsing into piles of ash and bones as the couple passed by. When the couple reached what had once been the church entrance, they clicked teeth together again, collapsed into charred remains, and all was still.
Mark Johnson
Mark Johnson is a public servant living in Madison, Mississippi. He has worked as an accountant, lawyer, manager, trainer, editor, and more, and is married with two sons and two cats. His fantasy novel, A Twist of Fate, was published in 2012 by Divertir Publishing.  His most recent book, Mississippi State Boards Handbook, is a nonfiction book released in 2016 on Amazon.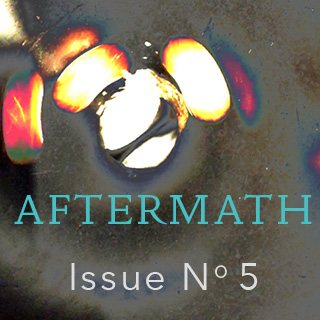 READ THE REST OF ISSUE NO. 5.
CONTENTS
Editor's Note
Aftermath Stories
Leave Your Drawings in this House
Fandanguillo
The Enormity