I wrote an article about women and their exes. The article loves on women (ex-trauma is real), but I realize it underplays the real dangers and traumas women experience (I'm speaking about WOC and QWOC here). More so today than ever before (or ever before reported), and in the face of our current situation, women, femmes, and self-identifying females are attacked on a regular. This has got to stop and it can only stop with us doing something about it. Fuck your safety pin, please.
The Trump era is here, sure—but before that mess, it was the colonizer and the privileged. They've done been here, y'all—and they let it be known, without any shame or fear for their own lives. Because their lives are protected: laws are written with them in mind because they were the writers. They use their power against WOC, POC LGBTQIA+ communities, Muslims, and First Tribes—they are trying to uphold fascism without even realizing that so much of what they love and use and mimic is from the groups they so vehemently hate. Subjugated no more, let's rise all the way up.
James Baldwin's truth is the realness, "I imagine one of the reasons people cling to their hates so stubbornly is because they sense, once hate is gone, they will be forced to deal with pain." There is so much pain puddled and puddling inside of the un-united stolen states of North America; there's so much pain pooling, it's even seeped into other parts of the globe. America is oozing with hate; and much of it is aimed at WOC & POC.
While I wanna be all feminist, I gotta say that any feminism that is not centered on black and brown women should go by another name. It's not feminism to me. It shouldn't be to you, either. That type of feminism is a scam; wolf in sheep's clothing y'all. Cross her heartless heart and hope everyone but her dies, stick a safety pin in her eye. I don't involve myself with that type of feminism; it's not even something I identify with. If you're a white woman reading this and you feel offended, then maybe you'd better work on your game—your feminist game, your privilege game, and your white ally game. Don't come at me with "I'm not racist but … I'm tired of the race discussion … I do my part" because #1 you are, #2 get over it, and get untired if you really care, and #3 no you don't, stop lying. Again, no thank you to the safety pin act. It's old, just stop.
The day is coming, it's on the horizon, the day for repenting; and a glorious sun that will shine on us all equally. Even Baldwin knew, "People who treat other people as less than human must not be surprised when the bread they have cast on the waters comes floating back to them, poisoned." So save your safety pins. I'm gonna go make some waves.
jacklyn janeksela
jacklyn janeksela is a wolf and a raven, a cluster of stars, &  a direct descent of the divine feminine. jacklyn janeksela can be found @ Thought Catalog, Luna Magazine, Talking Book, Three Point Press, DumDum Magazine, Visceral Brooklyn, Anti-Heroin Chic, Public Pool, Reality Hands, Mannequin Haus, Velvet-Tail, Requited Journal, The Feminist Wire, Word For/Word, & Literary Orphans. she is in a post-punk band called the velblouds. her baby @ femalefilet. more art @ artmugre & a clip.  her first book, fitting a witch//hexing the stitch, will be born in 2017 (The Operating System).  she is an energy.  find her @ hermetic hare for herbal astrological readings.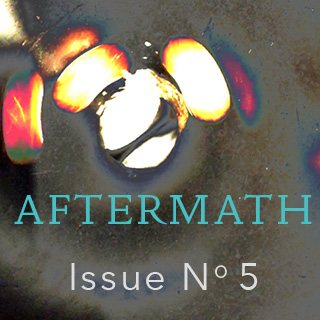 READ THE REST OF ISSUE NO. 5.
CONTENTS
Editor's Note
Aftermath Stories
Leave Your Drawings in this House
Fandanguillo
The Enormity