A super 8 movie camera gave me sprockets to join my father and brother hunting—not that I would kill or even touch a rifle. With the rhetorical plumage I would unfurl in high school Debate I posited—that verb!—at our dinner table again and again when only one team had the guns the match was no sport, but still I ate the pheasants and the rabbits my father cooked. My mother had her own objections to the game.
I loved drinking hot coffee in the frigid morning; I loved the smooth rub of thermal underwear; I loved the smell of November in the woods and the crackle of ice atop the cricks; I loved my unaccustomed manliness, though when my father took down the doe, I remembered Bambi but blamed my runny nose on the cold. My camera whirred as I followed the footsteps of my father in the frost to the deer, quite still, quite dead, and my father motioned me around to the other side where he kneeled—praying? I wondered—at the animal's belly before he took a knife and unseamed the body like Macdonwald's in Macbeth I thought from the nave to the chaps, and, oh, what a gust of warmth and blood blew upon my lens and my face, and my father and brother were at it, gutting the beast, thrusting globs of what I studied for biology tests in a pile at my boots. I held the camera steady and swallowed again and again the morning coffee and eggs.
My father and brother tied the legs of the thing to a downed branch and carried it until my film ran out and soon I lay in the back seat of the old Chevy beneath tonight's dinner, its tongue flapping in the breeze.
James Penha
A native New Yorker, James Penha has lived for the past quarter-century in Indonesia. He has been nominated for Pushcart Prizes in fiction and in poetry. His essay "It's Been a Long Time Coming" was featured in the New York Times "Modern Love" column in April 2016. Penha edits TheNewVerse.News, an online journal of current-events poetry. @JamesPenha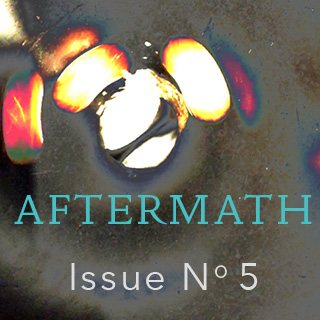 READ THE REST OF ISSUE NO. 5.
CONTENTS
Editor's Note
Aftermath Stories
Leave Your Drawings in this House
Fandanguillo
The Enormity