While Helen slept, I watched the impossible happen. States turned from pink to red like countries falling before an attacking army. Arizona hadn't buckled yet, but it would. I refreshed the page constantly to the backdrop of Helen's beeping machines. While her pulse remained steady in a drug-induced slumber, mine quickened until—shortly after midnight—the tug-of-war electoral graph turned full-on red, with His head smack in the middle. It announced Him as our next president and for the millionth time since Helen's cancer surfaced, I wept.
A year ago, I would have woken her and we would have spent the wee hours bemoaning the state of our country over drinks, but I let her sleep on.
The following morning, I could tell the end loomed near, because despite sitting up, she didn't even ask about the election.
Finally, after morning meds and a good half-hour spent making her comfortable, I prodded. "Guess you heard?"
Engaging on Facebook remained one of the few joys Helen had left. The tablet lay beside her, but she only looked at it and then up at me. She hadn't checked it yet.
Apparently, my expression said it all.
"No," she said, the sound painful to hear, long and cracked.
A flush of heat rolled over me, from inside out. "Not even close. They didn't even have to count Arizona."
Who knows why I put it like this—delivering such terrible news to a dying woman. Perhaps a part of me needed to share my misery.
But then her face caved in on itself, and her chin dimpled with budding tears. She aged a decade past her forty years, as if dying young weren't punishment enough.
I reneged. "I'm joking of course," I told her, and despite a sickening knot in my throat that shallowed my breathing and refused to let me swallow, I smiled.
Helen put a hand over her heart and slumped forward. "That was so mean," she said, but a return smile broke through her dismay. She reached for the tablet, but I pulled it from under her hand.
"Plenty of time for that later," I said. "You've got company this morning, remember?"
Soon family would arrive to deliver their good-byes. All rural desert-dwellers, all His supporters even if unsure why, except having a vague notion that it was what their church wanted.
I'd catch them in the foyer, give orders to maintain my deception. Her brother would push back the hardest. Even as Helen spent the last of her energy campaigning, burned out her once-great wit on countering social media bigotry, her brother espoused how his candidate would make this country great again, his rhetoric as lacking specifics as the toupeed man himself. He'd want to gloat, even at Helen's deathbed. But not today. Today, she wins.
Darren Todd
Darren Todd writes short fiction full time, along with freelance book editing for Evolved Publications and narrating the occasional audiobook for Audible, Inc. His short fiction has appeared in seventeen publications over the last eleven years. He has had two plays produced and a non-fiction book published. He lives in Phoenix, Arizona, with his wife and son, and does his best work in coffee shops on a dated Alphasmart word processor.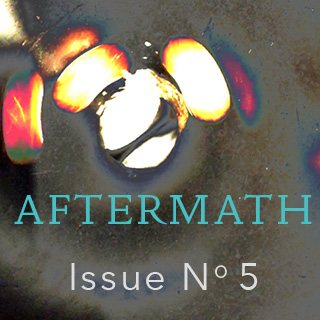 READ THE REST OF ISSUE NO. 5.
CONTENTS
Editor's Note
Aftermath Stories
Leave Your Drawings in this House
Fandanguillo
The Enormity