Today I am not proud to be an American. I am not proud to be represented by hate and fear and ignorance. Today I realize that whatever we took from the Civil War has been lost behind a wall of stacked skeletons and mortared with the daily meat of anger. Today I am afraid. Today I am pissed. Today I am heartbroken. Today I look back at yesterday and wish that it were today and that we still had a choice to make.
Last night I hoped. Last night I worried. Last night I hated. Last night I sounded my barbaric FUCK across the roofs of a world I barely recognized. Last night I went to bed before the final results were in because I wanted one more night to believe that we cannot be what we have become. Today I am ashamed of what that is.
Tomorrow I will begin again. Tomorrow I will look to the fertile past and promise of our nation and believe that we have survived many storms and many men. Tomorrow I will try to listen. Tomorrow I will be proud that there will be a peaceful transition of power. Tomorrow I will recognize that that may not have been the case if the sad seeds of these campaigns had sowed reason and compassion instead. Tomorrow I will not be afraid. Tomorrow I will till my anger into action. Tomorrow I will try to love my country again.
Today I am starred with hope and striped in shame.
Today I am an American.
Andy Stewart
Andy Stewart was a James Hearst Poetry Prize runner-up in 1997 and has had work published in the 12th Planet Literary Journal as well as The Vermont Standard. A collection of poetry entitled Barnard Boy; Green Mountain Musings was published in 2012 by Bodin Publishing. Currently, he is a "writer in progress" as he works to complete his first manuscript: An Island in the Mountains: A novel, as well as the creation of a blog: How I Roll…, set to launch around the first of 2017.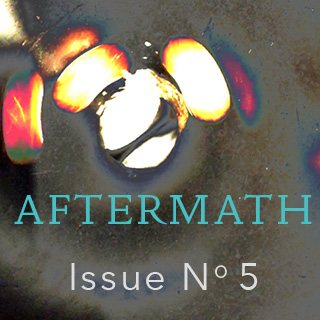 READ THE REST OF ISSUE NO. 5.
CONTENTS
Editor's Note
Aftermath Stories
Leave Your Drawings in this House
Fandanguillo
The Enormity