I can feel it somewhere on the other side of the wall, as insistent as a heartbeat. Often it is all I know. A love that once held me as sweetly as a mother's first sigh. A love that precedes all questions, all doubts, all knowledge. A love that fills you to the edge of possibility.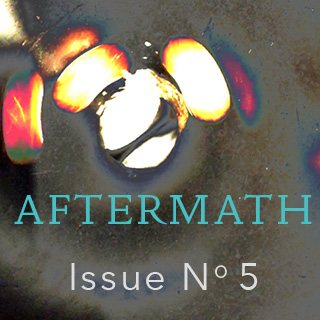 CONTENTS
Editor's Note
Aftermath Stories
Leave Your Drawings in this House
Fandanguillo
The Enormity
And to be torn from that—
I was torn from that.
I've exhausted myself assaulting the wall. When I first woke here, or first remember waking, I could think of nothing but that love I'd been torn from. I threw myself against the wall. Injury meant nothing. Reason's insistence that my fingers cannot penetrate steel and stone did not slow me. With exhaustion, my body collapsed, and only then did I think to search for a weakness. I ran my hands over the seams in the wall. I probed the meeting of floor and wall all the way around my room. I did it again and again. I shook the door and yelled into the little slot, through which I could feel fresh air.
I do not know how long I have been here. A day? Two? Some heap of hours.
I have only rarely understood who I am.
It does not matter next to the thought of what I have left, what I have been torn from—I have been torn from such love. Such love. Such fullness.
And at the thought of it, I again lose myself. I am again clawing at the door, at the bare walls, as if there were some way to again lay my cheek against the bosom that is all the love of all of humanity over all of history. The full sweetness you would think could never be unless you knew it.
To be torn from that is maddening. To know it lives on the other side of this impenetrable wall is heartbreak, torture, madness, suffering that makes death seem a sweet promise.
Who sentenced me to this? I did it myself to myself. I know that.
The treatment occurs every six hours, exactly, without exception.
When I know myself, I understand this. I can explain it. The level of medication in the blood has to be managed very carefully. Too much would be toxic to me. Too little and the organism will survive, possibly become more robust.
But each time the door clanks and I see the bodies in yellow suits of untearable fabric (I have tried its strength) and then the plexiglass masks that turn the faces behind them to distorted whorls of pink, the need to get away is all there is. As if that insistent heartbeat I hear from a distance rushed in through the open door and swelled to make the air shout, I charge toward the opening in the door.
They hold me securely. I lash, but there are many of them. They pin me on a stretcher. One takes some blood from my arm and another pushes a syringe into the meat of my thigh.
There's a sedative in there, or else I would rush with them to the door, and they would have to beat me back to keep me in this room any longer.
Suddenly unbalanced and lethargic, my body pins me down, and I watch hope wink and extinguish in the hastily shut door.
Why do I record this now? Why do I, or the remnant of me that survived being torn from all meaning, write when the exercise seems so paltry and fruitless compared to the enormity I have known? I cannot write of that known secret—it cannot fit in words. To try is desecration. Much of the time I do not care for anything on this side of the wall. I only long to rejoin… But at other times, for a few minutes, like the quiet mouse stepping amidst sleeping lions, this other clear-minded self takes the pen. It is the wish of my other self, my past self, to observe what I am now experiencing. It is the desire to know. That is why I did this to myself in the first place.
The treatment is having the effect my persecutors would wish. (Let us not forget that I, myself, am one of these persecutors. Indeed, I laid out this regimen. I must have. I would have wanted to control this exactly.)
The love that once felt so heartbreakingly near is sometimes as dubious as any memory. I could almost imagine life without it.
But if you gave me the choice this instant to either stay here in comfort or to run out that door, naked, penniless, defenseless, to seek that embrace I miss so much—I would go without a thought. There is nothing else that can matter to me.
All else is despair in comparison.
But in the moments I am myself, I am more myself. I remember more of what happened. I think in careful steps, leading from the known past into the hazy future, following a route of causation, effect, and implication.
But other times I think only of my loss. I hold my knees against my chest. I look over the wall, the ceiling, the door. I look for the way out.
Memory becomes more pervasive, as a tide rising and filling a hollow in the rocky shore. I can look at what has happened to me.
I remember the beam of light that found me in my bliss. That is the moment that preceded and led to this place.
I had been in the commune some time. I can't recall how long. The experience of time was so different there. But I know it must have been 21 days. That was the program I set out before entering the commune. I'm sure of that.
The light had moved through the commune, passing over many faces caught in the contemplation of that love that I can still feel in my core, diminished though it might be. For some reason, the light stopped on me, separating me out.
Then the people in yellow suits. So many of them, at least a dozen. They grabbed me. They pulled me away. As I realized what was happening, the pain—the pain was as great as if I had been grafted to the others in the commune, skin stitched to skin, perhaps deeper, tissues joined to tissues. The pain ripped me open.
The people in the yellow suits—my fellow scientists, I would have called them once—ripped me open without remorse, without probably having any idea what I suffered. They placed me in the back of an ambulance. Four of them rode with me, first working to restrain me and, once I was secure, beginning the invasions of my person that they needed for the experiment. In other words, they removed my clothing, drew blood, took swabs of my skin, nose, ears, anus, and vagina, and measured all my vitals.
I had noticed that the others in the commune had fought weakly to hold onto me but folded quickly back into their love. And now that I think of it, how can I be surprised? They each felt the presence of that love that came from all of them together. Could they care much about one soul more or less? Their love would heal and show no scar for my loss.
This journal was placed here for me, anticipating that I would use it as I am now doing.
I start to see this room as more than the wall that contains me. I see the cot in the corner with sheets, blankets, and a pillow. I have lain on it many, many hours, but now I see it is here for a reason—as the result of planning.
The medical bed with restraints and the apparatus to deliver medication is also here because someone planned for my tenancy.
I see that there are benches set into the walls on two sides of the room, with sinks and cabinets in them. These are now empty. I find, however, that there are books on some of the shelves—textbooks, reference works, writings on cells, genetics, the mechanics of life. When I page through these I almost feel the wonder of discovering a new world, as Adam and Eve might have felt. But I also remember all of this from the past before the commune.
I remember because this is my lab. I had the bed placed here. I have read all these books before. I know the people who come to me in their protective suits. They were once my life.
I am my own torturer. The me from the past leans over and cinches the bonds tight to keep me here—for reasons that once were my own.
The experience in the commune in many ways exceeded the powers of description. I don't believe anyone else has ever reported on it from the inside, so I must try.
The feeling was so completely filling. There was no room left—in my heart, in my thoughts, seemingly in the universe—for anything else. Even now, when all I know is distance, a distance I sometimes don't think I will ever be able to cross, I know it was the strongest force I've ever touched. I beheld the power of the sun burning and raging in every human heart, all inhibition lifted.
Each person was beautiful, so indescribably, perfectly beautiful, because their faults no longer meant anything. They came to you pulsing and burning with that truth you shared. They were that complete love. You were that love. The closer you were to each other, the more you felt the presence, the immensity, the surety of that love. And as there were more people, you felt surrounded, completely immersed, completely joyful and without worry. Each soul to join the commune brought a share of this love and nothing else mattered.
If I think of the practices on the commune in the terms someone from the outside might use, I understand the outsiders' fascination and disgust. Did a man penetrate me as we sought this union? Yes, as did women, as did I to others. But it did not mean what it would mean outside. It wasn't an interaction with some other individual; it was an effort to touch the immense burning love behind them, behind all of us. Present within each of us.
I weep at night when I think of my separation.
The treatments still occur every six hours. Now I sit voluntarily on the stretcher and allow them to draw my blood and administer the injection. This is an indication of the success of the treatment. My ability to sense the love of the commune weakens. I feel like the Earth cooling in the millennia following its magma-hot creation. My memory of other times strengthens. My reason, my scientific, empirical mind rises. But every thought beyond that love I once knew brings pain.
I still feel ruined.
My persecutors—or now I might call them caretakers—still wear their protective suits. They are afraid of the infectious agent I carry. I recognize their precautions. I've used the same suits in certain field work. Outside the door to the lab is a negative pressure room, where they can remove their suits and place them directly in a biohazard disposal bin, then scrub down in a sink. There's also a shower in case it's needed.
But we have started to talk. I recognize them as my partners and coworkers in the hazy way I see everything that came before the commune. I'm looking through a curtain of light at a world of differentiated shadows.
Really, they are all my subordinates. This is my lab. I worked hard and long to build it. It was my life. It was my whole life.
They tell me that everything is happening as I had thought it would. They say the values in my blood are returning to normal, as I had predicted before this all happened. They've isolated a novel protozoa in the samples they took from me, and they are culturing it. They don't know more yet. How it moves through the body, what kinds of cells it invades, whether it releases a previously unknown compound.
These are the questions I once cared about.
I asked for more information about what they're discovering about my condition, and they've brought me a computer with which I can access all of the lab's results. I recall my old passwords. I can move familiarly and fluidly through the data and manipulate images and other findings. This feels as much like an instinct as a learned skill to me now.
I see the values that represent my condition, and I understand that the organism has almost been cleared from my system. It was at 52 ppm when I was taken from the commune. It's now under 3.
The treatment should be done in another two weeks or so.
So, what is this organism? I hypothesized that it existed before submitting myself to the commune. And here it is. I can see it in numerous video microscopy studies. Clearly a protozoa—ovoid, flexible, twisting and shuddering to move blindly through its medium, my blood in this case. It appears almost gold in these studies because of the dye they've used. We don't yet have any hint how it's different from a dozen or so other species that are very similar. We don't know why it's emerged just now to have this effect on human beings.
We are working to run the full sequence of its genetic code, but that will only be the first step. This will take a long time. Because of what I did, we're well ahead of any other lab. We'll need to stake our claim, move as quickly as we can. There's enough here for a series of papers.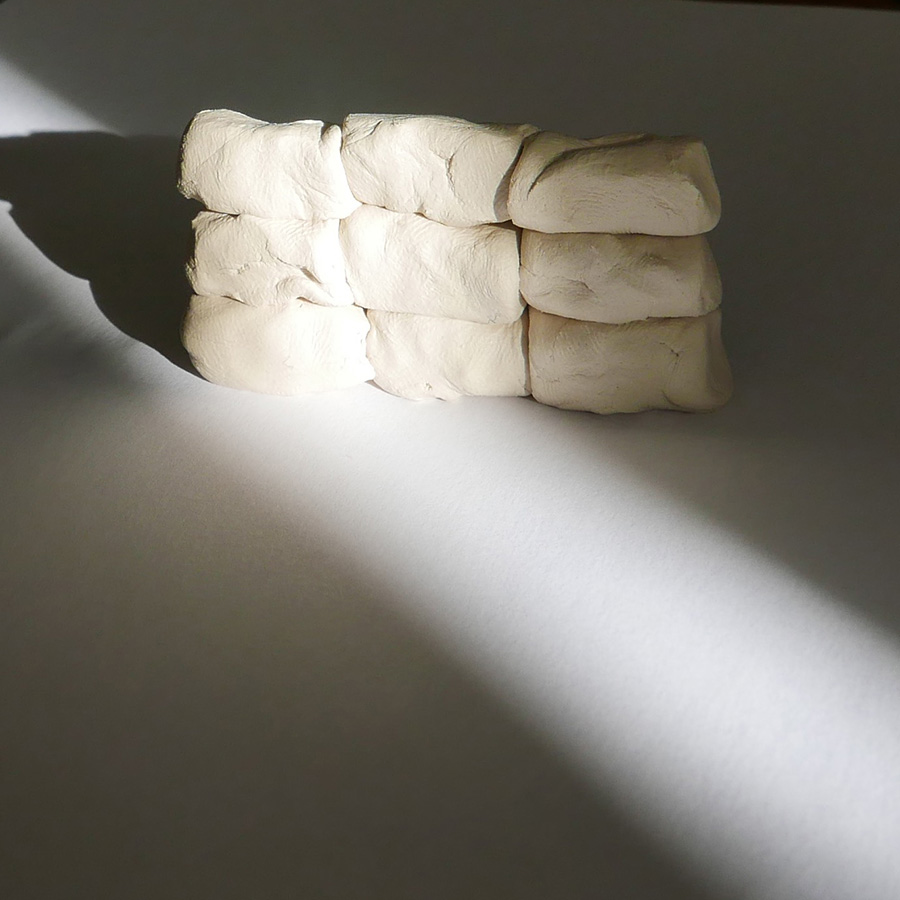 I find it easier to think of the future than the past. I am largely myself again—the old knowledge, the old drives, the old preoccupation with the molecular gears that keep life spinning. The timeless fascination that can keep me staring into the data for unbroken hours. But turning my mind to the time before the commune is painful.
I think I was right to go. This movement, called the One Lovers by those outside it, but not given any name by its practitioners, had emerged over the last year. It seemed to start almost simultaneously in several locations around the world. After that, new locations appeared slowly, but each existing commune grew rapidly, drawing hundreds of participants over the course of months.
These people cut off all contact with their families. Word emerged that the communes were practicing free love, that they had a utopian ideology. Several communes literally died away as their members failed to look after themselves. Others were sustained by local communities and managed to keep going.
The world in general thought of this as a cult. They discussed the ideas and actions of those in the communes. They questioned the validity of the movement's ideology. They agonized over the appropriate and lawful response to such a movement. But I hypothesized that there might be something biological behind this behavior. The pattern of its spread reminded me of other infectious diseases. And there are a number of well-documented parasitic infections, in both humans and other mammals, that cause considerable behavioral shifts, always serving the goal of spreading the parasite. Rabies causes aggression, which spreads rabies. Toxiplasma causes mice to cease fearing cats, then the cats eat the mice, and the parasite reproduces like mad in the cats.
But trying to promulgate this idea, trying to get informed consent to examine someone with the infection, that seemed like an impassable barrier to further study. I opted, like Dr. Marshall swallowing the H. pylori bacterium, to make myself the subject by going to one of the communes.
I arranged everything about my treatment. I thought a protozoal parasitic infection most likely, but I also took into account several other possibilities. I arranged for my extraction after 21 days. I had this room in the lab turned into a suitable containment unit. I signed a number of papers stating that this was my intention, that I gave permission for everything that was to happen to me. I gave my lab manager power of attorney and healthcare proxy. My husband agreed, though reluctantly.
My husband has been one of my caretakers all through this. That seems obvious now, but I wouldn't have known him at first, even if he took off the mask and protective suit.
He was the first to visit me without one of those suits, once the protozoa was no longer found in my blood or sweat samples, and the first to be willing to touch me without protective layers. We hugged after he came through the door. The others stayed away, assuming this would be an intimate discussion.
We sat at my little table, and he said some things about our home and about his own work—he teaches biology at another university. I spoke about what I'd learned that morning, which was that the organism seems to invade sweat glands. Interesting given how much of it was found on my skin at the time of my recovery. And the practices on the communes certainly encourage skin-to-skin contact of the kind that would likely spread the infection.
He left quickly. Everyone treats me gently and leaves me alone most of the time—thinking I am somehow fragile—and that is fine with me. I find I prefer having the time to think and to work. Perhaps they sense that.
I can only describe my feelings in the presence of my husband as paltry. I wonder if this is a result of my experience on the commune. Perhaps no human connection can compare with the connectedness and fulfillment I felt under the ministrations of the parasite. But, when I'm able to think of the past, I think that this emptiness was there before.
The work in front of me is my passion.
The door is now open to me. I could return to the commune if I chose. I could return to my prior home and the routines that formed my life at that time. But at this point, thought of almost anything outside this lab is dissonance and confusion. I was remade in the fiery experience of the commune, whether by vision or illusion. My past can only disappoint.
My thoughts are clearest and most satisfying when I am investigating the nature of this protozoa I have discovered. I gaze at it as no lover has ever gazed at the object of his affection, for I see down to the genetic conformation that makes it what it is. And I have spotted what I think is the mutation that turned it so virulent in the last year.
I am beginning to make projections about the organism's potential spread, given what we've seen of its life cycle in vitro and the epidemiological data, as far as that can be gleaned from reports on the communes. I will make a series of recommendations for the CDC as soon as we announce our finding that the commune phenomenon is caused by an infectious agent. I expect significant publicity and possibly some measure of panic in the general population. This is why I want to emphasize the next steps. There is a treatment; that is evident from my recovery. But we shouldn't rush into a regimen of compulsory treatment. This disease needs further study and deeper understanding. There is no reason to panic, as it can only spread slowly through direct contact, and some simple quarantine measures will ensure it can't get out of control before we fully understand it.
We'll have our description of the organism ready in a matter of days. Then come the genetic studies, which just have to be written up. I also have some speculations about the role this organism may have played in human development through the formation of religion, monastic societies, and notions of the sublime.
Mike Baumann
Mike Baumann puts his fingers on the keys. He presses them and words appear. He does this again and again and again. He keeps trying. When he is done with a piece, he stops typing momentarily, stretches, goes to the cupboard and grabs a bag of chips, and sits back down and starts a new piece.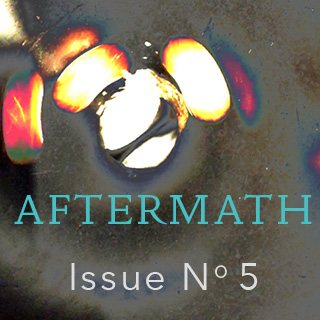 READ THE REST OF ISSUE NO. 5.
CONTENTS
Editor's Note
Aftermath Stories
Leave Your Drawings in this House
Fandanguillo
The Enormity