This morning
the light was gray
and I tried to go back to sleep
for a while.
This morning
I made breakfast of fried eggs with chili sauce,
but it tasted gummy and white.
This morning
someone wrote to me
asking if I was okay.
This morning
I got texts that just read
"What".
This morning
I saw messages typed
by people I love
saying "this is not the country
I know. This is not
what I believe."
This morning
I cried in bed
and wished it was yesterday.
This morning
I watched TV hosts who make me laugh
look as if they were about to cry too.
This morning
I was afraid for myself
and people close to me.
This morning
I wished I could hug my mom.
This morning
I tried to remember
how kind people can be.
How, in this world,
there are still kittens wearing sweaters
somewhere
and Tom Hanks in a Pumpkin suit.
There is still good gelato
a few blocks away.
And there are millions of people
who didn't want this to happen.
This morning
I told someone I loved them.
I drank coffee and thought about the day,
how the best way forward
is to write
a poem.
Which is like saying
I'm here. Where are you?
Which is like saying
Here's my hand. I'm scared too.
Which is like saying
We will get through this together.
I hear you, I hear you.
This morning
I remembered there will be
an afternoon and an evening.
Then,
another day.
Carly Brown
Originally from Austin, Texas, Carly Brown is a writer, performer and postgraduate student based in Scotland. She graduated from the University of St Andrews in 2014 with an undergraduate degree in English Literature and she's currently a doctoral student in Creative Writing at the University of Glasgow. Carly is the author of a children's picture book, I Love St Andrews, and a poetry chapbook, Grown Up Poetry Needs to Leave Me Alone. In 2013, she was Scotland's National Champion of Slam Poetry and 4th at the World Series of Slam Poetry in Paris. Her website is: carlyjbrown.com.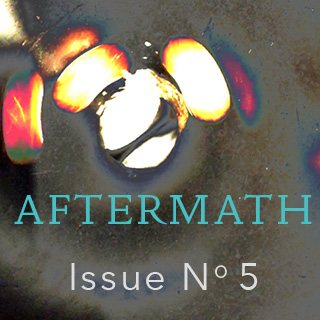 READ THE REST OF ISSUE NO. 5.
CONTENTS
Editor's Note
Aftermath Stories
Leave Your Drawings in this House
Fandanguillo
The Enormity