Orphaned
I watched America split from across
the Atlantic, huddled on the cat-torn
sofa with Lily and Spock, three adrift
Wisconsinites in front of a Youtube channel,
bottle of Cabernet Sauvignon at the ready,
long night ahead.
Optimism became despair,
little clutches of sleep between hours
of prayers to Gaia, the lighting of incense,
the plea, Please, please, please.
Then the moment, when it was over,
me tangled in the duvet, shrouded in dark,
a burning behind my teeth like
a mouthful of salt,
choking, my tongue turned inside out—
incoherent words, only gagging, between tears,
Chris holding me in his arms, clenching
me against his bare chest as I sob,
I can never go home, I can never go home.
Pillars of Salt
Women of America looked back
on Tuesday, November 8, and with them
we all have turned to salt—broken
into rough little granules, glittering and bitter,
the endlessly drying tears we are now forced
to shed.
Refuge
The shock hit, that slam
into a cliff wall, stunning,
that breathless gasp, taking
words and leaving
only fury, the knowledge
that I can't go home,
those Green County hills lost
to me, the warmth, the lakes,
drained now, empty
and barren. I must make do
with the Highlands, drink
in the cold rain through my upturned
face, beg you to accept me, land
that didn't raise me, pray
that you'll adopt me,
because I am alone,
and I need a new homeland.
Laura Becherer
Laura Becherer is a doctoral student at the University of Glasgow. She writes primarily fiction and poetry that focuses on women's issues. Laura is from Wisconsin, USA, and has been published in numerous magazines including Gutter. Her first book, A Drink of One's Own: Cocktails for Literary Ladies, is to be published by the Scottish publisher Freight this autumn. She lives in Glasgow with her partner and their two American cats.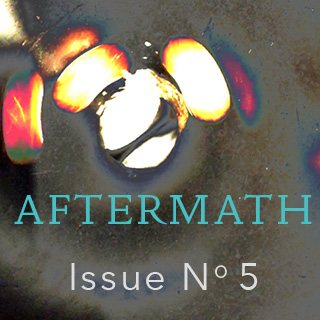 READ THE REST OF ISSUE NO. 5.
CONTENTS
Editor's Note
Aftermath Stories
Leave Your Drawings in this House
Fandanguillo
The Enormity