They come riding. Riding under blistering suns and bloody moons, leaving their womenfolk to a voiceless fate. They come riding. Riding past wooded shades of castrated, bled-out blacks hanging from oaks, maples, dogwoods. They come riding. Out of Abilene, Vicksburg, Selma, Waco, Tupelo, Macon, Knoxville. They come riding hard. Strung out breast to breast, they ride bays, roans, pintos. Shod in weathered boots, they sit in their saddles hoisting fire on sticks saluting the summer winds. They come riding in sheets through thick woods, across friendly sheriffs' tobacco fields, over acres of stubble cotton stalks, across clean-picked peach orchards. Come off farms, down from mountains, up from valleys, across plains, fording rivers and swamps. Laden with festering hatreds, they ride on liquor breath, belching whoops and screams. They come standing in stirrups yelling violence to black faces, Jews, Mexicans, Native peoples, Catholics. All foreigners. They ride for a white America, for the Old Testament God, for Biblical Scriptures read word for word, eye for eye, tooth for tooth. To keep America great they gather and circle, mouthing sacred creeds under hot lights of flaming crosses.
Another summer is gone. Fall has come. Winter approaches. Years pile up as technology with accompanying revolutions spawn unimaginable realities. And bing-bang here we are, looking to the haunting familiarity that lingers in the nation's lineage. Deep scars of intolerance spotlighted by the gee and haw of power manipulation, by elections won and lost, social movements and rebellions, sacrifices and losses, amendments and decisions, laws and leaders, shifting international contingencies. Today we awaken to the nerve-wracking shock of great uncertainty, a time of backward looking, a time when people out of favor sleep with trembling lips and open eyes. It is finger-crossing time. While double-talking fascism, the extremist right has entered the house and is donning the garb of power. Uncertainty breeds anxiety as people harbor serious concerns. About tomorrow. About husbands and wives, parents and children, friends and neighbors, schools and safety, knowledge and ignorance, reason and pitched emotion, stability and chaos, wealth and poverty, war and peace, our place in the family of nations. The uncertainty is present at breakfast time, at the drinking fountain in the work place, at the tavern on the way home, in the grocery store at the checkout counter, in traffic along busy streets. It is a renewed awakening of the deep scars, scars and putrid sores. We fear the impact of the powerful contingencies that brought a crude, inexperienced, narcissistic pitchman (endowed with the frontal lobe of a fourteen year old male) to the most powerful office in the world. We fear him and the gang he brings as government's top trigger men. This is not a dream. It's not a game. It looms.
Jim Finley
Coming of age during the 50s in flat, dust-blown Stonewall County, Texas, Jim Finley loved and hated, suffered and benefited, from the fate of time and place. Such dictates so much the inescapable mark of youthful experience. Thus grounded in place and spirit across from Kiowa Peak, on Salt Fork of the Brazos, near the 6666 Ranch, I return to the last café in the little town and see myself in the faces of the old cowboys seated at the next table. I don't know them, yet I do. Leaving that small town, and after spending 46 years talking politics in college classrooms, I realize what a huge part of myself I left back there in the land of the Kiowa.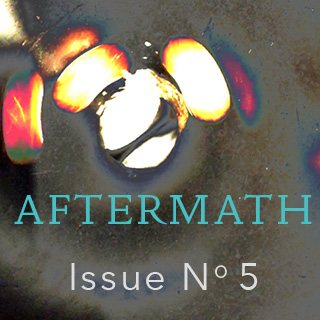 READ THE REST OF ISSUE NO. 5.
CONTENTS
Editor's Note
Aftermath Stories
Leave Your Drawings in this House
Fandanguillo
The Enormity