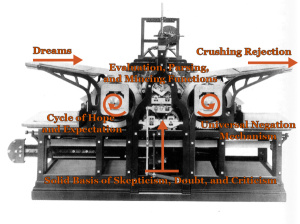 A tool to help anyone who faces rejection. The Rejection Generator rejects writers before an editor looks at a submission. Inspired by psychological research showing that after people experience pain they are less afraid of it in the future, The Rejection Generator helps writers take the pain out of rejection.
---
Guest Editor/Rejectrix
This week, we have seven rejections from author Libby Cudmore. She might appear sweet, but inside she has the pitiless, razor-wire heart of a true editor. And she has contributed a new twist to the Rejection Generator: each heart-rending rejection note comes with a suggested soundtrack, to maximize your suffering. If you enjoy her RGP ministrations, you will want to check out her new novel, The Big Rewind.
---
Option 1
Little People Lover
Option 2
Day Late, Dollar Short
Option 3
Last Call
Option 4
Brick Wall, Meet Head
Option 5
Insomniabane
Option 6
Pity the Poor Werewolf
Option 7
Shame Missile
---
Share The Rejection Generator
---
NOTE: This form is intended to allow you to send emails to yourself. Please don't abuse it, or else we will have to take it down… and tell your parents, which will leave them greatly disappointed in you. We do NOT save the email addresses entered on The Rejection Generator page unless you opt to receive our weekly digest. We never share emails with any other group. At any given time there are seven categories of rejection available. Rotation of the rejections lets users avoid becoming inured to any one approach.  The Generator continuously creates more. The Rejection Generator is designed for all writers. Emerging writers can utilize it to remember life before their first break. Writers well-established in their careers can use it for balance: no matter how successful a writer is, each year there are Pulitzers to lose, as well as National Book Awards, PENs, and Nobels to not be selected for; maintaining a sharp sense of rejection as award announcements approach is important. And, of course, beginning writers not used to or only barely used to the sheer weight of rejection that lies ahead can use the Generator to get ready for the future. The creators of the Rejection Generator recommend using it regularly to maintain a high RI, or rejection immunity.
Get more than rejection in your inbox
Get stories, humor, and cynicism, plus the latest updates from Stoneslide Books.
Share The Rejection Generator