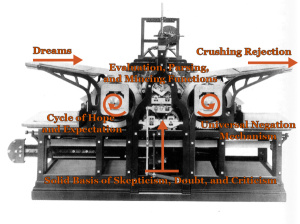 A tool to help anyone who faces rejection. The Rejection Generator rejects writers before an editor looks at a submission. Inspired by psychological research showing that after people experience pain they are less afraid of it in the future, The Rejection Generator helps writers take the pain out of rejection.
---
Guest Rejector
We at
The Stoneslide Corrective
value reaching out to everyone. We have never shied from inclusiveness, including including people who disagree with us, including disagreeing with our inclusive inclusivity. So, back in August, we reached out to Donald J. Trump's campaign and asked them to ask him to pen rejections for our Rejection Generator. We figured, hey, what if the guy wins? It might be good to have some rejections ready. We further figured, if he's willing to write them, and what he writes doesn't suck, we'll feed them into the Generator and see if it finds them sufficiently vile and hurtful. Mr. Trump did not disappoint.
The Rejection Generator Project is built on the premise that the most painful rejections ultimately help writers build their immunity to future disappointment. Since the election, we have realized that for many people nothing is more painful than to be reminded of Mr. Trump's elevation.
Herewith, please look below and choose the form of Trump-ogenic hurtfulness that you feel will give you the greatest succor.
---
Option 1
The Trumper
Option 2
The Paper Bagger
Option 3
Rookie Mistake
Option 4
Melania Knows Better
Option 5
You've Got to Be Kidding
Option 6
The Budget Trimmer
Option 7
Decisions Have Consequences
---
Share The Rejection Generator
---
NOTE: This form is intended to allow you to send emails to yourself. Please don't abuse it, or else we will have to take it down… and tell your parents, which will leave them greatly disappointed in you. We do NOT save the email addresses entered on The Rejection Generator page unless you opt to receive our weekly digest. We never share emails with any other group. At any given time there are seven categories of rejection available. Rotation of the rejections lets users avoid becoming inured to any one approach.  The Generator continuously creates more. The Rejection Generator is designed for all writers. Emerging writers can utilize it to remember life before their first break. Writers well-established in their careers can use it for balance: no matter how successful a writer is, each year there are Pulitzers to lose, as well as National Book Awards, PENs, and Nobels to not be selected for; maintaining a sharp sense of rejection as award announcements approach is important. And, of course, beginning writers not used to or only barely used to the sheer weight of rejection that lies ahead can use the Generator to get ready for the future. The creators of the Rejection Generator recommend using it regularly to maintain a high RI, or rejection immunity.
Get more than rejection in your inbox
Get stories, humor, and cynicism, plus the latest updates from Stoneslide Books.
Share The Rejection Generator