The Stoneslide Corrective No. 1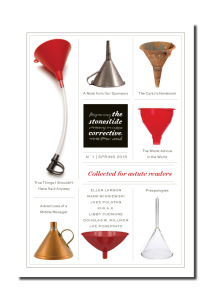 Our first print magazine,
The Stoneslide Corrective No. 1
 is an intoxicating mix of satire, fiction, humor, and photography, with a bouquet of ink on paper. It includes work from great writers like Mark Wisniewski, Douglas W. Milliken, Jude Polotan, Sati Melendez, Libby Cudmore, Will Mayer, Ellen Larson, and Kiik A.K.
GRACIOUS LIVING WITHOUT SERVANTS by Brenda Cronin
Juliet has done the right thing all her life, and where's it gotten her? She's a thirty-year-old widow who's had to move in with her parents. Things start to look up when her glamorous—but married—neighbor Seth seems to be flirting with her and helps her land a job at a local paper. Then she's assigned to investigate Seth's wife. Maybe she needs to do the wrong thing for once.
Buy the book now.
Read the first chapter.


SHOCK TO EQUILIBRIUM by Jonathan T.F. Weisberg
Graeme Henson sits on a late night flight to Paris, and the world convulses. Millions flee an emerging plague. Governments mobilize for war. But they don't know the half of it. It's not a natural disease. And Graeme needs to stop the terrorists looking to spread it.
Buy the book now.
[COMING SOON] RED MASK STORIES by B. Clim
One brother's ambition distorts two destinies. A god is dragged into the mundane sphere by a mortal's adoration. A wealthy man struggles between equally consuming but contradictory devotions. Two legendary lovers learn each other's fatal secrets. Set in a world in which gods and humanity create each other, B. Clim's interlocking story cycle examines the power of love to transform lives—for good and ill.
Read an excerpt.
Join our mailing list to hear when Red Mask Stories is published.
Stoneslide Books & Publications
Our books and magazines are available in print and ebook formats. Buy online or find a retailer who carries The Stoneslide Corrective No. 1.
If someone asks you what one thing you would take with you if stranded on a remote island, the correct answer would be any of our titles.