A newly formed trade association representing the interests of the nation's largest fast food chains has made an offer Americans seem unable to resist. The Burger Association, whose members include McDonald's, Burger King, Wendy's, and other chains, has made what experts are calling a "bold" offer to preemptively compensate taxpayers for externalities caused by the industry's employment model of low pay and no benefits.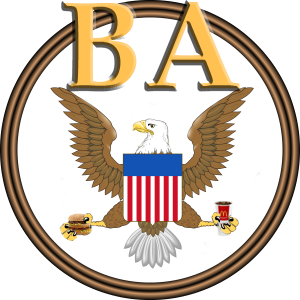 "Complainers have pointed out that some of our full-time employees still qualify for Food Stamps and Medicaid," says Clarence Duckmueller, the president of BA. "We recognize the burden that this places on federal, state, and local government budgets. Since taxpayers are ultimately the ones who bear this burden, we decided to directly compensate them."
The BA, through its member restaurants, is offering one free deluxe burger, a Whopper or Big Mac, for example (not just "dollar" menu items), per year to any taxpayer willing to sign a petition declaring that fast food restaurants are important parts of the local economy, offering employment opportunity to young and otherwise unskilled workers and rich dining experiences to customers. The petition also frees the industry from any responsibility for employee health care and welfare costs borne by government.
Duckmueller says the offer provides "long-term value. This isn't just one burger, one time. Taxpayers who sign will get a burger every year into perpetuity."
A study by researchers at the University of California-Berkeley Labor Center found that half of households headed by a fast food worker rely on some sort of public subsidy, whether health care, Food Stamps, or other programs. They estimate that the total subsidy from U.S. taxpayers to these employers is more than $7 billion annually. McDonald's recently got in hot water because its official help line advised workers to get on Food Stamps.
Labor and food policy advocates have labeled the BA offer a "travesty" and a "Trojan Horse" intended to enable fast food companies to continue unfair labor practices by siphoning resources from public programs.
But Americans are voting with their mouths. More than 70 million households, representing 200 million citizens, have signed on the dotted line and gotten their oh-so-tasty, flame-broiled, juicy, and/or all-beef patties in return.
"The consumer, who is also the taxpayer and the voter, has spoken," says Duckmueller.
Jim Warderall, a driver at a shipping company in East Chicago, Indiana, says he signed the petition, calling it an excellent idea. "My wife signed, too, so we had a great dinner, just last week. I love a juicy Big Mac." When asked if he thinks his employer might cut his pay and tell him and his co-workers to use government welfare, Warderall says no. "Why would they? We work hard and are very productive." After a moment he added, "I'm already looking forward to my 2014 burger. We're going to get it on our anniversary to make it real special."
The Associated Federation of American Retailers, a trade group representing retail giants that include Target, Macy's, and Sears, is watching the BA's strategy closely. Insiders say AFAR is considering advising its member companies to drive worker pay down to minimum wage, and then rely on the government to make up the difference while propelling profits upward. One source says "After all, employees of our retailer brother Walmart already receive tons of government benefits, so by having a role model from our own sector, we should be able to adapt easily. We all can learn a lot from how Walmart compensates its employees."
The AFAR source says compensation for taxpayers who sign the pledge would vary by retailer. "A department store might offer socks, or a pair of drinking glasses. A supermarket chain could give away butter, cooking oil, maybe a pound of ground turkey. There are so many good ideas."
Other articles from the world of business:
Utility Executive Demonstrates How Average People Will Suffer if His Company Is Fined
Psychologist Identifies "Golden Hour" for Best Financial Performance
Parents Use Big Data to Engage More Meaningfully with Children