You may have heard of Oakland, California, and if you have it's likely because of the notorious three-time Super Bowl Champion Oakland Raiders or the nine-time World Series Champion Oakland Athletics. But there's so much more to Oakland than those two standouts.
The New York Times named Oakland number five in its "45 Places to Go in 2012"—nestled between London and Tokyo. Oakland offers waterfront saloons, upscale dining, and urban wineries. It features Victorian architecture, a renowned industrial-arts scene, as well as the 300,000 square foot Oakland Museum. Oakland is California's 8th largest city. The city has its own lake, redwood forest, and 100,000 acres of parks and trails that feature breathtaking views of the San Francisco Bay. Oakland's historic Fox Theater is arguably San Francisco Bay Area's top music venue, drawing acts such as Lenny Kravitz, Lorde, and Widespread Panic. In 2013, NPR named Oakland one of the most diverse metropolitan areas in the United States.
However, depending on the stats you review, Oakland is the number two most crime-ridden city in the nation, with a violent crime rate almost triple the national average. Trying to maintain solvency, the city has taken on huge debt and cut government services. Its overwhelmed police department has been taken over by a court-appointed monitor. Oakland suffers from an unemployment rate hovering around 12%, a crumbling transportation infrastructure, and both a population decline and a decline in household income that have led to a shrinking tax base. Plus, the marquis A's and Raiders are perpetually threatening to leave the city.
If there was ever a town that needed a strong leader with a vision, it's Oakland, California. Instead, Oakland has Mayor Jean Quan.
Quan has deep roots in the city. She has lived in Oakland over 35 years. She served as a school board member for 12 years and as a city council member for eight. She is a UC Berkeley graduate, a former Kellogg Fellow, and the first Chinese-American female mayor of any major US city. However, Quan lacks any talent to manage. Everything she touches has turned to arsenic for the city of Oakland—so much so that she has faced two recall attempts since her election in 2011.
Her plan, up to now, for saving what could be America's greatest city is based on erroneous crime statistics and recruiting volunteers to work with disenfranchised youth. But Jean Quan has a new plan—one she is sure will fail like her others, only this time she's actually apologizing. And not only is she apologizing, she's doing it in advance.  
Today, Mayor Quan stood before cameras and said:
I've had a really busy year, well, several years, of course, trying to get our city out of deep financial trouble—what with the loss of redevelopment money we so depended on here in Oakland. This city has a lot of moving parts. I've worked very hard. I've balanced budgets. I've come up with a lot of ideas about ways to keep Oakland moving forward. Okay, I've come up with no ideas. I will stipulate to that. I've had no good ideas. However, I will have one idea here coming up that I'll pitch at the end of the first fiscal quarter. It's kind of a funny idea, poking fun at myself but also taking a page out of the local sports teams' marketing playbooks and trying to emulate their sucess. I'm apologizing now in advance for the idea I will pitch, which is a Jean Quan bobblehead doll.
To encourage residents to pay their local public debts—whether they're library fines, building permit fees, parking tickets, whatever—for every payment received in full—no matter the amount; it can be from as little as $1.35 in library dues to $3,600 in commercial garbage fees—payors will receive a free Jean Quan bobblehead doll. I know, I'm sorry.
This doll will be designed by the same company who did the A's "Chip and Chili" platter—that's Chip Hale and Chili Davis—and the Coco Crisp garden gnome. I've actually been very involved in the design. I thought, there has been a lot of media hype about my most recent car accident, almost to the point of cartoonish attention, where everyone said I ran a red light and was checking email, which I wasn't but the police have completed their investigation and have determined that, well, they've determined they can't make a determination due to lack of evidence. See? I said I wasn't checking email, and this lack of evidence proves it. But since there has been so much attention to this minor accident, I thought let's turn this into an opportunity for Oakland. Let's turn this on its ear and make it positive for Oakland. It should be clear now how much I care about this city.
So the doll, they call it a doll, it's really more like a small statue or a trophy, but the doll will be me, my likeness, in my car, my front and back bumpers smashed between two other cars, my head out the window—bobbing out the window (is it "bobbing" or "bobbling," since there is an "L" in the item itself)—and a cell phone in my hand. We might also have the rear fender of the car in front of me be a bobbling part, too, we're not sure about the final design. (I'm guessing it is "bobbling," so I'm going with that, and as mayor it's my prerogative.)
It's a funny idea. It's a good idea. So why am I apologizing? In advance? People won't get it. They'll take it wrong. They'll be offended and mostly people will just think it's ugly despite the best design we could do. People will think it's ugly and people just don't like me, and they won't want my likeness in their homes or on their dashboards or wherever you put a bobblehead. I don't know. I don't have any bobbleheads. Well, I have them. The sports teams do send them to me, but I'm very busy and I don't have time to open the boxes. So they're collecting in my garage.
I'm sure the Jean Quan dolls similarly will start stacking up in the basement of Oakland City Hall because instead of people rushing to pay their bills to get the doll, they'll hold onto their money because they don't want the doll. And even people who do regularly pay their bills will stop paying because they don't want the doll, or mini statues or whatever you want to call them.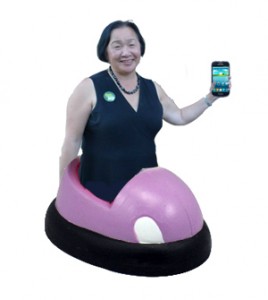 In fact—and this is where I'm most sorry—people will stop visiting the most popular and profitable public places in Oakland. The plan is if you pay an entry fee to any public space in Oakland—the zoo, the parking lots of our miles of trails—you get a Jean Quan doll, because that's like paying a bill, too, right? It's giving money to the city. Revenue will actually drop at these places. I'm talking about the Oakland Museum, the Chabot Space and Science Center, Lake Merritt—basically, the money-making bright spots in the city. These attractions are very popular with tourists, but tourists won't know what to make of the dolls and if they do pay their entrance fees, if they do enjoy these attractions, they'll end up leaving their dolls behind. So there's going to be that, too, an additional expenditure, for cleanup and removal of what my doll will then become, which will be garbage, on top of just the lower attendance numbers and revenues at these attractions.
The other thing is, well, I said I would be most sorry for people stopping their visits to the most popular and profitable places in Oakland, and I will be sorry for that, but I will really be most sorry when it is revealed that my family, the Quan family, not my husband's family, has murky ties to the Chinese-based manufacturer of the dolls whose factory is located very near the North Korean border in the Liaoning province of China. There will be talk that I have somehow profited financially from the dolls.
In addition, I'm also apologizing because, unfortunately, we're in for a re-occupation of Oakland by Occupy Oakland. This organization will feel that if Oakland has money for dolls, it has money for real people and so will retake Frank Ogawa Plaza only this time they will build an impenetrable wall around their encampment by mortaring together all the discarded Jean Quan dolls they can find in the city. They will shut down City Hall. They will once again shut down the Port of Oakland and then will actually move on and succeed in shutting down the Oakland Airport, which will of course send traffic to San Jose and San Francisco and cut into our tax base. You can see the cycle. You can imagine the financial ramifications. I mean it's going to be a doll, people, I can't believe there will be this much disproportionate reaction to it. But, okay.
On a personal note, I want to apologize to the families and friends of the City Hall staffers who use the disparaging, hurtful term "Quan-fusion" to describe the state of mind I'm usually in and the state of affairs in City Hall. I am very sorry that you must live with people who have so much ugliness in their hearts that they could utter such a disgusting neologism. ("Neologism," that is what it's called, right? I believe it is. I'll have my staff look into it.) Clearly they are horrible people, but I believe I am partially to blame for this behavior of theirs: if my ineptitude weren't so perfect and comprehensive, perhaps no one would have ever thought to come up with such a mean-spirited quip at the expense of another human being. For I am, without doubt, a human being, who deserves compassion and love, just like everybody else does. I love this city (although I do have an odd way of showing it), and I hate what my actions have created and fostered in its residents' hearts. Furthermore, I preemptively hate what my actions will continue to create and foster in everyone's hearts, residents, visitors, and haters alike.
I also want to apologize in advance for my next political move, which will be winning reelection later this year. I'm sorry. I will be your mayor in 2015. Thank you so much.
See other preemptive apologies:
-by a CEO, before she has an affair
-by LeBron James, for not doing something, before he doesn't do it
-by a Milwaukee Brewers fan, before he has a meltdown while ranting at Ryan Braun