Kids, school is right around the corner. Have you thought about what you'll do if your parents try once again to take credit for your successes? Say you and a couple friends beat the crap out of the pedophile gym teacher and you, as the initiator, face the worst repercussions. You make it out of Youth Authority intact and get admitted to a different school. Yet it's your parents who receive praise from relatives and family friends for being "so supportive" of you in this "difficult time." You're the one who rid the district of a predator! Stop all that misdirected praise immediately with the latest from Stoneslide Giftworks: the Glory Shall Be Mine Fist®.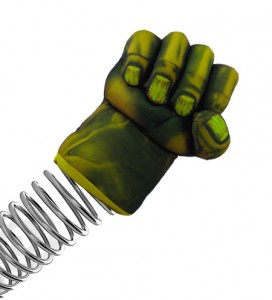 The Glory Shall Be Mine Fist delivers a blow to the face or body of anyone you direct it toward.
Maybe you kill it on the SATs and do all that other overachiever BS, and your parents' friends say how "proud" they must be, as if they have anything to do with your intellect other than an egg that lay there and a sperm that ran into it. What a twisted helix of self-aggrandizing, contemptible bowel movements your parents are! Have them be done with their simultaneous attention-seeking and false modesty once and for all, with the Glory Shall Be Mine Fist.
Made of basalt and an industrial-grade steel alloy, its spring-loaded, fist-shaped ball is suitable for injuring parents, relatives, or anyone else who tries to make it seem like you have nothing to do with your very own triumphs. They are all, every last one of them, lying cul-de-sacs of failure. Don't take it anymore. Tell your parents to keep their grabby mitts off your successes in the most effective manner you can, with the Glory Shall Be Mine Fist.
Available online and at most good skate shops.
More Stoneslide Gift Assists
See It before They Do: The Loser-Diluter Handyscan
Prevent Fatherly Tomfoolery