I could go on at length about the impossible purples of orchids exploding from every offered crag in the palms or the balmy caress of Philippine winds pouring in from across several thousand miles of uninterrupted ocean or whatever else it might please you best to hear my careful mouth say, but the truth is, sweetheart, what little I tell people of our acrimonious season in faithful Batan is not at all what I remember. In my memory, there are no orchids. There's no wind and no caress. Which means there's nothing worth reporting. Seriously, I do not think anyone would care to understand—and you have so eloquently demonstrated this point time and time again—no one cares about the way our westbound flight chased the setting sun so the world before us, for hours above the wet Pacific, was drenched in a sweet and syrupy red, a light and a color that for most people fixed firmly to the Earth only ever last for a few seconds each day, yet can sublime on and on in a movie or in a dream. Or, just this once, for me. And even then, staring out the window with my nose stinging beneath the pungency of your highball of Ardbeg that not once before we landed left your fist, yes, even then, gazing out the porthole glass, I couldn't help but wonder: so is this a movie, or is it a dream?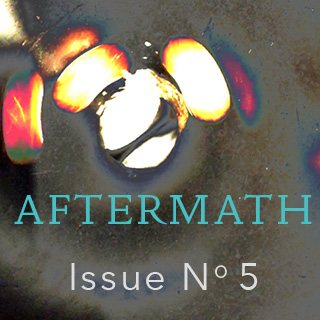 CONTENTS
Editor's Note
Aftermath Stories
Leave Your Drawings in this House
Fandanguillo
The Enormity
No, I do not remember any white sand beaches or sweat-glossed children selling plastic baggies of Coca-Cola along the Basco harborside while the freighters muscled in like quarterbacks from Manila—those are your details, details that I can't recall so cannot refute yet nevertheless seem to me secondhand, gleaned from old movies or overheard in some airport lounge somewhere, but they are what you claim to remember and insist that I remember, too—but I do remember a beach of ocean-smoothed boulders glimpsed in one dusk and a village of stone houses in what very well might have been that same deepening dusk, the whole town abandoned decades ago after a tsunami washed all the people away, and I remember in a market watching a woman butchering a chicken, how after she whacked its neck in half with an oversized blade like a propeller's wing, she cut out the bird's tongue then tucked it underneath her tongue. She was taller than any of the other people I'd so far seen on Batan—I do not think languid is too strong a term—yes, and I remember, she caught me watching her, and she smiled, one pearl of blood marking her chin, and like my spine was a seedpod rattle, I shivered. But you did not see this, so of course you cannot remember. You were likely deep in the hills, inspecting that goddamn radar station. You insisted then and still insist now, this was our honeymoon. But what man brings his financial advisor along on his honeymoon? I do not remember ever once on that island feeling completely contained within my skin. But I remember, the light at our bungalow ("our bungalow," you'd drawl, "our bungalow"): it was the same light I remember from our flight, Lifesaver red and seeping forever between the black trunks of unnamable trees while someone somewhere—and this is the only detail that might indeed appease your expectations—while somebody played a flute. Its melody was meandering, and hollow, and searching. It scared me like few things can. Which is likely why I loved it. I remember, every night on Batan may as well have been that one original night: the cherry sunset, the shadow trees, the flute mimicking the songs of birds. Every night except that one with your idiot friends (so strange, yes, so curious how you seemed to know every American expat on the island) when they threw that awful banquet "for us" at the ballroom—you were so proud to admit, so contented, that this was the island's only ballroom, though how on Earth could you possibly know that?—and everyone grew vapid and hysterical on coconut milk with rum and pretended they could tango and dance the fandango along with the band until that one woman in the dress like a peacock's iridescent tail cast a reverence over everyone by dancing all alone at the center of the floor, her eyes closed and heels clacking a rhythm counter to the shells in her hands—big white abalone shells that, until she snatched them up from the tables, we'd all been dripping cigarette ash into—and otherwise standing perfectly still, her aquiline nose tilted toward the ceiling fans' lazy turns and her quivering all over, yes, shivering like a tambourine but also perfectly still, glued to her spot on the floor and shaking while the guitarist strummed quicker and quicker like he was trying to keep pace with her, her body was a race and he was losing. It was a lightning flash in the Pacific night, how she all at once spread her arms wide in an unrequited embrace—it was a taunt and invitation that no one dared accept—and strode three commanding steps forward before collapsing in a kneel to finish her dance on her knees, and it was evident in the rum-glazed eyes and wet, open mouths, the lust that shook every heart. And though everyone wanted her, it was obvious that no one could have her. For even though she was dancing with all of us, every last one of us, dancing with every man and woman in that singular ballroom on the island of Batan, she was only ever dancing for herself alone. And I am certain as I have never been certain of any other thing in this world, she was the same woman with the chicken's tongue hidden beneath her tongue.
But yes, every other night: red light, black trees, the sound of a flute I could not see.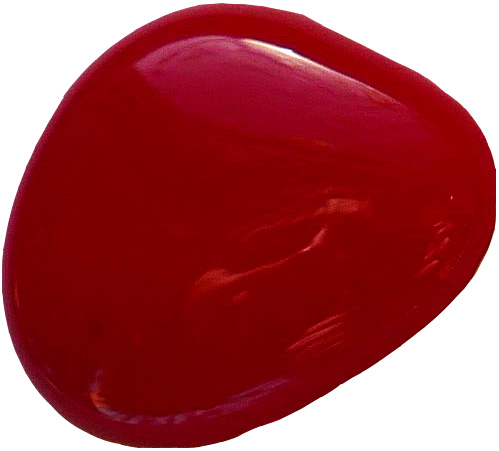 I remember watching a paper theater at a street festival in Uyugan, and that's another thing I do not tell anyone about because it'd sound so intolerably quaint and I do not tell anyone because watching that play, I was terrified that the hidden puppeteer would be revealed as the woman who danced alone. I remember seeing a mural on the side of a church—there was an organ groaning through the cold stone walls, and voices rising in song—and though inside it was a Roman Catholic god who reigned, out here it was this painted creature with the head and wings of a screaming song-bird but the naked torso of a woman above the stilting legs of a crane. I remember, I stared at that painting for a long, long time. You always then and still now scold me for getting so deeply lost in myself—the phrase you use is "concentrated introversion"—but it was not within me that I was lost. Nor, for that matter, is "lost" the word I'd choose. I later heard stories of a vampire that lived deep in the green heart of the island, and I heard (not from any old crone or medicine man or whatever other cliché you might keep in your head, no, not from any native of the island at all, none of whom spoke English anyway as I'd been led to believe, but in fact from your accountant, smirking in the acetone dusk) that in order to learn the language of birds, you must first hide beneath your own tongue the severed tongue of a bird. And I heard other things, too. I believed them all.
And between all I remember and all that I say instead, the one unshakable constant throughout is this: there may have been evidence of you all around, sweetheart, but I do not remember you actually being there at all.
So that is why I call Batan so overfull of faith. It is where my faith begins. I would watch the red light move through the trees while someone somewhere played a flute, and I would believe. I do not think there are any words that contain what that faith could be. I don't think there needs to be. The act is enough. The looking and seeing, the listening and hearing, the wondering, "Is this a movie or a dream?" Wondering as I follow the flute-song through the black trees. Wondering as I arrive at a door. I knock and she opens and she lets me inside. But the inside is the same as the outside. It puts our precious bungalow to shame. In her hand is a ceramic chicken, and when I ask, she presses it to her mouth. Its raised tail touches the tip of her nose. In the darkness above, her foil eyes flash. She fills the clay bird with the mystery of her breath, and its open mouth sings the dimensions of my faith, meandering, and hollow, and searching: is this a movie or is it a dream?
Douglas W. Milliken
Douglas W. Milliken is the author of the novel To Sleep as Animals and several chapbooks, most recently the pocket-sized edition One Thousand Owls Behind Your Chest and the collection Cream River. His stories have been honored by the Maine Literary Awards, the Pushcart Prize anthology, and Glimmer Train Stories, and have been published in Slice, the Collagist, and the Believer, among others. www.douglaswmilliken.com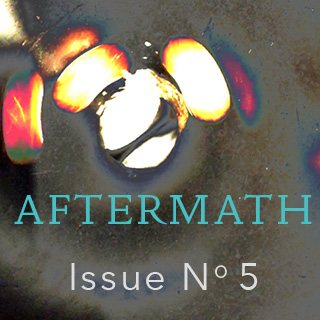 READ THE REST OF ISSUE NO. 5.
CONTENTS
Editor's Note
Aftermath Stories
Leave Your Drawings in this House
Fandanguillo
The Enormity