for Peggy Araki
Jin Morri was the first dog laid to rest in the Butte Camp cemetery. Jin had been a sheepdog mutt, alert, oddly immaculate, a coat of thick, white-and-black fur that smartly reflected the oppressive desert sun. With the Morris, he had lived fourteen years along coastal and agricultural cities in California, six months within the Tulare Assembly Center, and his final eight months on the border between Butte Camp and Canal Camp in Gila River, Arizona. He had welcomed the births of two Morri children, and he had watched the oldest California Morri, Isaburo Beans Morri, collapse beneath an orchard of white prune blossoms and go free to his ancestors. Jin Morri's burial site was located beneath the shade of a blue palo verde, its ochre, seed-heavy pods collapsing onto his roof. All hours of the day were claimed by visitations from desert pollinators, wasps, bees, moths, flower beetles, the speckled forehead of the tree's yellow Sonoran flower seized and kissed a thousand times.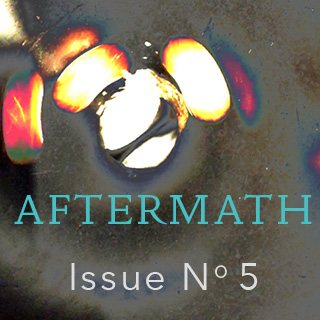 CONTENTS
Editor's Note
Aftermath Stories
Leave Your Drawings in this House
Fandanguillo
The Enormity
In the weeks after Jin Morri's death, Margaret Morri, the eight-year-old daughter of Tomiye and Tetsuo Morri, wept into every plate of food placed before her. Her tears fell upon the salted and scrambled egg, or in the bowl of raw egg whipped into hot rice, the bowls of miso soup and seaweed soup, the tightly rationed hamburger steaks, the plates of hamburger-beans okazu, the thick rectangles of cornbread and butter, the yellow cake served after Sunday service, the cup of brown sugar, hot oatmeal, and milk, the plate of chopped apples impaled with toothpicks.
"It is in the tradition of Morri women to learn to eat their tears," Sugar Morri, Margaret's grandmother, once said to her. "You eat your tears so your body might keep them for later. Tears are a powerful medicine, so we will waste none of them on the dust. We keep them and remember every pang, every unachievable desire, every defeat and trespass against us."
In camp, it was Margaret's practice to draw for an hour in bed every morning before school. Jin Morri had occupied the foot of the military cot, snapping at moths or locusts who found their way into the barrack. It was therefore no surprise that Jin populated hundreds of pages within Margaret's notebooks.
The illustrated world of Margaret Morri was in no way constrained to Gila River. There was the handful of drawings that documented the Morri barrack, the Butte community gardens, the canteen, the gymnasium, the watchtower. But what Margaret mostly imagined was the Pacific coastline. There were scenes of crab empires emerging from underwater caves. Scenes of gulls spiriting clams into the sky, a scene of an otter raising a clam over its head like a prizefighter hoisting a trophy. There were scenes where the ocean bottom was an explosion of multicolored starfish, Jin bending down to inspect one of them like a spring blossom.
"Does Jin swim or does he float?" Tetsuo Morri once asked his daughter, looking over her shoulder at her artwork. "Some days Jin walks above the water. Some days he walks below the water."
"Jin needs to smell everything," Margaret Morri said. "When he is sniffing the bottom, he is walking the bottom. When he sniffs a bird, he walks in the air."
"It makes complete scientific sense," Tetsuo said. "You made a beautiful drawing. This gull has a baby clam friend. Why does he carry him into the air? Aren't clams afraid of heights?"
"Gulls don't have any friends," Margaret said. "They clobber the clams upon the pointy rocks and then peck out their faces. Then they feed the chewed-up faces to their chicks."
"Jesus," Tetsuo said. "Are otters and clams friends? This otter is hugging her clam."
"Otters hate clams. They put a clam on their belly and bash it on the head with a rock. Then they slurp everything out. Even their guts and butts."
"I didn't know clams had butts or heads."
"Oh sure," Margaret said. "Clams have everything we have. They have small butts and smaller farts."
"It's good since small farts don't have a bad smell."
"Their farts are really stinky though. Clams eat garbage all day."
"If clams have everything, do they wear clothes?"
"Clams don't wear clothes," Margaret said. "They like to walk around the house naked. But they have even songs and gods."
"And clams go to church?" Tetsuo asked.
"When you look at a clam, their hands are like, practically always praying. They have angels. They have ghosts and they have pets."
"They have pets?"
"Yes. Sometimes they get a little fish to be their pet. And they play fetch with them throwing a fish bone. And they say, my last pet didn't play fetch, and now his job is being this fish bone."
"I think you are spending too much time in the camp library," Tetsuo said. "I want you to get outside and run around more."
In their years along the Central Coast, the Morri family had owned strawberry fields and operated a shack where they sold fruit, sodas, nuts, and popcorn. Although the land and stand had been handed to a competing farm amidst the Morris' relocation, Margaret drew dozens of remembrances of Jin jogging down the lines cut for berry plants.
"Do dogs gather and eat strawberries?" Tomiye asked her daughter.
"Dogs don't like strawberries," Margaret said. "Dogs only eat cats and bones."
"They eat cats?"
"They like quick meat. I mean, animals who run quickly. He gobbles up their speed."
"It looks like Jin has a nice little pile of ripe strawberries."
"He is setting a trap for a possum. When the possum tries to eat the strawberries, Jin is going to jump out from behind a bush and eat the possum's head off."
"It isn't sweet or gentle of gentle Jin."
"We don't know their story. The possum was, like, being really mean."
"The possum said some pretty hurtful stuff, did he?"
"He tried to eat Jin's leg. Now Jin is getting revenge back at him."
"It doesn't seem like a leg is worth the same as a whole life."
"A leg is everything to a dog. If a dog can't run, he gets so terribly sad he wants to crawl under the house and starve himself to death."
"I think you have been spending too much time with Jin. I want you to play with more of your friends from school."
Months beyond his passing, Jin Morri appeared in Margaret Morri's illustrations, arising in more ways than just a sheepdog mutt. Sometimes he was a white and black goat with curving, ridged horns. Sometimes an enormous white and black flower rising through the floorboards of a room. Sometimes Jin emerged as a handsome young man, sometimes as a beautiful white-haired woman.
"I see him like this when I'm dreaming," Margaret told Sugar Morri. "He isn't always in his old body, but I know it is Jin."
Sugar Morri told her granddaughter to save a few portions from her dinner, a chicken drumstick, a quarter of her biscuit, a small lump of rice and gravy, all of it wept upon by Margaret. Sugar told her to carry it over to the Butte cemetery and to place it before Jin's burial mound.
"You should feed him a final time," Sugar said. "He owns no permanent body, but his soul still searches for the food from your hand."
"He wasn't a man," Tomiye said from across their table. "Do we believe all animals have souls?"
"Of course Jin has a soul," Sugar said.
"I've never heard our Reverend Nobuko Miyake say so," Tomiye said. "How can you be sure?"
"Margaret dreams of Jin," Sugar said. "Jin dreams of Margaret. We must have souls to dream of each other."
"Do you still dream of Jin?" Tomiye asked Margaret.
"I see him some nights," Margaret said. "Other nights I forget everything but a feeling."
"His soul is near," Sugar said. "It won't be this way forever. The food you've cried upon is powerful medicine. Feed him while you can."
As she had done for years, Margaret Morri wrapped portions of her dinner into a handkerchief for Jin Morri. Then she walked into the blue palo verde trees of the Butte Cemetery and buried the food beside a little pyramid of rocks she used to mark Jin's gravesite.
That evening while she slept, Margaret asked Jin Morri, "One day when I die, will I stop dreaming of you?"
"What has death got to do with the two of us meeting here?" Jin Morri asked.
"It is my dream though, isn't it? When I die, won't this end?"
"Who says your body is the house where this dream is happening? Who says your dream is the only place we will ever meet?"
"I just figured," Margaret said.
"No one owns this house," Jin Morri said. "This is the house of my gods. It was here before us. We will meet here long after our bodies have gone."
"Is it at all scary to go on without your body?" Margaret asked.
"When you leave your body, you leave behind the rules of the body. The way the body ages and hungers. The body has so much it uses to teach the soul. But to leave it behind is not scary."
"This is our house!" Margaret exclaimed. "Aren't we in Santa Maria? I just recognized my drawings are pinned to the walls."
"Leave your drawings in this house," Jin Morri said. "I will leave my drawings here too. They won't always hang here. The purpose was never permanence. Another Margaret and another Jin will live in this house. They will paint over what we have left them. It's possible something in their paintings remembers something about us. Or they won't. That is wonderful, too. That is also a treasure."
"I don't like living here without you," Margaret said. "The moths and the grasshoppers land on my face all night now."
"Would you have me come back only to scare away some moths?"
"It's just that I am alone with the moths. What will I do if I am alone and I need to reach you?"
"What do you propose? I have no more ears to hear you, Margaret. No more paws to carry me."
"You are really gone then. It hurts. I hate it."
"There was a blanket I slept on that you left in storage back home. It was a yellow beach blanket."
"There were fish printed on it."
"That was the one. If you ever really need me, draw that blanket. Slide the picture beneath your pillow before you fall asleep. I will return and keep the moths and locusts away in the night."
At the close of the war, the Morris were gifted twenty-five dollars per family member and train tickets to any city east of Gila River. They spent time in Chicago and Detroit before boarding a train in 1947 back to California. When they returned to their home, they discovered it raided and vandalized.
In her old room, Margaret Morri found constellations of holes in the drawings pinned to her walls. They were small holes from where someone, likely a neighbor, had sat upon her bed and fired rounds of a .22 rifle into her artwork. With the help of Sugar Morri, Margaret repainted the walls of her room a new color. Rather than patch the holes, Margaret painted around them. A constellation of eight holes became the mottled plumage of a ring-billed gull. A constellation of four holes became the speckled wings of a moth. A constellation of six holes became the empty chambers of a pomegranate, its sweet and dark arils falling out from the waxy and astringent pith and before the pried-open bulb.
Kiik A. K.
Kiik A.K. earned an M.A. from UC Davis where his poetics thesis was titled The Joy of Human Sacrifice and an M.F.A. from UC San Diego where his collection of counter-internment narratives was titled Everyday Colonialism. He is currently working on a novel titled Poor as You Are, My Heart, Don't Grieve Here on Earth. His fiction has appeared or is forthcoming in Pleiades, Okey-Panky, The Southeast Review, The Stoneslide Corrective and Electronic Literature's Recommended Reading.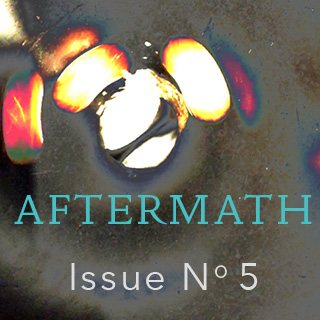 READ THE REST OF ISSUE NO. 5.
CONTENTS
Editor's Note
Aftermath Stories
Leave Your Drawings in this House
Fandanguillo
The Enormity