Chapter 1
Something in the view down the cabin of the airplane hit Graeme with a force of revelation. It caused him to linger at the head of the aisle, while his mind sifted through the impressions the scene had made on him. The plane was nearly empty, though he knew he was the last passenger to board. He'd slipped in as attendants waited to close off the gangway. This should have been a popular flight. The few people scattered among the seats made him think of a chessboard near endgame. That was the connection his intuition had made at a glance: endgame and inevitable demise. It was a bad omen.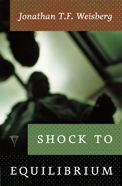 Buy Shock to Equilibrium
Read the first chapter here. If you like it, buy it online.
Amazon (Print and Kindle)
Barnes & Noble (Print and Nook)
Apple iBooks
Download other formats
Behind him, the crew shut the door, and he heard a clunk as it was locked in place. Accepting that there was now no way to go back, he moved forward and looked for his row.
The other passengers kept their gazes down as he passed and were unusually still—hands rigid on their knees, backs stiff. Graeme was in a heightened state of anxiety, given all that he had learned in the last few hours, but it was obvious he wasn't the only one.
Travel everywhere had fallen off with the first reports of an outbreak of a deadly, unidentified disease in Laos eight days before. Then came word that the disease had spread, appearing in Thailand, India, and South Africa. It seemed to be as easily communicable as a bad internet joke, and the reports were of fatality rates as high as 50%. The U.S. government cut off all travel to and from Eastern Asia and Africa. A couple days later the rest of Asia and South America were added to the ban. With all this upheaval, Graeme's fellow travelers had been winnowed down to the brave and the desperate. Everybody else was staying home.
The attendants moving up and down the aisles nearly outnumbered passengers.
Graeme slid into his seat and buckled up. He placed his briefcase, his only luggage, under the seat in front of him. He followed the petty rules of air travel, even though now more than ever they seemed superfluous. Graeme knew more about the outbreak than the other passengers, and he knew that a little turbulence on takeoff would be the least of their worries.
The media hadn't yet settled on a name for this threat. Some called it Superflu, some labeled it an Ebola-like outbreak. The CDC and other government agencies were calling it Pak, after the name of the town where it was first identified. The scientists thought that it was the most dangerous outbreak since the era of globalization began. And whether they admitted it to the public or not, they were scared. The people with the airtight suits and the negative pressure rooms and all the drugs known to man were scared.
Graeme knew that the CDC's best models showed the disease spreading faster and faster in the coming days, and that at some point during this flight, the President would issue an order prohibiting all international travel into the United States.
Graeme was on this flight, knowing full well he wouldn't get to use the return leg of his ticket, because there was a small chance he might be able to keep this natural disaster from becoming something worse. In a meeting an hour or so earlier, Graeme's handler—a man named Keith—had spun out a scenario that could climax with war on a scale that the world hadn't known in 60 years. It was almost too much to contemplate. But with all the fear in the air, anything could happen.
A flight attendant took her place in the aisle in front of Graeme and held up a mock seat belt. She was pretty, with red curls and hips that made her uniform skirt look as slick as sculpted metal. She was probably a little older than Graeme, but still vivacious. He doubted anyone looking at him would be so kind. He was trim and taller than average, but somehow his form seemed to be of little interest to others. He knew he looked tired and anxious even when he wasn't—and tonight he certainly was.
She showed him how to buckle the seat belt he already had around his waist. He ogled her, feigning interest in the subject of her demonstration rather than the demonstrator. It was juvenile, and when he realized his thoughts had made their way into the alleys of libido, he pulled them back—looking away from the redhead. He didn't want that kind of distraction.
Graeme took out a map of Paris, his destination. It was in booklet form—one arrondissement, or district, per spread. It was his intention to memorize as many pages as possible before the plane landed; he expected to need to find his own way around. An ambitious goal, given the accretions, reversals, and absurdities of history that were now evident in the jagged lines of the city plan. But he relished a challenge of mental acuity. If he thought of the task as some sort of competition—an attempt to set a record, say—he knew he'd keep going at it long after everyone else on the plane had fallen asleep and his own body sagged under him.
He started by locating the first address he would have to visit. It was in the 3rd arrondissement. He had seen pictures of the house in his meeting with his handler, Keith. The house—mansion, really—was four stories high and constructed of yellowish stone. You entered through a small, gated courtyard, and a pair of statues—female nudes holding assault rifles—guarded the opening. The house belonged to a man named Malek de Courcy, but Graeme didn't want to think too much about who he would see in that house, and what he would have to do there. Thinking about it would just make it harder when the time came.
He mentally ran through the streets in the immediate neighborhood. If he turned right out the door and right again, he'd be on rue Dore. Then he'd have the choice of rue de Turenne or rue St Claude. His finger tracing the routes, he only pronounced the names of the streets in his mind, and still he recognized that his pronunciation was terrible. At least he was quick at memorizing, utilizing mnemonic tricks he'd learned from books as a teenager. He gave each name an associated image and then created a story to tie the pieces together. A saint in a brown robe, chasing a dog he'd once known, who runs into a cooking pot… The city of Paris was slowly overrun with the absurd tracings of his imagination.
The plane taxied onto the runway, and as its acceleration to flight speed pushed him into his seat, like a much larger man leaning against him, Graeme felt at once the helplessness of being trapped and the hope for freedom. The plane leveled off at its intended altitude, dropping a shadow on the clouds, and he became lighter in his seat.
While one part of his mind continued to memorize streets and intersections, another pursued the tension between freedom and imprisonment into the depths of his psyche. This notion was not abstract for him. Ever since he'd been freed from incarceration, he'd known he could be returned to prison at any time for any reason. No doubt most parolees shared this worry, but Graeme had more reason than most, as he was actually supposed to still be in prison. Some computer record somewhere said he was serving time in Otisville federal prison. He often wondered if a bed in the prison had sat empty these last few years, reserved for him, so that the accounting of bodies and cell space would work out. He imagined it with a thin pillow and tightly folded sheets.
He couldn't use his real name when he traveled. The passport in his pocket this time stated he was Graeme Henson. They always rechristened him with the first name that his mother had given him, even though he'd always detested that name, but the family name, the place of birth, the date of birth, and everything else in his passport was false.
Since it was the government itself that had given him his identity-of-the-moment, he was sure it was fully validated and backed up in the system, as if he'd lived the life of Mr. Henson, bond trader from Bergen County, for the last 30-some years.
The passport had been carefully softened into a curve, as if it had been used before, even though Keith had only handed it to Graeme that night. The computer-printed itinerary now tucked into the passport had also come from Keith. Even the clothes Graeme wore and the watch whose slick weight he noticed when he shifted the map, he possessed on one level because Keith allowed it.
Graeme was liberated from the literal cell, but Keith still owned him.
Graeme had sold himself six years earlier. He could identify the precise moment. It had happened after Graeme was woken in his cell one night. A middle-aged African American man dressed in a sport coat, a knit tie, and khakis stood beside Graeme's bed. This was Keith. Graeme had first thought he was a deputy warden or a low-level bureaucrat in the federal prison system. Who else could be in his cell? But then Keith spoke with a lucidity that revealed extraordinary intelligence and purpose. What Keith said was that he represented the U.S. government (he was never more specific than that), and that he could take Graeme out of prison that night—if Graeme would agree to do certain work, to be described later, for the government. It was an offer Graeme should have thought about very carefully. No one would offer something as valuable as a get-out-of-jail card without asking a heavy price.
But the truth was that Graeme had been beaten by prison. He had fallen into misery and would give anything to get out. This did not leave him in a state to do a cost-benefit analysis. He quickly agreed to Keith's proposal, effectively putting himself into indenture for the foreseeable future. Keith handed him a change of clothes and watched while Graeme took off the prison-issued jumpsuit and pulled on the civilian clothes (not the clothes Graeme would have chosen, by any means, but denim felt like cashmere at that moment). They walked out of the prison with four men in U.S. Marshals' uniforms.
That was the beginning of his new life.
The seat belt light went out with a ding, and Graeme looked up from his map. The first class cabin was empty. He knew from experience how much more comfortable those seats were. If he'd made his own travel arrangements, he would have booked one, but this trip had been set up for him by someone who worked for Keith. He looked around. If every person in coach moved up, there would still be enough seats for them all. This seemed like justification enough, so he took his briefcase and resettled in one of the wide, leather seats.
A moment later, the redheaded attendant who'd so mastered the mysteries of latching seat belts tapped him on the shoulder. He looked up from his map. He'd finished the 3rd arrondissement and moved on to the 4th.
"Excuse me, but you'll have to go back to your seat," she said.
He smiled at her, trying to ease her impression of him, but the scorn in her face didn't soften. No doubt she hated people who snuck into first class, forcing her to confront them. He couldn't blame her.
"I wonder if Jim Gaithersman" (the CEO of the airline; Graeme had once spoken to him on the phone) "would agree with your sending me back. It doesn't seem like the best policy for an industry that's losing all its customers, and he's on record saying that he wants to refocus on the customer. You might want to invite everyone up instead." Indeed, Graeme thought, such a gesture would make an indelible mark on everyone in the plane and cost the airline nothing.
"Sir, you have to follow a flight attendant's orders, or you can be arrested. Please go back to your seat."
For just a moment, Graeme was indignant. Try to have me arrested, he thought. Then his old fear of inferiority kicked in and he wondered if he looked like he didn't belong on this side of the first class curtain. But he knew he did. He paid an obnoxious design-school graduate more than this flying handmaiden earned in a year to pick out his clothes. He was wearing a hand-tailored, charcoal grey suit, the jacket folded on the seat beside him. His shirt had cost $250.
Where did an indentured servant get this kind of liquidity? The work Keith had given him was to manage over $500 million in an active daily trading hedge fund. It was the government's money, but he got his share to spend. Not the old two and twenty, but enough.
But he couldn't tell her any of this. He was Graeme Henson for this trip, and he had to get to Paris without drawing undue attention to himself. People were on edge because of the outbreak; that's why the attendant had reacted so severely. She could fly off the handle, create a scene, and cause authorities to look into his identity more carefully than he wanted. At the very least it could cost him time he couldn't afford to lose.
He retreated. His regular seat now seemed shabby.
The attendant stood with one hand on the curtain, glaring at him, as if she guarded the virtue of the republic with that fabric shield. So, he looked back to his map.
Yes, people were on edge. And they only knew a fraction of what he knew. They'd all heard the lurid symptoms—profuse sweating, burning fever, bloody foam at the mouth and nose, bleeding from other orifices and eventually from the pores. Whole villages had been devastated. Life in the affected places was dragged to a standstill by grief and shock. The media had snatched these details and relayed them throughout the world, almost delighted by the horror. But most people didn't know that the CDC predicted a wave of outbreaks in the next two to three days. Tens or hundreds of millions of people getting sick. Fatality rates of at least 50%. The math of calamity was easy.
But there was even more, and Graeme figured he was one of only a handful of people who knew this part of the story. Keith had told him in a meeting just an hour before this flight took off.
Graeme had gone through all the usual rigmarole to reach Keith: the call from a voice he'd never heard before; the code word that would be good for only one use; directions that sent him winding through the city's transit system. This time, the journey left him at the back of a small church in the east 50s, where he found Keith holding a door ajar.
They walked through some narrow corridors to an office that must have belonged to the parish priest. The walls were lined with books about God, Allah, Jehovah; the desk was stacked with loose papers, probably notes on sermons. It was a universe of spiritual concern, which seemed to mean nothing to Keith, as he sat down on the priest's side of the desk and pulled the chain to turn on the small desk lamp.
Graeme remembered that Keith had looked tired. He was usually unflappable, almost mechanical in his affect. But that night he rubbed his forehead, closed his eyes, and sighed. Graeme had quickly realized something more serious than usual was happening.
Keith started by telling him about the Superflu, what the government knew, what they expected from it in the coming days.
"We'll be moving tomorrow to further tighten border controls," Keith said. "The public reason will be the spread of the disease. The real reason is that we've received intelligence that a terrorist, jihadist group calling itself Awlad al-Muqawwama is actively trying to carry the disease into the continental United States." Keith stared into Graeme's eyes as he delivered these last words, trying to judge something about him. Graeme suspected he was somehow being manipulated, played cautiously like an unreliable musical instrument. "I'm sure you can see the severity of this threat. One man can spread death to millions—it's the apex of asymmetrical warfare. Weaponry and manpower afford you no advantage." Keith could make anything sound as dry as a presentation on the virtues of depreciation. "We have further intelligence that a man named Lakhdar Bouzina traveled to the region where the disease first appeared two days ago, and is now trying to make his way here. Because of the travel bans, he will have to come through Europe, and we suspect, given his organization's connections, that he will pass through Paris."
"What does this have to do with me?" Graeme asked. He was nervous because he really couldn't guess what the connection was, which made him suspect the worst.
Keith held up one finger in admonishment and went on. "Bouzina is a first cousin of Malek de Courcy. Given your previous connection with Malek, I want you to get close to him and divine whether Bouzina has reached Paris yet."
Sure enough, it was the worst. Graeme had been so shocked at that moment that, even in remembering it hours later, he had trouble sorting out all the feelings. For one thing, he'd never been asked to do anything like this before. He usually managed his fund to maximize returns (and remain indistinguishable from any of thousands of similar vehicles), following the occasional order to move into a particular sector or firm. A few times a year, Keith gave him more particular directions to get close to the management of a company, using his role as an investor to gain their confidence. Usually this involved companies with operations in the Mideast or the Caucasus or Eastern Europe. Graeme was an expert in oil and gas markets. He had uncovered hidden funds that could be directed toward terrorist activities, shell companies used to support illicit activities, and clandestine government connections to his target companies. But he had never felt like a spy. The work was little different from what any financial analyst would do. Indeed, sometimes he developed a good trade out of the data he gathered for Keith.
Graeme was particularly skilled at finding secrets. He saw the financial world as an immense web of interconnections. One could understand the motives and predilections of an actor by observing the decisions they made, and these decisions were made manifest through transactions—the strands of the web. At a greater level of remove, one could infer hidden actions and transactions from the ways nearby strands were pulled. Graeme could often find hidden motives from two or three strands away, and this ability was the reason Keith had recruited him.
Another thing that shocked Graeme in that moment was hearing the name Malek de Courcy. Malek had been a part of the happiest time in Graeme's life and more than likely a part of the reason he ended up in prison and in the most abject misery possible. The prospect of seeing Malek again was thus rather complicated.
The final element of Graeme's shock was that he sensed from some hesitation in Keith's manner that he had a choice about whether to do this. Since the night they walked out of Otisville prison, Keith had never allowed Graeme to think for a moment that he could choose not to follow orders. If he resisted, he'd be dragged straight back to his cell. Maybe it wasn't exactly a choice this time, as he'd be punished if he failed to take on this latest assignment. That wasn't the difference. But in this case, Graeme could do any number of things to screw up the assignment. He could even choose to drag his feet or act indifferently. Graeme could see that Keith felt this threat as deeply as he would feel a threat to his own life, say a knife held against his throat. Graeme might be the only person with a connection to Malek, so he had a kind of power—even if it was only the power to screw up.
"Making nice with lowlifes isn't my specialty," Graeme said, just to exploit his moment of advantage. He already knew that he would take on the mission. As his shock faded, he recognized the grave importance of what he was being asked to do. And being able to do something worthwhile was deeply alluring to him after his years being despised as a criminal—and despising himself.
"I've spent time with much worse characters," Keith responded with a pointed look. Graeme felt the dig, and he smiled. Keith continued, "You might be the only one who can get close to Malek. This is a chance to save lots of people."
"Well, then, I want a medal when I get back."
"I'll make it myself with cardboard and glue." Keith chuckled—a sign he was exhausted and his guard was down a little. They both knew they would never be recognized. "I'll tell you what you might get. A lot of people, a lot of people with a lot of sway, are paying attention to this. You might get to renegotiate your deal. Think about it. What would you ask for?"
Graeme's thoughts flared with visions of freedom and redemption, but he knew the danger of hope; it could become a crushing burden. Better to focus on what he could control. "Let's not talk about that until it's over," Graeme said.
Keith segued easily into practical details. He told Graeme he would be on a flight taking off in an hour. They needed to hurry. People who caught the disease seemed to take about five days to start showing symptoms. Within three days after that, they would be incapacitated or dead. That meant Bouzina would be moving fast, and Graeme would have to move fast, too. Keith briefed Graeme on Malek's current home and lifestyle. They established codes for recall, for making contact, for trusting another person.
"Just see what you can learn," Keith said. "Don't make contact with Bouzina. He is extremely dangerous, both as a trained terrorist and now as a disease carrier. Contact me as soon as you learn anything."
"You're not expecting me to do the rough stuff?" Graeme joked.
Keith gave him a sour look. "The car outside will take you to the airport. Rest while you can. Here are all your papers."
####
Graeme had advanced a good 2,000 miles over the Atlantic and memorized most of the central plan of Paris when the announcement came. "Ladies and gentlemen, this is the captain. I've been asked to read you the following announcement: 'Due to the rapid spread of an unidentified epidemic-level hemorrhagic disease, all forms of travel between the United States and other countries have been suspended. This plane will land at its original destination only long enough to refuel and perform routine maintenance and then return to its point of departure from the U.S. Anyone who disembarks will not be allowed back on the plane. You must stay in the cabin for the duration of our time on the ground if you wish to return.'"
Someone shouted, "They can't!" A woman on the other side of the plane stood and rushed to one of the attendants. She started explaining that she was on this plane to get her son, who was spending a year studying at the Sorbonne. He hadn't wanted to come home when the first travel advisories came out. She just needed an hour or two. She wouldn't make the plane late; she just needed to get him. The attendant, of course, said she couldn't do anything. It was an order from the FAA. The President must have signed off on it. But the woman went on, trying to explain and debate. She must have known it was pointless but felt better to be fighting.
A lot of the passengers were looking around, trying to make eye contact with someone else, as if that other person might be able to explain what was going on. Graeme avoided these eyeball pleas. After all, he actually knew the real story and didn't want to give anything away.
Two rows ahead, an old man with a French accent had perched himself beside a woman who looked to be college-age. The old man kept repeating variations of "If it's in Europe, how will they stop it from going everywhere? What will happen to us?" His audience seemed to be trying to ignore him. She was too kind to slap him, which might have been the only way to make him stop.
Graeme also saw that the redheaded flight attendant had sat down in one of the front rows of seats in the coach section. The feeling of panic and doubt, so obvious in a number of the passengers, had silently overcome her as well. Graeme again picked up his bag and stood. He walked forward, pausing beside the attendant to say, "You don't object now, I hope, if I move up." She waved her hand permissively without looking at him.
As he settled into the wide seat, Graeme thought that the fact he could take a first class seat without a first class ticket was possibly the surest sign that civilization was in peril.
Graeme figured he wouldn't have much opportunity for rest in the days ahead. He was prepared. He'd memorized enough of the map. He'd reviewed all the information Keith had gathered on Bouzina. It had been easy reading, actually—sort of like a spy novel, if you knew that at the end you'd have to meet the villain. Bouzina had fought in Chechnya, where he'd become known for fortitude and a certain eagerness to see his enemies suffer. He was one of the ones who liked to torture Russian soldiers whenever he could. He'd later been an assassin for a splinter group of the Muslim Brotherhood that came up with the innovative idea of trying to kill all of its rivals, before he joined up with Awlad al-Muqawwama. Since then he'd participated in two of their deadly attacks. A handy tabulation in the file said that Bouzina had personally killed 28 people and participated in the killing of another 218.
Graeme had carefully studied the physical descriptions of Bouzina—tall, white hair though he was young, protruding cheeks—and his known associates. He was confident that if he bumped into Bouzina's third cousin's maid in the street, he'd know it. He shut his eyes and tried to clamp down on thought. He never truly slept, but hovered in the low-gravity environment of near-sleep.
The routine but now surreal announcement, "Flight attendants, prepare for landing," roused him. The plane lowered, lowered, was jostled by a cross-wind, and bumped down on French soil. They taxied toward the terminal, which was as overrun with waiting planes as a dead animal with maggots. They stopped a hundred yards out on the tarmac. The captain again announced that anyone who got off would not be allowed back on. About a dozen other people joined Graeme at the front of the plane. An attendant opened the door. Graeme and the others watched two men wheel a flimsy-looking stairway out toward them. It seemed to take forever. The outside air gusted in. Graeme noticed that the woman with a son at the Sorbonne was standing right behind him, determined, no doubt, to get to him and then find some way home. If the people who boarded the plane at the beginning had been the brave and the desperate, those around Graeme now were the truly brave and the truly desperate. Graeme didn't know which category he belonged in.
The stairway bumped the side of the plane. Without waiting for anyone's permission, Graeme stepped out.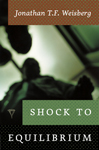 Read the rest of Shock to Equilibrium on paper or on your ereader, mobile phone, or computer.
Amazon (Print and Kindle)
Barnes & Noble (Print and Nook)
Apple iBooks
Download other formats