Chapter One
Not counting the reception after the funeral, this was Juliet's first party as a widow. As she buttoned her navy linen dress, she knew that every bereaved spouse inched back to life, but few did so at age thirty, with a party in their parents' living room.
She had put off preparations until the last minute, knowing too much time would lead to reflection, and in seconds she would think away her resolve, tear off the clothes and stay upstairs. Instead of soldiering through, she would give in to the dread that accumulated during the weeks since she had encouraged her parents not to cancel. Her father's consultation of Amy Vanderbilt's New Complete Book of Etiquette turned up no taboo against entertaining six months after a death in the family, and they proceeded.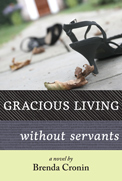 Order Gracious Living Without Servants
Barnes & Noble (Print and Nook)
---
Sign up for the Stoneslide email digest for further updates on this title.

When the evening was still weeks off and she was helping her mother address envelopes and fill them with invitations reading "Arthur and Daphne Field request the pleasure of your company at a summer buffet," Juliet thought the party would be an easy foray beyond the company of her parents. But she was faltering now that turning back the calendar was as impossible as reviving the salmon that had been smoked for hors d'oeuvres.
After Alex died, her thoughts and emotions had flown so far beyond her control that she had come to think of them as the limbs of another person. Her feelings were not to be trusted and the only place she felt safe was home with her parents in New Haven. Since January, she hadn't dressed up or curled her eyelashes or patted color into her cheeks. Tonight, as her features took on definition, she risked smudging her handiwork by pulling on a T-shirt, sinking into bed, and opening one of the Nancy Drew mysteries that had distracted her since returning from Washington.
She shuddered at the sound of conversation below but knew that failing her parents was worse than facing their guests. All winter she had mourned, and since April she had accomplished nothing beyond sleeping through most nights and making it out of bed by noon. She balked at her parents' nudges to answer calls and letters from Washington friends and she resisted the psychiatrists, siblings, and priests lassoed for her recovery. She passed days with childhood books and solitary rounds of board games, advancing along with the seasons from Candy Land and Chutes & Ladders to Scrabble, Boggle, and Othello.
Tonight she shook out her blond hair—gleaming and cooperative, after being tethered for months in a ponytail—and tossed it over her shoulders. She smiled at the mirror, extended a slender arm and shook the chestnut paw of the stuffed bear on her dresser.
"How do you do? I'm Juliet, the basket-case widow roosting upstairs. Mummy and Daddy are desperate for me to do something." She could probably get away with that since the oldest guests would barely hear or absorb what she said, and because as a widow, she enjoyed a sweeping amnesty from social conventions.
Slowly, she went downstairs, remembering how she and her four older siblings once helped at these parties, fighting over who would serve the popular hors d'oeuvres and who would be stuck explaining the Limburger and walnut canapés to suspicious guests. Now the trays were passed by Mrs. Reilly, a hydrant-shaped woman with grey hair and a white apron, whose bland food and strong cocktails had made her as indispensable as a corkscrew.
Juliet edged behind the buffet table to the corner where her father, in dark suit and red tie, shielded himself from conversation by darting around with refills. He moved with the febrile shyness of a bellboy trying out at the Ritz. Her mother was a voluble contrast, standing near the door in a sleeveless yellow dress, welcoming guests and deftly folding them into the party. She approached every occasion with goals such as strong-arming neighbors into volunteering for her charities. Juliet knew tonight's objective was edging her widowed daughter back among the living.
Another purpose was showing off the house, which Daphne was determined to have sold before Arthur, who was almost seventy, retired from the hospital. Thus far, months of open houses proved the crumbling three stories more than a match for any New Haven realtor, despite the new curtains and fresh flowers enlisted to hide peeling paint and water damage.
Juliet eased toward a group of familiar faces, struck by how her parents' friends had aged. She flagged down a tray of shrimp puffs, as eating kept sympathetic embraces at bay and limited her to extending a cheek, corners of her mouth glistening with flecks of pastry. While trying miniature quiches and a sandwich of phyllo glued together with some savory goo, she refined her patter: "That's very kind of you. I've been staying with Mummy and Daddy. I'm going back to Washington but I don't know when."
She didn't explain that she could drop out of life there because none of her false starts at work had developed into a career. The constant through her phases as grad student, teacher, translator, and journalist was her marriage to Alex. That ended when the taxi bringing him home from Dulles crashed. At times she was grateful his death was shocking—she rarely needed to recount it. People were so aghast at the tale, they couldn't wait to diffuse its sadness by passing it on. He was killed instantly, Juliet learned from a policeman with soft arms and a shirt redolent of detergent and perspiration. That evening she remembered the officer speaking slowly, his girth filling the doorway. She swayed, then cut her forehead on his badge as she fell against him.
"There you are, Juliet." Bridie Peck, long widowed, hard of hearing and impressively rich, corralled her against the piano.
"Hello, Mrs. Peck. What a beautiful necklace." Bracing for questions, Juliet watched Bridie tear into the food, which was lost on a frame so skeletal that her shoulders jutted out like hangers under her dress. A tumble of diamonds the size of teardrops cut into her withered neck.
"You know I'm having a dozen Masses said for Andrew."
"Alex. Thank you."
"Even though he wasn't Catholic. He was a lawyer, wasn't he?" She clawed conspiratorially at Juliet's shoulder. "Daphne says his firm is taking extremely good care of you."
Juliet glared at the door, where her mother bent and swayed to guests. "They've been generous, yes."
"Your family has rallied 'round, of course. Is everyone here?"
"No, just me." The last time they were all together was Alex's funeral. "They're so far away—and with children it's harder."
"Your parents are worried. The way Daphne made it sound, I thought they had checked you into a hospital or one of those asylums."
"I had no idea Mummy has me on a suicide watch." Juliet had expected her mother to funnel people over to encourage her to get a job. Bridie, veteran volunteer and a proven spigot of neighborhood gossip, must have been deputized to go first.
Juliet extracted herself from the conversation as her mother waved in Seth and Naomi Hunter. They were a welcome surprise—older than her parents, engaging and exotic. The Hunters had been neighbors for decades but usually missed the party because they spent summers in New Hampshire. Their lives were highly charged scribbles compared with the Fields' orderly grid of faith, family, and work. Seth and Naomi's only child, Rebecca, was adopted and had been shipped off to so many boarding schools and summer camps she seldom played with the Fields.
For Juliet, Seth and Naomi had forever been misted in achievement and adventure, traveling often or spending time at the farm Naomi inherited. Childhood glimpses into the Hunters' permissive and prosperous world, where Rebecca was emphatically seen and heard, intrigued Juliet as much as the lavishly appointed reptile and monkey houses at the Bronx Zoo. The Hunters had housekeepers and babysitters and gardeners, and—in a turnabout from families Juliet knew—Naomi didn't cook but Seth did. He wasn't merely reliable with hamburgers and inventive cocoas. He had taken courses in Paris. Juliet remembered him joking about certificates from the Cordon Bleu for mastering puff pastry and the rudiments of poultry.
Naomi's career had flowered, thanks to her inheritance, from ballet teacher to philanthropist. Seth, after making his name as a Freedom Rider and civil-rights lawyer, taught at Peabody, pedaling his brown Raleigh three-speed to the university law school. Juliet remembered her parents noting when Professor Hunter was interviewed in the newspaper or on television and assumed these showcases were as much for his looks and wit as his latest article or Supreme Court argument. Seth affected utter bemusement at his mild celebrity and conveyed a whiff of rakishness that her parents' silence on the matter confirmed as more than rumor. Naomi had a daunting glamour and expressiveness, chain-smoking as she hastened from one crisis to the next.
Tonight the Hunters appeared in contrasting costumes. She was loosely wrapped in a purple sari; Seth was a dandyish seersucker package with a pink silk handkerchief rising from his pocket. For as long as Juliet could remember, he had seemed perfectly—and effortlessly—put together, as if the suits and scarves and hats that showcased him somehow just appeared around his trim form. He was handsome and lively and buoyed by confidence, with the full, dark head of a much younger man. Juliet eavesdropped as they moved through the hall.
"At last we're here." Seth lifted his hands to his cheeks. "All day in the car with two overheated dogs and no air-conditioning. I'm going back by plane—or ambulance. I can't handle these drives any more."
"Don't listen to Seth. He's just dying for a drink." Seeing Naomi curl a hand around her husband's shoulder, Juliet felt a flutter of despair. She used to touch Alex with that same rueful, tender gesture, usually when recounting to friends his latest attempt to squeeze too many activities into an evening or weekend. He was always doing that, as if aware he would run out of time.
"I am dying for a drink," Seth said, shaking hands with Arthur, who jumped aside as Mrs. Reilly shoved past with the cheese board.
"What can I get you, Seth? Naomi, your usual?"
Juliet watched Seth follow her mother into the living room and heard her say, "We nearly didn't this year, with Juliet and all."
"How is she?" he asked.
"Mending. They were married almost ten years. You know she's been staying here."
Although the Hunters had been fixtures of her childhood, Juliet had seen little of them once she was married. Since then Naomi had shrunk, losing an inch or so through telescoping vertebrae. She was curved, the top of her spine like a candy cane between the gentle hunches of her shoulders.
Drink in hand, Naomi swooped down, clicking a flame to her cigarette. "Juliet, how are you?"
"Fine, thank you, Mrs. Hunter. It's very kind of you to come.
"Of course we're here. When Mother died, I was shattered." She trembled so violently, ash fell to her napkin.
"I'm definitely not ready to go back. To Washington, I mean."
"No question. Too much leisure is death. I mean—it's the worst. But you're working, so that helps."
"No, I'm not."
"Don't you do something with languages in Washington? I'm sure Daphne said you were an Italian scholar."
"After grad school I did translating and interpreting. I stopped that a while ago."
"So you finished the dissertation?"
"No, it's a long story." She had answered questions about hopscotching between school and work often but still stammered over her explanation. If only there were a tidy phrase to sum up her blundering search for a career. "I decided I didn't want to be a professor. Translating was a way to make money with my Italian and French."
"With the World Bank and IMF there that must have been exciting."
"Actually, translating agricultural contracts got a little tedious. So I started writing articles about things I was interested in, like books and writers and art. It's just freelance but I've had some things published. I've been doing it for more than a year."
"Splendid. So you're a journalist."
"I sort of fell into it." Alex had encouraged her, but why risk tears in the middle of the party, when she was doing so well? "Remember, I was only twenty-two when I got married. So, not quite ready to start a family."
"That's the route Becky's taken."
"She has?" Juliet still pictured Rebecca Hunter as a teenager with thuggish friends and expensive hobbies like horseback riding and drugs.
"You know she got married—again. She and her first husband had a boy, and husband number two has a son from his first marriage. They're expecting a baby."
"Congratulations."
"If you don't mind my interfering, I think you should keep up the journalism while you're here." Naomi pushed up her glasses—huge, tinted octagons framed in bands of tortoiseshell. "What about working for Performance? It's an arts weekly."
"I don't know it."
"The New Haven Courier started it last year. I encouraged them to launch in 1990 and they've been going for almost eighteen months."
The decade still seemed new to Juliet. Alex, she thought, had seen only its first year.
"Let me make a call. The first Performance editor was a good friend but I don't know the new fellow there. It's a small staff but the writing's good," Naomi said, exhaling a fine stream of smoke. "Come over on Monday so we can have a proper talk. Seth might have some ideas, too."
As she watched Naomi glide through the party, cigarette cocked between her fingers, Juliet sensed possibility. Naomi could make things happen, the way Alex always knew someone and, a phone call later, story assignments materialized. She hadn't been to a party in so long—and for years had gone to them with her husband. It was so much easier, she thought, to maneuver through just about anything with a partner rather than alone. Her parents were proof: Although Daphne could have held her own in any setting, chatting and making friends, Arthur at times seemed stricken when they weren't in the same room.
Juliet moved into the dining room and saw Seth alone at the far end of the buffet. The table was at an awkward angle—to hide a steep warp in the dining room floor. Juliet edged nearer, reached for a plate and nearly bumped into Bridie, who was bent double mid-buffet, laying waste to a bowl of shrimp. Mouth full, Bridie straightened in distress, evidently gathering that Mrs. Reilly had made off with the meat platter and carving knife. Loath to be ensnared anew, Juliet peered around for Seth as Bridie observed, "I hope we've not seen the last of that roast."
"I'm sure there's more." Juliet heard his voice, soothing and apparently about to overflow with laughter. "Why don't you sit down and I'll bring some once she's back."
As Bridie tottered off on raffia-wrapped wedge heels, Juliet glanced up and saw him staring at her sideways, his mouth tilting in a smile. "I hope that didn't sound impolite," he said.
"No." She giggled.
"I have enough for two here. Won't you share with me?" He motioned her to a pair of chairs and held his plate between them. "Your mother's enlisted me to help you and I'm delighted to accept."
"Please. I feel conspicuous enough without Mummy wheeling me around like a freak."
"She just wants you to be happy and doing something. Naomi's the same about me." He took Juliet's hand and bent so close she could smell lavender shaving soap and see where his tan skin grew pale under his chin. He was weathered but still striking, his grip tender and warm. "I only met Alex once or twice. He was a fine man."
"He was." She left her hand in his and deliberately kept her voice low so he had to lean in against her shoulder to hear. "I remember telling him you were our neighbor. He was impressed."
"That I wasn't in a nursing home?" Seth teased, shaking his head and beaming.
"He used your books in law school. He was only forty years old."
"And you're—what? Becky's thirty-five. I thought you were about the same age."
"Thirty."
"So young."
"Mrs. Hunter talked to me about working again. She said I should see if Performance is hiring."
"Naomi knows everyone in New Haven. But weren't you teaching Italian? Or is that one of your sisters?"
"That was me a while ago. I'm a journalist now." This came out with such conviction, Juliet nearly laughed. For the first time in so long, she had forgotten that she was a widow, and was lost in conversation. Talking about work reminded her how new assignments had always triggered a cascade of excitement and nerves. Tonight, standing so close to Seth that she could whisper, that cascade thundered into a waterfall. Seth was treating her not as a pitiable widow but an attractive woman, and that was how she wanted to respond.
"Journalism? I'll have to read your work. Italian's such a romantic language. I'd love to study it."
"You just need a good Beatrice." Another inexplicable salvo. She felt reckless, knowing that Seth would be gone tomorrow, safely down the street and then back in New Hampshire for the rest of the summer. Why not go for broke? She tilted her head and said softly, "I' son Beatrice che ti faccio andare; vegno del loco ove tornar disio; amor mi mosse, che mi fa parlare."
Seth looked satisfyingly impressed. "My—that's, that must be—"
"Dante's Commedia."
"Well, of course I recognized the Inferno. But is it, that's right at the beginning, so it must be—."
"You're right. It's Canto I. He has no idea what's about to hit him."
"My very own Beatrice. What an offer. I don't know that I could trust myself." He looked over slyly and then turned serious. "We've got something in common, you know. We're both going through changes in our lives."
"But you have a reputation. You're not trying to build one."
"I finished my last full-time semester in May. The law school had a big send-off. Peabody's good at putting one out to pasture. I enjoyed every second. I'm only teaching two classes this fall. Perhaps it's time for us both to learn something new."
Juliet thought she heard him say "We could help each other," but the party swirled up against them before she could ask what he meant.
---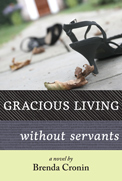 Order your copy of Gracious Living Without Servants.
Amazon (Print and Kindle)
Barnes & Noble (Print and Nook)
---
About the Author: Brenda Cronin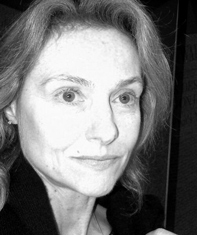 Brenda Cronin writes for The Wall Street Journal, where she has worked since 2001. Her short fiction has been published on both sides of the Atlantic. This is her first novel. Born in Washington, she was raised in Connecticut and lives in New York City.