Don't think for yourself. Don't hold yourself to standards. That's the message Dale Prentiss says his college is sending after he had a disagreement with the parents of one of his pupils.
Prentiss, an associate professor of history at Wye Sprite University, says the student earned failing marks across the board. "Exams, papers, weekly writings—all of it was abysmal."
Prentiss says the freshman didn't complain. Maybe that's because he knew he had a secret weapon: Mom and Dad.
"I got a call from his mother," Prentiss says. "I heard her out, then explained that her son didn't perform up to standard and the grade was staying."
Connie Fraundster, the student's mother, describes Prentiss as "difficult. He's stubborn. I'm sure his inflexibility is ruining the college experience for many of our young people."
When Connie Fraundster couldn't get him to change the grade, Prentiss says, he received a call from her husband, the eighteen year old's father, George Fraundster.
"He was agitated," Prentiss recounts. "He kept repeating that his son had a B average in high school."
George Fraundster says the professor's grading is simply wrong. "My son's a good person. He would never fail a class."
Fraundster adds that Prentiss used foul language. "He told me to 'Shut the fuck up' at one point" in the argument.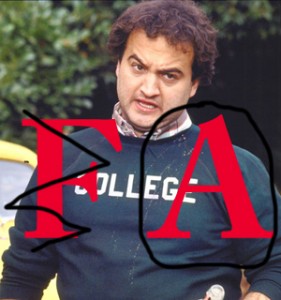 Now Prentiss is in hot water with the higher-ups at WSU. Rand Johnson, the school's Deloitte & Touche Provost of Standards Enforcement, says Prentiss' suspension will begin in the fall of 2014. "This is in no way an incursion on the academic integrity of the faculty," says Johnson. "The suspension is strictly in response to this professor's inappropriate communications with a young man and his parents at a time when they were very vulnerable. It's about misuse of power. I think any bleeding heart liberal professor should understand that."
Johnson says professors should be "compassionate" when tallying marks. "We need to remember that these students are our customers. We have to take care of them, and their parents, who often are also our customers."
Prentiss couldn't disagree more. "They're students, not 'customers.' We test knowledge. We test understanding. If a student has learned, the student has succeeded. If the student hasn't learned, the student has failed. It is that straightforward, no matter how convoluted the administration tries to make it."
Prentiss says the move toward soft grading is a money grab by the school. "If kids transfer to another college because our standards are high, we lose tuition revenue. Revenue's what this administration cares about."
Provost Johnson disputes that. He says the point is to stop professors from putting students in difficult situations, "and a failing grade is most assuredly a difficult situation." He says the college should not be promoting difficulties. "Look at the news out of Minneapolis," Johnson says, referring to a female black professor who was reprimanded after two white male students said she made them feel "uncomfortable" by discussing institutional racism in class. "We don't want our professors running around making students uncomfortable."
Prentiss says he won't change the grade. "Most of these administrators are nothing but jackwagons. Even if they don't have standards, I do. I'm not wavering."
And the suspension? "It's a childish ploy. I can't believe they're trying it," Prentiss says.
WSU sophomore Brandy Klang thinks the suspension is justified. "I love Professor P. But failing students is not cool. This could really bruise their self-esteem."
Others disagree, however. Scott Langley, a senior at Wye Sprite, asks, "What are we coming to if a college student who does failing work can't be dealt with honestly?"
The student himself, Tad Fraundster, wouldn't comment for this article. "I think my parents made it clear where I stand," he says.
Instructor Prentiss does dispute one detail of his conversation with Fraundster's father. "I didn't tell him to 'Shut the fuck up.' I told him to 'Shut the fuck up and listen for a change.'"
Provost Johnson and Wye Sprite president Hunter Pratt IV say such kerfluffles over grades will soon end at their university. Beginning in the fall of 2015, WSU will have a two-tier system of grading. One grade will be issued by faculty and will reflect academic achievement. The other grade grade will come from the administration and will reflect a student's achievements as a customer. As part of their training to handle their critical responsibilities as customers, students will have the option to choose which grade appears on their official transcripts. "We believe this is a truly modern approach," says Johnson.
In an email response to additional questions Johnson adds that "Students whose parents donate to university fund-raisers will receive high marks. So will students who rack up big charges and late fees on their meal plans." On the other hand, Johnson points out, "Students who selfishly use the so-called 'free' services found in the libraries, gyms, and tutoring labs, will receive low marks."
More news out of academia:
University of California's Academic Standards for Student Athletes Ridiculed in Rival School's New Recruiting Materials
Unconventional Funding Source Puts Researchers in Limbo
Sociologist Finds Absurdity Has Critical Role in Human Power Dynamics