by Tracy Elin
Tanya met the hussy when she picked up Gary for Thursday choir rehearsal. But she came up with her plot a few hours later, as she snapped long strands of spaghetti to fit in their little pot, crumbled ground turkey into bits, and chopped through a fleshy green pepper.
Gary had mentioned this new officemate a few times in the preceding weeks. He'd said, "It looks like they hired a new photo editor. Her name's Valerie." Then he reported, "Valerie's starting on Monday. No one but the boss has met her yet." Finally, in the last few days, he'd described settling into the office with Valerie—moving the printer to make more room for Valerie, asking if Valerie had any allergies, showing Valerie around. He'd formed hopeless crushes on coworkers before, and the way he pronounced her name, as if he wanted to sigh as he said it but knew he had to hide that feeling, made her suspect he was falling into that trap again.
Tanya knew her husband was soft and easy to push into almost any accommodation, and so she wasn't surprised on that Thursday when she opened the door to the office to see that Valerie's things had taken over most of the space. She also wasn't surprised to see that Valerie was pretty. She'd expected that.
Gary stood up quickly and said "Hey, Tanya!" and then prompted the two women to shake hands.
"It's your first week, right?" Tanya had said. "How are things going?"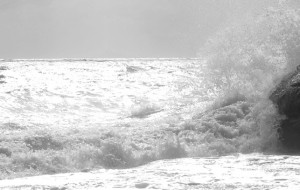 "Oh, it's good," Valerie said. "The people are nice." She looked directly at Gary, who had turned around to pack up his bag. Tanya could see that she wasn't one of those timid, flighty girls. She was direct.
"Are you figuring everything out?"
"I think I know what's what."
"Valerie's a quick study," Gary said. Either he had no inkling what Tanya was thinking at that moment, or he was a complete idiot. Even after years of marriage, Tanya wasn't sure which was likelier.
At the stove that night, she added garlic to the olive oil she'd already heated. The smell transmuted the air in the kitchen. After a moment, she added minced onions.
She called to mind the image of Valerie. It wasn't that Valerie was a great beauty, although undeniably pretty. But she was younger than Tanya by enough to be in a different category—a young person, not a near-middle-aged one. And if the two were stood side by side, 100 out of 100 observers would pick Valerie as the more desirable. There just wasn't a competition in that regard.
And now Gary would be spending every day sitting at a desk facing hers, so that all they had to do was lean around their monitors to see each other. It seemed inevitable that Gary would be drawn to this new young thing.
Then Tanya had her idea. She had plenty more garlic and onion in the drawer. Put enough of it in Gary's food, and Valerie would smell it, even if she never got closer than her spot on the other side of the desk. And with that smell, she wouldn't try to get any closer.
Tanya crushed a few more cloves of garlic and skinned and sliced another onion. She dropped it all in the pan, feeling as sinister and excited as some character in Greek mythology brewing a revenge against an unfaithful husband. She looked for more ingredients. Cabbage? Fenugreek?
When she fed it to him, he just said, "That's good. That's very good, honey." He always said the same thing with the same degree of enthusiasm no matter what she cooked. It was one of the mutual dishonesties that enabled them to live together.
"Don't worry, there's plenty for you to take the leftovers for lunch," Tanya replied. She smiled and thought she would have to remember to give him the container before she left in the morning.
###
When Gary opened his lunch the next day, Valerie leaned and looked around her monitor. He had to admit that he liked seeing her face. He liked noticing what she was wearing in the morning, and he liked spying little opportunities to glimpse a part of her body and evaluate it without her being aware. It almost made it seem worth coming to work.
"That smells good," she said.
"You think so?" Gary had been so depressed looking into the familiar red and grey mixture that he couldn't imagine anyone else having a different response.
"Oh yeah. It's making me hungry." She slapped her belly. She had a frank physicality that made him think she'd been an athlete in her past. He hadn't yet found an excuse to ask about that.
"Take it," Gary said and held out the dish that Tanya had packed for him.
"Nah. It's yours."
"Really. Take it. I had some last night. My wife…" he felt like he had to be cautious here "… she makes stuff like this all the time."
"You're a lucky man," Valerie said.
Gary made a noncommittal noise and held out the container once again. Beside the impolite mixture of feelings that surfaced as he contemplated his relative luckiness in being married to Tanya, he really hated her cooking. It was enough he had to stomach it at dinner. He didn't want to give up his lunches.
Valerie took the lunch, not realizing how kind she was being.
"I'll be back in a bit," Gary said.
He walked to the deli on the corner. He picked out an energy bar to serve as his lunch. He'd never tried one before, but he figured it would have the caloric heartiness to get him through the afternoon. Tanya and Gary kept close track of their relative expenditures, and there was no way he could conceal the six dollars for a sandwich or a salad. But he could claim that the bar was some candy or a cup of coffee. That would be okay.
When he got back to the office, Valerie said, "That was great!" She'd washed out the container and left it on his desk. They smiled at each other, as if relishing some secret they shared.
###
For the next several weeks, Tanya made sure to package up some of her pungent leftovers for Gary's lunch. Gary was just as certain to hand the dish to Valerie and walk out to the deli.
Each day, Valerie made some joke about the job having great benefits. She and Gary both felt awkward about the arrangement—it crossed some line between their work lives and home lives. But they both sort of liked that about it, too.
At night, Tanya asked Gary what he thought of his lunch. She wanted to hear a compliment, of course, but she also wanted to be sure he'd consumed her protective potion. Gary usually responded with some observation related to how a dish could get even better overnight. Some days, to shake things up, he said he'd eaten it cold and really liked it that way.
With the reduction in his caloric intake, Gary began to lose weight. He'd never been fat, but he'd been soft, with a pouchy belly and arms that jiggled if he wore short sleeves. Both women noticed this change in him.
###
"What do you think of the placement of this picture now?" Gary called from across their abutting desks one afternoon. "Does it work better for you?"
Valerie could have opened the file from her own computer, but she got up to walk around to his side. She was eager to be close to him, to talk something over without the screens and distance in the way, to see things as he did, rather than from the opposite side. She'd realized a couple weeks before that she was letting herself fall for him. He was so dependable, so consistent, so gentle, that she found her affection for him and her reliance on him increasing each day.
For a while, earlier on, Valerie had thought it was safe, since she'd had no spark of attraction for him. But lately, that had come. She didn't know why exactly, but she now wanted to be close to him.
So, when she could, she kneeled down next to him. She put one hand on his arm, as if to steady herself. The flirtation was heady. She was intensely aware of where their bodies met. And that contact felt like the most exciting thing in the world for that instant.
She said something about the picture, hardly aware of the meaning. Language was now only an indicator of their closeness, relative positions, and remaining distances. It was a way to insinuate a testing finger of intimacy, working through the barriers that stood between them. And there were a number of barriers. There was the fact that they were coworkers. Anyone knew that was a bad idea. There was their basic difference in age and attitude. There was, needless to say, the fact that he was married. But she also remembered how, early in their acquaintance, she had felt an unguarded enthusiasm from him. She had quashed it when it seemed to hint at what she now hoped it had meant. And that was a final barrier: her earlier coldness and his withdrawal because of it.
She pointed at the screen, drawing an imaginary line to guide his work, and at the same time leaned even closer, so that their bodies were close enough to sense the warmth and the musk one from the other. Valerie felt Gary stiffen a little and slide away from her. The movement was subtle, but because she'd advanced so far toward him, she couldn't miss it.
Now, one interpretation for this would be that one of the barriers, probably his sense of fidelity to his wife, was stronger than Valerie had figured. But there was also room for misunderstanding. So, Valerie swiveled and put a hand right on his shoulder, looking into his face. He avoided her gaze.
She felt ridiculous. She said, "That will be fine." and retreated to her side of the room.
Her ripe feelings turned sour as she moved her computer mouse to appear occupied with work. Was she inferior to Tanya? That wasn't it. Gary probably couldn't think about breaking a promise. That was what she had come to admire about him: his reliability, his steadfastness. She started to feel guilty for even entertaining the wish, and she admired him a little more.
Gary, at the same moment on his side of the room, was wondering at why he'd come to view Valerie as so irksome. He was conscious that he'd sort of developed an instant crush on her when she'd started work. But now he found that the more she talked to him, the more she got close to him, the more she touched him, the more he wanted to just get away.
Gary didn't consciously register how the smell of Tanya's excessive garlic and onions had caused this. Since the first time he'd caught that odor from Valerie—unpleasant and murky in its own right, but also reminiscent of Tanya—it had lodged somewhere deep in his mind and tainted every impression of Valerie that followed, tainted it with a little queasiness and a lot of distaste. The nearer she came, the stronger the queasiness.
In the weeks that followed, as Tanya noticed that Gary no longer mentioned the name Valerie and that he seemed unusually quiet and sad, she understood that her potion had done its job. She went on mixing a new batch each day.