by Mike Baumann
Karl closed the door of the old Cat backhoe behind him, turned around and locked it, and then put the key in his jeans pocket. Before stepping down, he looked back at what he'd done over the last two hours. Eight perfectly squared rectangular gaps pitted the sod stretching toward the evening's purple-blue that sat on the horizon like sediment from the sky. Each hole had a pillow of loose earth at its head. Beyond that were the ones he'd filled back in that afternoon. He always did it in that order: fill the old and then dig the new.
He couldn't jump to the ground, as he had once, and he put a hand on the tread of one of the big tires, weighted it, and shuffled his feet off. He was tired. His hands hurt. His back felt like a rusty hinge that might snap if straightened all the way.
He lifted the hood of the old beast and pulled the four spark plug wires. He coiled each as it came free and laid it on the ground next to his boot. When he was done, he picked up all four coils and stuffed them into his jacket pocket, which had frayed at the corner. He'd have to patch it soon.
Back in the spring, some of the newcomers in the valley had started agitating and told Karl he should be using the old beast to try to clear a way through the slide that blocked what used to be Route 122. One of the young guys, whose hair and beard had grown long probably just because he didn't know how to cut them anymore, said he'd take the keys one way or another. Karl would never flinch in front of that kind. They didn't belong in the valley the way he did, and they knew it. They backed down. They faded away to somewhere. But since then, Karl had been careful.
Taking the wires was an incredibly simple fix, and no one else had the parts. Quite possibly no one else had the know-how even to re-affix a few wires.
Karl, unlike all the others, had prepared early. Before the latest attack, which destroyed power plants, airports, dams, sewage treatment facilities, roads from Portland up to the border, unleashing havoc, disorder, and squalor, which then sent people scurrying into the country looking for patches of untarnished land like the one he'd lived on for a decade, he'd already stockpiled everything he needed to keep going for years. He'd graded and plowed his land. He'd fenced it and plotted out a crop rotation. He'd stored food, equipment, and fuel.
He'd always had a few neighbors in the valley—people to trade favors with, people he could discuss the weather with or how to best pull an old stump out of his field. When the city folk arrived, they were obviously unhelpful—they seemed to not know what to do without some computer giving them signals. But they had come because everything else seemed wrecked and dangerous as broken glass.
The newcomers hadn't been there long—most hadn't even built shelters—when the quake hit and half of McCrary's Cliffs tumbled down and blocked the one way out short of a climb over a ten-thousand-foot pass. It being winter, most of the newcomers were hit hard. So were Karl's old neighbors. They mostly lived in what he called the Village—it had once been a trading post and the houses there were clustered within sight of each other. The newly arrived folks naturally gathered there. They became hungry, and Karl's neighbors shared what they could. They became sick and everyone shared that. Except Karl, who lived a couple miles up an old switchback road.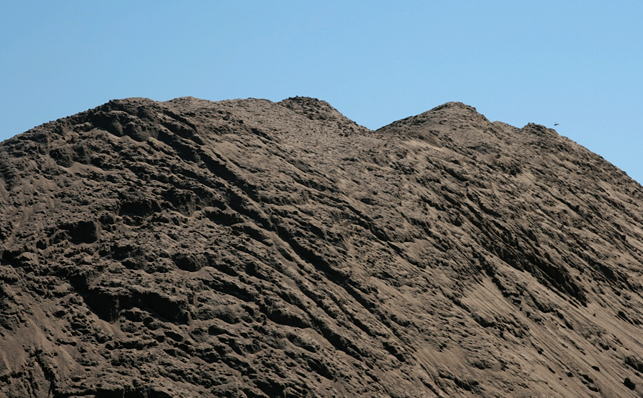 In spring, Karl usually used the old beast to help Mandy Smith clear ice jams from the creek before it flooded. When he came down this year, crowds, well, crowds compared to the usual in the valley, watched him with tired, thin bodies and excited eyes. He found Mandy was dead. A woman wearing a dress that had become much too large for her was living there with a bunch of others. She asked him if he could dig graves. Not just for Mandy. There were bodies lying in all the yards, as far away as the people had had strength to drag them. You couldn't live in the midst of that. So Karl took the old beast out to Mandy's hay field.
Karl dug thirty-seven graves that first day. He took some care to make each fairly even, but he also kept moving. When he was done, people brought the bodies in a pickup truck, and put them in. They stood around looking down and crying. A lot of them still didn't have real houses to go to anyway. When he came back the next morning and pushed the dirt back in over the sufficiently mourned-over bodies, they cried more passionately, as if he were the one declaring the finality of their loss. He was almost afraid to get out of the cab, thinking they'd be angry—as the dead must remain angry at the living and those who've lost hate those who remain unscathed—but instead they thanked him. Some shook his hand as if they wanted to pull him closer.
The woman he'd first seen at Mandy's house said there were still more bodies. So he dug more when he'd finished his own work, went away, came back, and filled them in.
The sense of routine suited him. He'd always done things for his neighbors, like clear a fallen tree, often not acknowledging their thanks by more than a wave from inside his cab. And he felt how much he was helping these new folks. He knew that when you lost a beloved, you just wanted someone to take that pain away, to bury it and cover it where you couldn't reach it anymore. So he felt strangely at one with the people he saw outside the glass while he dug graves and covered over bodies.
It was on the fourth or fifth day that the young guys tried to get his old beast. Karl knew there was no way a tractor that size could move the mess up on the road, and he wasn't going to stop doing something useful just because they didn't know how to live in the valley. He didn't see those young men again, but he did notice that with the warmer weather, he saw a lot of the newcomers walking away toward the pass or the blocked road, like a tide that had come up and touched his toes pulling back again.
Karl reached his plot and pushed the gate open, then latched it behind him. It was well oiled and moved as smoothly as he could wish. He looked over his patch of spent bean plants and the old cucumber vines and picked out rows where the carrots and beets had been. The gourds still had promise. They were growing still, and he'd split them, roast them, and can them in a couple more weeks.
He went into his cabin. Outside, everything was still visible, and the sky was churning through reds, purples, and a final dark orange, but here it was as dark as if he'd crawled into a pit. He moved surely to the little kitchen counter, and his hands found the electric lamp without fumbling.
Before he turned it on, he allowed himself to wonder how long it had been since he'd seen anyone else in the valley. He didn't know for sure if they still came in the night to put bodies in the graves he dug. He'd stopped looking into the graves some time ago—after he'd seen a young woman in one, her hands clasped over her breast and her face turned to the side. He'd been pierced through to the deeply guarded well in his heart as if he recognized her. He was suddenly on his knees grieving, or that's how it felt, despite having dug so many graves before. He'd known with complete certainty that he would have loved her if he'd known her when they were both living. He'd have cradled that face on his chest as gentle as a father or enflamed as a lover. This raised the specter of the one woman he had loved and needed once. And that took him back to his cowering and broken state before he'd come to the valley and made sure he could live on his own.
The thought that some other sort of life was possible was the one thought he couldn't bear. He'd rather go on in a world of death.
He switched on the light and opened the pantry. He looked over the jars stacked there, all sealed and preserved, a quantity and variety that would keep him going some time, and chose one for his dinner.