By Neil Mathison
My son plans a violent act. My girlfriend says she's thinking of moving out, at least until my son's attitude improves, and if Heidi suspects violence, something more than a fifteen-year-old's petulance, I know she'll leave.
Last August, when Jacob's mother sent him here, to this Idaho ski town where she birthed him, she declared he needed a change of scene. In new snow, Rachel said, a sapling breathes. Such koan-like utterances pepper Rachel's speech, leftovers from when she studied to become a Buddhist nun, although in this, as in motherhood, Rachel only half-completed the job. Though what Rachel half-completed, I never began. I intend to make amends. For my betrayals of Rachel. For not being there as Jacob's father. For all the years Jacob and I have been apart. Amends—a lovely word, so weighted with self-deception. Except how do I make amends when Jacob rejects me?
Today—this is the last weekend of October—we're holding our annual Shoulder-Season Party. We're celebrating our valley's return from the tourists to its residents, at least until the ski season opens. The party will take place behind our cabin, under the golden cottonwoods, on the river-stone patio whose stones I laid with my own hands the year Jacob turned five. Even Jacob has agreed to help but only because his new heartthrob is coming, "Ms. Nemesis" I call her, the girl I suspect of seducing Jacob to violence. "How about lighting the grill?" I call out.
"I don't eat meat," Jacob mutters. He's tall and awkward and skinny, tattoos ringing his wrists and ankles, his yellow hair shaved on the side, dyed green on top, like a big, flightless, feather-crested parrot.
"Since when?" I ask.
Jacob shrugs.
Sometimes he ignores me. Sometimes he explodes. Today he shuffles over to where I'm standing, hooks the gloves and apron and lighter and matches from my hands, and, head bowed, refuses to even meet my gaze. He douses the charcoal with too much lighter fluid, tosses a match, the grill explodes—a yellow-bright-orange kaboom. Jacob stumbles back, startled but unscathed, cursing, flapping his chef-gloved hands in clownish wing beats. Can I love my son when I don't like my son?
Heidi has been setting the picnic table, laying out corn chips, hamburger patties, potato salad, amber cider, purple bottles of wine. She turns, surveys the flaming barbecue, shakes her head, a gesture of dramatic disapproval for her. Heidi is Swiss, serene (except when it comes to Jacob), flaxen-haired, middle-aged, gentle, an exquisite skier, a passionate lover, a nurse, and proprietor of New Beginnings, the town's daycare center. She even knits her hair in double braids. Jacob calls her—disparagingly—"Dad's Swiss Miss."
The lawn below the grill has caught fire. Jacob stomps his boots on the smoldering grass—a weird, duck-like dance. Then he spots Ms. Nemesis coming around the corner of the cabin under a cloud of curly, dun-shaded hair. He drops the charcoal lighter, tosses the barbecue gloves, and stalks toward her in jerky, bird-like strides. The fire is forgotten. Ms. Nemesis—her real name is Marie—is so thin-limbed and so frail-figured that Jacob dwarfs her. They embrace. An ostrich and a wren. I head for the garden hose, visions of last summer's wildfires blazing in my mind. By the time I get the hose, Heidi has already doused the grass with a bucket of water. The fire has charred a neat circle under the grill. "You saved the valley," I say.
"They would have called it the 'Jacob Burn,'" Heidi replies.
Jacob and Marie squat side by side smoking cigarettes. Marie gestures animatedly, railing against the Forest Service, or the Valley Company; or perhaps plotting the "environmental action" I suspect she's planning. Jacob nods reverently, Marie the guru, Jacob the disciple. "If only you could save us from Marie…"
"With Jacob," Heidi says, "I can save nothing."
***
Last August, the week Jacob arrived there were wildfires north of Galena Pass. We couldn't see the fires. But we saw their ash. Day and night it fell: streaking car windows, pocking barbecues, back patios, backyard umbrellas, like a leprechaun's footprints—ash yellowing the sky, reddening sunsets, blackening the thundershowers until the palette of ash grew darker, until the cottonwoods and aspens were desiccated with ash—until all the valley's inhabitants felt the weight of ash, on their faces and hands and legs, the ash smearing under your fingertips, cloaking your pores and nasal passages and fingernails and feet.
Fifteen years ago, the week Jacob was born, Rachel said he would become a shaman. The tallest tree in the forest. A bear spirit. That week a sow and two cubs prowled between our cabin and the Big Wood River. Black bears. We watched them, Rachel and I, from our kitchen window, the bears swaying back and forth, shoulders down, haunches elevated, ambling through the aspens and firs. At night they ravaged our garbage cans. Mornings—we'd had a late-spring snow—the bears left tracks behind the cabin, the broad paws of the mother, the dimpled toes of the cubs. The evening Rachel's water broke, the bears were camped on our back porch. The sow lay only five feet from the kitchen door. Her cubs wandered back and forth, house to garage. We watched their shapes, blacker than the night. I shouted to frighten the bears away, banging a spatula against a frying pan and flashing the porch light on and off. But the sow didn't stir. Rachel's contractions were coming every ten minutes. I called the sheriff. You'll have to shoot the bear, the deputy said. We'll send a man out.
I unlocked the gun cabinet. The Winchester's barrel—it had belonged to my dad—gleamed softly in the moonlight, its stock worn smooth by Dad's hands. I slid the bolt and dropped in a shell. The kitchen window was cracked open. I laid the barrel across the sill fingering the trigger with my right hand, my hand that's missing two fingers. The sow's flank rose and fell. The Winchester's report shattered the moonlight. The sow rose to her forelegs. Pain and rage blazed in her eyes. Then she crumpled to the deck. The cubs bolted into the aspens and firs. The deputy drove Rachel to the hospital. I followed in our truck. I remember the moon-white snow and the blue strobe of the deputy's cruiser and the yellow glare of the delivery room lights and I remember the doctor and nurse in pale-green smocks delivering a squalling Jacob into my arms. But what I remember most is the sow, red-soaked on our cabin porch, and the cubs—how would the cubs survive? And I remember the instant before I pulled the trigger.
Tonight, after the Shoulder Season Party, Jacob is sprawled in front of the fireplace, while he harries the fire with an iron. Sparks rain across the hearth, pinprick fireworks that barely extinguish before landing on the rug. I want Jacob to be careful. What about his homework? What about the dishes he's supposed to wash still dirty in the sink? I remain silent, unwilling to unleash another storm between us. Jacob breaks the silence. "Why'd you leave Mom?"
The question catches me off guard. "She left me."
"Mom says you banged anybody with two legs and a pussy."
I feel my face grow hot. "Your mom had every right to leave…"
"You never asked her to stay. She says if you'd just asked her she might have stayed." This accusation burns even more. Why hadn't I asked? Is it my unfaithfulness to Rachel that makes Jacob so angry? Or is it the absence of his father for so many years that makes him so angry? Or is his anger pre-born, beyond blame or specific cause? Or is it my guilt—my unacknowledged guilt that makes him so angry? Is it my guilt that keeps us apart? Jacob rolls another log into the fire. "I guess you were a prick back then," he says.
***
Thirty years ago, the year my mother died, my dad took me on one of his pre-dawn mountain patrols. I was thirteen years old. After a heavy snowfall, Dad's job was to fire the cannons and break the cornices before they avalanched down the ski runs. We rode a snow-cat as far up as we could. Then we strapped on thin Nordic skis. We climbed until aspen gave way to pine and pine to spruce, the spruce boughs laden with snow, each flake as light as starlight, but together weighing the limbs until the spruce knelt like supplicants at a monkish mass. Below us, the slope fell away into narrow, gun-barrel defiles. Rills of snow tumbled down in miniature avalanches. The winter sky glittered with stars. We climbed into the open chutes below the summit. The ridge above us scribed the dawn in a milky line. My dad gestured toward the ridge. A cornice overhung us. A scimitar of snow. Why we'd come. Then, before I knew what I was doing, I was in the chute below the cornice, waist deep in snow. "What the hell?" Dad yelled.
A crack shattered the dawn. The cornice tipped and curled and broke into the chute, rolling down the mountain in a breaking wave of snow. "Ski!" Dad shouted. "Ski!"
I froze, unable to take my eyes off the thundering sluff. The snow swept over me: a whumphing skirt that lifted me up and threw me down, like a wave breaking—stripping my skis and poles and goggles, tumbling my arms and legs in its embrace, lifting me up and throwing me down and lifting me up until it seemed I was no longer a separate thing, that the cells of my skin and the corpuscles of my blood and the marrow of my bones, the flashing, snapping, electric synapses of my brain, the beating of my heart had come apart and dispersed and disassociated until they were one with the snow—with rime and hoarfrost and firn, with the sugar snow and the faceted snow—with the hexagonal crystals and the cold and the mystery and majesty and power of the tumbling snow. And then it was quiet. I must have been knocked unconscious, or perhaps hypothermia with its delusional fantasies had set in but what I remember is light: the pure, spare, white light of cathedrals, like the light that falls through topmost clerestory windows, between the arches and alcoves and nave—white stone, white buttresses, white gargoyles—where the light has weight, is tangible and tactile, is more like water than light. Two hours later, Dad found me. He found me in a pocket behind a pair of granite boulders, buried under two feet of snow. I don't know how he found me. Dad said a powerful desire drew him to where I was buried—a beacon of love, he called it. He spotted my fingers, he said, two fingers sticking above the snow's surface like a pair of bone-colored twigs. My fingers had frozen. After their amputation, I would sometimes still feel them. I would have to check to make certain my fingers weren't there.
The first time Jacob brought Ms. Nemesis to our cabin, she stared in horror at my finger-missing hand. Jacob arrested my explanation by saying she didn't want to hear the story, "Not even once. Not the old story of Dad's gimp hand." Jacob is right. Ms. Nemesis wouldn't like the story. It has no moral. No conspiracy. No polluters. None of the things she demonstrates against when the tour buses arrive in front of her father's Valley Company Institute. I've warned her father—a master of glad handing and bonhomie, confidant of congressmen, directors, and corporate CEOs—I've warned her father that anger among the younger members of our community is building, as is angst about further mountain expansion and tolerance for violence, especially in the cause of environmentalism, and of the accumulating acts—the inexplicable fires, the stolen lumber, the slashed tires—that cannot be otherwise explained except as sabotage. Most of all, I've warned him of his daughter's role—as provocateur to even greater violence. "Nonsense," he says "Protest is good for kids. Where would we be," he says with a wink and a knowing nudge (and a degree of flawed analogy it seems to me), "without our protesting Vietnam?" Marie's the pampered prodigy of a wealthy scion. There's never been anything Marie wanted that she couldn't have. But how do I explain her enchantment of Jacob? Is it because of his anger? His rebellion? By what means has Marie won my son's love? Jacob's mother Rachel loved my hand and believed its fingers lived, although as phantoms. Jacob, as a child, loved my hand, hooking his fingers in the gap where my fingers would have been. My father, even as my fingers froze, was called to me by his beacon of love. Why can't I find Jacob's beacon of love?
***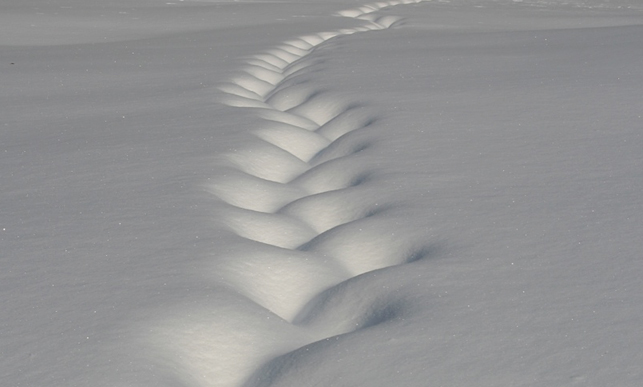 I conduct a clinic at the Institute where Marie's father is director. My clinic is about snow, especially avalanches. I teach my students how to read the history of snow in pack layers—the wind, the moisture, the temperature, the unique circumstance at the moment the snow fell. On glaciers, I say, this signature is preserved for thousands of years. In Austria, I tell them, on the Niederjoch Glacier, hikers discovered the remains of a 5,000-year-old traveler preserved in a pocket below the ice, still wearing his elk-skin britches and his grass cape and the elk-leather shoes he donned on the day he died, his skin taut and brown like rawhide, his limbs thin and frail like sticks, his ribs protruding against his skin, his back and his left knee and his right ankle inked by tattoos. He was carrying a yew-handled ax, a flint-blade dagger, a hank of grass rope, a four-inch antler-tipped stick. The ordinariness of what he carried belies the mystery of his death. The Austrian press named him "Iceman."
But my students are more interested in avalanches than mummies. So I tell them avalanches occur when thaw undercuts the bond between particles; or a lower layer creeps below a top slab; or the adhesion breaks suddenly due to temperature rising, or from vibration, or even a loud noise. Above the angle of repose, I say, where the force of gravity exceeds the cohesion of particles, the layers shear. A fracture propagates. The snow roars down the mountain in a triangular skirt, sometimes speeding a hundred miles per hour. Watch the temperature, I tell them. Watch where the slope angle increases. Watch wind-loaded areas and thin spots and the gap below cliff bands. Always think escape routes, I tell them. Where will you jump if the slope cuts loose? Then I tell the tale of my avalanche and of my frozen fingers and of my father finding me and, unlike Jacob and Marie, I know the story makes me special in their eyes, for I have been there, under the snow, and have been preserved in a way, like the Iceman was preserved. I hold up my hand. My students gaze back, wonderingly. Angle of repose—a beautiful phrase, so full of danger, so full of possibility. Do Jacob and I have an angle of repose?
By Thanksgiving, the cottonwoods have dropped their leaves. Jacob hasn't committed any act of violence. Ice rimes the riverbank in glass-like steps. We've had snow, a few flurries, not enough to build the base, but the nights are cold, cold enough to make snow. We pump water up from the Big Wood River through a network of mountain pipes and hoses and out of nozzles, each at the end of a thin, ostrich-like neck. The water atomizes, freezing instantly, blowing snow as perfect as God's own flakes. A moment ago, I passed Jacob's bedroom. He was typing on my laptop computer, sending emails to Ms. Nemesis, or so I'd guess. What draws him to the girl? Does he need her loyalty? Is she the way he lightens his heart? I called through his door and asked if he wanted to join me for my mountain patrol. "What I hate about living here," Jacob growled, "is nobody respects anybody's privacy." He kicked the door shut.
Once, my Dad lightened my heart. He taught me to use the lariat after I lost my fingers. Therapy, he called it. We practiced behind the cabin, lassoing the limbs of the cottonwoods and aspens and the boulders in the river. Steer it by instinct, he told me. Let your mind fly with the rawhide.
The spring of my high school graduation, my buddies and I loaded a pickup with beer. We set off on a joyride, drinking in the moonlight, playing rock 'n' roll on the radio. We careened down the valley's dirt roads, plumes of starlit dust rising behind us. I leaned from the truck, twirling my lariat over my head, lassoing mailboxes and milk cans and a heifer that had wandered too near the road. But in the morning, drunk and bleary-eyed, we slammed into a van with school children in it. A girl—Melissa Lee Masters—lost her arm. Because Dad knew the judge, because I wasn't driving, I was sentenced to just thirty days in jail. Instead of appreciating my dad's intercession, I brooded behind the black-iron bars, angry at missing graduation, resentful of Dad, remorseful for the maimed Melissa Lee. The sheriff released me July 4th. Dad met me outside the jail. He'd loaded the pickup with our backpacks and gear. I refused to speak to him, except to insist that I didn't want to go with him. He said I had no choice—he'd promised the judge. "And anyways," as he put it, "you got to lighten your heart and I aim to help you lighten it."
We drove to Hell Roaring Creek, on the edge of the Sawtooth Range, where we set out for a two-week trek, up to where snow still lay in the basins and where the hidden lakes were cold-blue. I don't remember speaking a dozen sentences the entire trip. But Dad acted as if I were the most gregarious companion, regaling me with tales of his ranch youth, stories about his grandfather, his theories of real estate and skiing and horses, how he dealt with women, about the quirks he loved in my mother, and how he figured there was a note of God in every snowflake. And through it all, as I sullenly trudged behind him, as we fished the lakes, built our campfires, watched hawks soar above rocky ridges, the same themes underlay his stories. Loyalty. Love. Courage. How blood was the strongest bond. "You're not going to forget Melissa Lee," Dad said, "but that girl's arm's not coming back anymore than your fingers are coming back. You got to live with both."
Today, just two weeks before Christmas, I insisted Jacob ski. At first he refused. But, when I told him we'd inspect the new, still unfinished, Grizzly Ridge Lodge, he quickly agreed. The lodge was my bait. I knew what Jacob and Marie intended. I'd read their emails. I'd seen them practicing behind the cabin, staggering on snowshoes through the fresh powder, plowing through the drifts with webbed awkwardness. I'd found the rucksack, tucked under the kitchen porch and filled with jugs of white gas, matches, and three blasting caps. I even knew the signal. Marie would leave a message. "When Sonya Henning skates the stars burn." Then Jacob and Marie planned to ride the Hot Springs Chair to the old Ski Patrol hut I showed Jacob last August, where they'll hide out until the lifts close.
Jacob agreed to come with me because he can't resist visiting the scene of his future crime. In the lift parking lot, snow falls, light and airy, spinning, looping, whirling to the ground. The snow is dry. Perfect. But in this flat, flake-filled light, visibility will be poor. Jacob struggles into his boots, complaining that his feet hurt, that he's already cold, that he's forgotten his knit cap and lost his glove. I find the glove under the truck seat. There's no sign of the cap. He flaps across parking lot, skis askew, jacket unzipped, and goggles fogged. The lifts are running even though they haven't officially opened for the day. "We're heading up to Grizzly," I tell the operator.
"Yes sir," she says, flashing me a sunny, butter-up-the-boss smile. "You boys have a nice day." Jacob clatters into the chair, his butt only half on the seat, his skis flailing. I lower the safety bar, grab the belt of his snow pants, and jerk him upright. Jacob grips the bar. I can't see his face behind his goggles and the overlarge hat—my hat—but I imagine the terror on his face. We swing from the first pylon, over a rocky, open chasm. "Jesus," Jacob mutters.
"In two weeks," I say, "Christmas vacation begins. Grizzly's behind schedule." Jacob nods.
Of course Jacob knows this. Since its ground breaking two years ago, the lodge has caused much community protest. It will open undeveloped bowls, wintering ground for elk, denning sites for black bears. It is what Ms. Nemesis protests against. What I don't say, but Jacob knows this too, is there's been sabotage—pilfered building materials, slashed electrical lines, sand in the snow-cat gas tanks. "Your grandfather," I tell Jacob, "envisioned Grizzly Lodge years ago. Exactly in the same place." This is new information for Jacob, part of what I plan to tell him this morning. I want to invest him in the lodge, make it part of his heritage. He's silent for several seconds. "What about the bears?"
"We surveyed the mountain," I answer. "We found two denning sites in the back bowls. There are three more elsewhere. The resort has been operating sixty years. Bears don't bother skiers. Skiers don't bother bears." He faces away from me, staring into the white, flurry-filled light. We can't see the top of the chairlift. The cable hums over our head. Snow collects in our laps. Then Jacob surprises me. "Where was your avalanche?"
I gesture with my ski pole into the whited-out sky. "Up there. Below the new lodge. With better visibility, you could see the spot."
"What was it like?"
"What do you mean?"
"Buried."
I'm silent a moment, unsure if what I remember is what it was like or what I want to remember it like. "Vaults and buttresses of ice. Gargoyles of ice. Like being inside an ice cathedral."
"Could you feel your fingers freeze?"
"No."
The offload station looms out of the snowfall.
"Ready?" I glance at Jacob. Everything looks fine. I lift the safety bar. But Jacob isn't ready. His ski pole flips up. He leans forward to grab it. He tumbles out, somersaults down the ramp. His bindings pop. He nosedives into the snow. The operator cuts the lift. Slowly I sidestep down the ramp, picking up Jacob's skis and poles, his cap and snow-caked goggles. "You guys okay?" the operator calls.
"No problem," I call back.
But there is a problem.
Jacob crawls to his knees. His entire body is cloaked in fine, white powder. He pounds a gloved hand against the snow. "You pushed me."
"I didn't push you. You weren't ready." I extend my hand.
Jacob bats it away. "Prick!"
"Sorry." But do I mean it? Jacob looks ridiculous kneeling there, his forehead pressed against the snow, his ass in the air.
Jacob pounds the snow with one fist. "I hate skiing."
I drop his poles and hat and skis. I toss the goggles, which land in the snow a few feet from his head. I wish I'd never asked him to come. I feel guilty as hell. Grizzly Lodge is only twenty yards from the lift. I shove off and glide through the powder. When I glance back, Jacob has risen to his knees, his gaze fixed on the scattered poles, goggles, and skis. The lodge smells of new lumber and fresh paint. It's sited precisely where my dad wanted it and it's nearly complete. Log-cabin walls, river-stone fireplaces, and mullioned windows—I find the building beautiful and organic to its site. On a clear day, you can see all the way to the desert. But today I see only snow, drifting and blowing snow. Total whiteout. I can't see anything. Hammers rap. A power saw whines. I conduct a desultory inspection of the work. After thirty minutes, Jacob still hasn't joined me inside. I find him outside, squatting on the entrance steps, smoking a cigarette. I decide to ignore the cigarette. He's caked in polar-bear white. I ask him if he wants a tour. He shakes his head.
"Ready to go?"
He nods, rises, tosses the cigarette, and trudges head down toward his skis like a condemned man heading for his hanging. There's a foot of powder over packed base. Perfect. But, after the first couple of turns, I realize I've made a mistake. The run is too steep for Jacob's skill. He traverses and falls. Traverses and falls. "Sit back a little," I yell. "Feel the mountain under your skis. Stay in the fall line." Nothing helps. Jacob isn't listening anyway. With each fall, he throws his poles, curses, flaps his arms. Finally, he points downhill and takes off. For a moment, with the snow pluming behind him, I think he's got it. Then he pitches forward. The skis somersault over his head. Jacob catapults off the run, explodes through a shower of snow, tumbling down into a stand of spruce. I skid to a stop at the edge of the run and peer over the side.
Jacob straddles a spruce trunk, fifteen feet below me. He pulls himself to his feet, clinging to the trunk like a bear cub clinging to a sow's back. "Jacob!" I shout. "Jacob!"
He turns, takes one step, falls to his butt, and slides back into the tree. I pull a climbing rope from my pack. I knot a loop. The rope whistles above my head and I guide it, I guide its flight, I guide its flight with my phantom fingers until the rope settles gently over my son's shoulders. I wrap my end of the rope around my waist and pull. Jacob stumbles to his feet. "Don't forget your poles and goggles," I call out.
"You get them," he says, but he picks up the poles and goggles.
When he reaches the top, he doesn't even look at me. He tosses his gear at my feet. Tears stream down his face. "Your skis…"
"I'm walking down." Jacob stomps down the hill, jerking his knees up, his boots sinking into the soft snow. "Jacob," I call. "Jake."
He raises a hand above his head and flips me off. He's lost his glove. His fingers are white, fragile and pale in the whiteness of snow. "At least ride the lift down. Don't walk. Ride the lift."
No answer.
I gather Jacob's poles and his skis, his glove and my cap and his goggles stuffing what fits into the pack, strapping both sets of poles to the back. I cradle his skis under my arm and begin the run down. Unconsciously I slip into the rhythm of turns. My skis float, invisible below the powder-snow surface. The snow breaks before me. I'm suspended between earth and heaven, checking, un-weighting, rolling my shoulder into the mountain, tracking down the fall line in even, snaking turns. But my heart isn't in it. Below me, Jacob has boarded a lift after all. He clings to his seat, a solitary figure, abandoned, flightless, descending the mountain, descending to Marie, descending away from me.
***
This week—the week before Christmas—it has snowed every day and every night, seven days of snow. I've told Heidi about the emails, of my suspicions regarding Jacob, of Marie's signal. She has agreed, reluctantly, to be my accomplice. Tonight, while I'm still stomping my boots on the kitchen porch, Heidi greets me at door, dropping a phone machine tape into my hand. "Marie," she says. I clamber across the kitchen, fumbling to remove my gloves. I drop the tape into the answering machine. Heidi leans against the stove, watching me, sipping a cup of tea, which she holds with both hands. "Are you certain you want to go through with this?"
"What else can I do? Call the sheriff?"
"Yes." She sets her teacup on the stove.
I shake my head.
From the recorder, we hear Marie's brittle, frozen-edged voice. "Jake, are you there? Tomorrow, before the lifts close, Sonya Henning will skate and the stars will burn." Then, in a warmer tone, a little girl's voice, she says, "Love ya. Bye." I slump onto the stool next to the phone. "Whiskey," I mutter. "I need a whiskey." Heidi pours an amber inch into her teacup and hands me the cup. She takes my hand, pressing it, my missing-finger hand, to her lips.
"Well then," she says. "Gruss Gott." Go with God.
Later, when Jacob comes home, I watch him play the answering machine several times. And later still, before he slouches off to his bedroom, he tells Heidi that if we want him to stick around, he'd better get his own phone line. "Talk to your father," Heidi says.
But he doesn't talk to me. He hasn't talked to me since we skied down from Grizzly Lodge. At 4:00 a.m., the alarm sounds. I wake Heidi. Silently we dress in long johns, snow pants, wool sweaters, and heavy boots. Shadowed clothes. Kidnapper's clothes. Heidi follows me into Jacob's bedroom. We stand side-by-side, next to Jacob's bed. The moon is out. Snow softens everything—the picnic table, the barbeque, the jungle gym, the aspens and cottonwoods, everything shrouded in bear-round curves. Moonlight falls across Jacob, softening him too. Heidi glances at me, a hard, sharp stare, as if one last time she's testing my resolve. Jacob snuffles and rolls to his side. I almost tell her to stop. Instead, I nod. Heidi swabs Jacob's arm. The heavy, sleepy odor of alcohol fills the bedroom. With a quick, business-like jab, she slips a needle into his skin. "There," she says. "Like a sleeping pill. Only lasting longer."
Jacob's eyes snap open. "Dad?" His voice is hoarse and dreamy. Then his eyes drift shut. We dress Jacob and load him in the truck. Heidi takes the wheel. I sit on the passenger side. Jacob slumps between us, his head resting on my shoulder. We drive out of town, past the Valley Company barn where a giant wreath the size of a tractor tire sparkles with Christmas lights. We pass the lodge. Sonya Henning skated at its rink. Hemingway drank in its bar. I betrayed Jacob's mother in its rooms a dozen times. The road darkens. The moon hovers over the pass. We're in open country now, where the valley narrows. The road is unplowed, covered with snow. The tires murmur. Heidi checks the skid of the rear wheels, gently accelerating. I glance into the back of the truck: two pairs of cross-country skis, two backpacks, a mountain tent, our sub-zero sleeping bags, the Primus stove, provisions for three days. "When he wakes," Heidi says, "he'll be thirsty."
"At the Forest Service Camp, I'll pitch the tent. Then we'll move him."
"You'll be warm enough?"
I nod. "We'll be back in three days."
"It isn't going to work," Heidi says. "This kidnapping of him."
I shrug.
"You need to talk it out."
"How can I talk it out when he won't talk?" I've run out of talk.
The morning after Jacob was born my father insisted we look for the bear cubs. "We got to bring them in," he said. "They ain't going to make it without the sow." We followed the cubs' tracks along the river. A gray day. A taste of Chinook on the air. The prints thawing as the temperature rose. We lost them at the fork where the Big Wood meets the Little Wood. "I got to get back to Rachel," I said.
"We caused them cubs to have no mother. We got to find them." We, he said, although it was me who'd shot the sow. We hiked three miles beyond where we lost the tracks until it grew too dark to see. The next day we looked again. We never found the cubs. "You can't do better than look," my father said.
I wonder: is this so?
Jacob's head rests on my shoulder. His breath warms my neck. Will I ever find Jacob's beacon of love? Heidi's right. My plan is flawed. Still, I aim to try it. I aim to lighten Jacob's heart as my father once lightened mine. Or at least to thaw what remains between Jacob and me. And although we have miles to go before we reach the camp, before Heidi leaves us in the snow, I already picture Jacob and me, gliding through the glades, the hush of the forest wrapping us, the winter air sharpening everything—pine scent, the sound of our breath, the sunlight glittering off a galaxy of snowflakes.