by Marcela Fuentes
My Grandma Romy died the first week of October. The night she died, my dad was parked in his recliner working his way through a case of Coors Light and watching ESPN while I did my algebra homework at the dinner table. A lady called—the same one, I just knew it—and all of a sudden he "remembered" he had to go back to the body shop and finish a Suburban. Bam, just like that, Lulu, pack a bag, you're spending the night at Grandma's.
That wasn't the thing, though. He's always dumping me at Grandma's house. It was that fucking lady.
"Hey," he said as I was putting up my math book. "Go feed the puppy before we leave."
"He's your dog, you do it."
He pulled on one of his black engineer boots. "Lulu, come on. I have to get ready."
"No way!" I slammed the bedroom door. Like some new puppy could make up for what happened to my poor old dog, Gonzy.
I heard my dad cussing in the living room, but he didn't follow me. Probably he just wanted to hurry up—it was almost eight o'clock. I dug my black cotton Mary Janes out of the closet, rolled them up with a t-shirt in a pair of clean jeans, and stuffed the whole thing in my backpack.
"You're gonna have to start taking care of him," my dad said when I came back to the living room. "He's your dog too."
I glared at him. "My dog's dead. Somebody murdered him."
My dad was such a jerk he couldn't even look me in the eye. He knew. He just didn't care.
"Hurry up," he said, and stomped outside to his truck.
We didn't speak on the drive, and it was a long one because he won't go by the river road if he's with me. We took the Las Cienegas Avenue Expressway. Six lanes running west of San Antonio all the way to the international bridge at Ciudad Bravo. The river road is faster from our house, but that's where the motorcycle accident happened and my mom got killed.
My dad's totally superstitious. He thinks he's cursed with double-sided luck, witch luck. He's been in five or six wrecks because he drives like a maniac, and yeah, when he was born his real mom threw him in the Rio Grande and he didn't drown. My Grandpa Chuy fished him out and adopted him.
My dad's walked away from it all, he says, because of the curse. The accident that killed my mom only broke his wrist. It's double-sided luck, like I said. He's the bad luck charm for everybody else. Instead of blaming my mom's death on the drunk driver that hit them, my dad decided it was his curse. This is why I have no social life.
Grandma's street is off the exit with the bright green sign "Las Cienegas Trade Bridge 1 / United States Port of Entry / Cd. Bravo, Coahuila, Mex." She doesn't live in Mexico, but almost. Grandma's neighborhood is all stray chickens, tin roofs, and half-streets. It's a mile from the international bridge, but all the way across town from us. We live on the north side, where the neighborhood is full of speed bumps and SUV-driving border patrol wives.
Grandma waved at us from behind the screen door as the truck pulled into the gravel driveway. A blue light flickered in the living room window. Grandma's eight o'clock telenovela, the one set in colonial Mexico.
My dad waved back, but didn't get out of the truck. He tried to hug me goodbye, but I jumped out and slammed the truck door on him.
"Have fun working," I said, quotation marking with my fingers.
"Get in the goddamn house!"
He gunned the engine, kicking up a spray of gravel against my feet. He pulled out of the drive and I saw his taillights flare at the four-way. He wasn't going to work. He wasn't going back home. He was headed downtown and not even bothering to hide it.
That's when I decided I'd get rid of the puppy. That same night, while he was out doing God knows what. He'd never know it was me. Let him try and ignore another dead dog.
"What was all that?" Grandma asked when I walked up the steps.
She was always at the screen door, watching for when we got there. I don't know, maybe she waited until the commercial break, or maybe she went to the door as soon as she got off the phone.
"Nothing."
"Doesn't look like nothing," she said.
I didn't say anything. She had leftovers warming on the stove: fried potatoes and a couple of flour tortillas. She picked a hot tortilla off the cast-iron comal, something I couldn't do without burning my fingers, and tucked a spoonful of potatoes into the fold.
I slouched into a chair at the kitchen table. "All of a sudden he has to go back to work. Yeah right."
"Mi'ja," said Grandma, sounding tired. "Some people think they can hide the sun with their little finger, but they don't fool anybody. Especially not a smart girl like you."
She wrapped the taco in a paper towel and gave it to me. "That doesn't mean you have to make a spectacle in my yard."
"Sorry, Grandma."
I took a giant bite of the taco so I wouldn't say, "He's a liar. You know he is." I wouldn't argue with my Grandma, not for anything.
Grandma took the rest of the tortillas off the comal, covered them, and set the bundle on the table. Her fingers were thin and papery. The heavy ring with all her children's birthstones had slipped sideways. I reached out and pushed it to rights.
"That one's your dad's," she said, tapping the ruby. I knew it, though. I know them all by heart: aquamarine for Gloria, opal for Raul, sapphire for Yoli, ruby for my dad. There's only Yoli and my dad left, though. Tía Gloria died five years ago and Tío Raul got killed in World War II.
My dad's the baby. He just turned forty. Yoli is already fifty-one, the same age Grandma was when she adopted my dad. That was Grandma's best story: how Grandpa Chuy brought my dad home to her, still damp with river water and covered in sorrel horse hair because Grandpa had bundled him up in a saddle blanket. Pretty unbelievable stuff, but when I say so, Grandma quotes Ecclesiastes and says my dad's proof God's got a silver cord for all of us. Only, she says, my dad's is probably made of barbed wire.
"Ay, the commercials are finished," Grandma said. "I better go see how the 'novela ends."
"I'll wash the dishes, Grandma." I offered, to make myself feel better.
Later, I crouched beside my bedroom door, a bunch of peanut butter crackers stuffed in the pocket of my hoodie, waiting for midnight. Grandma had one of those old-fashioned clocks in the living room, the kind that wheezes and grinds when it gears up to mark the hour. At noon and midnight that thing gong-gong-gongs for almost five minutes.
Grandma had been in bed for an hour. I heard her snoring, but still, I needed the cover of that noisy clock. This wasn't like sitting on the back patio at home, talking to Marina on the cordless while my dad was passed-out in the living room. Grandma felt the floorboards shift when I padded to the bathroom in the dark. She checked why the lamp was on when I stayed up writing in my diary. She had radar.
The clock started making its midnight racket and I scurried across the living room. I jerked the front door open like I was ripping off a Band-Aid. The heavy wood creaked once, but that was all. I scooped up the telephone from its nook beside the door and slipped outside.
The night was full of sound. Heavy gusts of wind shook the trees and mating frogs trilled, loud and reedy, from the ditch behind the house. I closed the front door as lightly as I could, leaving a sliver of space just wide enough for the phone cord. I pressed my ear to the crack. Nothing but the clock ticking and, audible from her bedroom, my grandma going like a baby buzzsaw.
She was alive at midnight. I heard her.
I hid behind Grandma's bougainvillea bush and paged Ernie, my only friend with a car. He was still at work. He'd been working at the freight yard since midsummer, unloading trucks. Since he'd gotten a job, he didn't have a curfew anymore. As far as I was concerned, that alone was worth lugging boxes around.
I cleared the line and called Phone-In Fairytale, the automated storyteller at the public library. It was one of the first numbers I had memorized when I was a kid. The tape would run through about an hour's worth of stories before it cut off. I used to listen to it all the time.
These days I called when I wanted to talk to Ernie. It was a good way to occupy the line so the phone wouldn't ring. It was the one about the girl with all the swan-brothers. Sometimes I fell asleep before he called, but with the wind cold against my neck, the story didn't lull. I was glad when the call-waiting beeped.
"Hey, I'm at my Grandma's tonight."
"Well, don't go to sleep," said Ernie. "I'll call you when I get home. I'm off in twenty minutes."
"Wait, don't hang up."
"I'm in Sal's office," Ernie said, impatient. "I have to get out of here before he comes back."
"Wanna go to the lake?"
Ernie got quiet. I thought he wanted to ask why, but he didn't.
"Yeah, okay. Meet me up the block from my house."
"Okay."
"You want anything?"
"No. Like what?"
"I don't know. Never mind." He hung up.
I unplugged the phone and tucked it beneath the bushes. Probably the best thing to do was avoid the street. I could climb the hill behind Grandma's, cut across the front yard of the abandoned Aguirre place, and then come down into the Azteca Courts Park. Ernie's house was just two blocks from there.
Walking through the hillside brush was fucking awful: a winding deer trail clumped over with thorny catclaw bushes that caught at my sleeves and furtive rustling noises of unseen things moving around in the brush. No, I'm not superstitious! Still, I was so unnerved by the time I got to the hilltop that I flat-out ran through the front yard of the Aguirre house. It had a rickety wooden wraparound porch, just the kind of thing where you think nobody's there, but then you glance over your shoulder and something horrible is coming after you.
The house was always up for rent, probably because nobody wanted to live in an old haunted dump. The landlady must have been pretty stubborn though, because there was a fresh For Rent sign staked among the overgrown weeds.
I jumped the irrigation ditch at the bottom of the hill, the cuffs of my hoodie clenched in my fists. On the other side was a park that was mostly asphalt, just a basketball court and a thin border of grass with a merry-go-round on it.
Four skinny boys were playing basketball in the dark, but they were hitting their layups solid. On the curb next to the court, a guy in a Spurs jersey leaned against the side of a Buick LeSabre, his arm around a girl I knew I'd seen but whose name I couldn't remember. The guy dipped his face to the girl's ear and the girl giggled and fake-punched him, saying, "Whatever, Jaime. Whatever."
I kept walking. Sure enough, I was almost to the next block, passing a yard where a few men, a little older than my father, were sitting around drinking beer in their undershirts and listening to the Mexican station, when the girl let out a high laugh, the kind that rises and carries on the air like a bird's cry.
One of the men bolted out of his aluminum chair and strode into the street with the beer bottle held loosely by the neck. "Bren-da! Get in the house!"
Like that, Brenda dashed inside one of the houses. The man with the beer bottle stood in the street until the boy got in his car. The car moved off, slow and insolent, around the opposite corner.
"And you," the man said, turning his bloodshot eyes on me, "You get your little ass home too!"
I ran away. The men in the yard laughed. Fucking assholes.
I don't know why my dad ever left the neighborhood. He would have been right at home with those guys. A girl could be doing anything. Or nothing. He'd say she was out slutting it around, a huila for sure. In Spanish class, Mr. Ramos says that word means kite. When my dad says it, he means the other word, but I picture girls flying away like little kites with their strings snapped, freewheeling across the skies.
I sprinted the rest of the way to Ernie's street. He lived on the last stretch of road before the neighborhood gave way to the marshes along the Rio Grande. I smelled the water first, mossy and stale, and then saw his '72 Chevelle parked in front of the Dead End sign. He was sitting on the trunk, still in his Yellow Freight uniform, smoking a cigarette.
"We gotta stop at my house first," I told him. "I need to get something."
"Are you nuts? Isn't your dad there?"
"I don't think so, but I left my journal on the patio."
"Then he probably already has it."
"He doesn't. But I have to get it."
"Why? Who'd you write about?"
"None of your business."
"It's me. I know."
"I know you're stupid."
"For real, who'd you write about?"
"Nobody, Ernie! Can we just go?"
"Okay, okay, damn. At least let me change my clothes." He frowned. "You better wait out here. My mom will flip out if she finds you in the house."
Ernie came back with damp hair. He was wearing a black Suicidal Tendencies muscle-shirt. Ever since he had gotten the job as a freight loader most of the shirts he bought were tight or didn't have sleeves. It was kind of hot, but he was such a dumb-ass, always flexing and saying dorky shit like, "Welcome to the gun show."
"Check it out," he said. He held up a half-finished bottle of Don Pedro. "Let's go party."
"Sounds good," I said, settling into the seat. "But I'm not gonna drink that. That shit is gross."
"That's why they invented Slurpees. For wusses like you." He dodged my fist and laughed.
The traffic lights on the strip were flashing yellow. It was a Wednesday night and there weren't many cars on the road, just a cluster of trucks at Denny's.
I didn't know what I was going to say to Ernie. Some things could be told. When my dad found my cache of metal tapes and stomped on them, Ernie said, I'll make you copies and he put the phone up to the stereo so I could hear what he was taping for me. Some things could be told, in a way. Instead of telling Ernie that someone had killed Dr. Gonzo, my sweet old border collie, that someone had actually gone into the back yard and shot him in the head and hadn't even bothered to close the gate afterwards, I said that Gonzy had been hit by a car. Ernie made this awesome pencil portrait of Gonzy, (but he signed it Ernesto Vega so I sprayed it down with Marina's Aqua-Net and hid it in the back of my trapper-keeper because I'm not going put Ernie's name anywhere my dad can see) and Marina said Oh my God, Ernie likes you and I said, Shut up, but it was true.
That's why Ernie took me across town. I knew he would. It was shitty of me, because if he got caught my dad would beat the piss out of him. Ernie knew it too, but that's how much he liked me. I was a fucking dick, because I'd counted on him liking me enough to bring me.
It took thirty minutes to drive to the north side. I live in the new subdivision, where the houses are evenly spaced and identical and behind our street bulldozers are still clearing out the sage. The land behind my house is flat, open desert. That's where I told Ernie to park.
I got out of the car. The rows of tiny lights on the second international bridge, the one over the lake, twinkled at the western horizon. I would take the puppy there. I would drop it off the bridge. I could see it: the plunging white form of the puppy, disappearing. Just a little splash and then the waters smoothing over, like nothing had ever been there at all.
"Okay," I said. "If you see the lights come on, haul ass out of here. Seriously."
"This is fucked up," said Ernie. "What's going on?"
"Just do it, okay?"
He shook his head. "Shit."
I ran to the fence, aware of how easy it was to be seen. The ground was white and dry in the moonlight. I looked back and saw the distinct black shape of the car. But I couldn't see Ernie, and that was something. I hoped he would really go if the lights went on.
The house was dark. I climbed the fence and landed with a thump on my dad's freshly-laid Home Depot grass sod. The laundry room was just off the backyard patio. It wasn't a real room, just a small shed with a low wood lattice for walls. The puppy's kennel was in there, next to the dryer.
I was inside the laundry room when I realized the sliding glass door to the patio was open. My dad said Margarita. A woman's name. Margarita, low and sweet and beckoning. The way I imagined, when I ran my finger lightly across his signature, it would sound to say Ernesto.
The puppy was awake. I opened the kennel door and lifted him out. He snuffled my hand as I zipped him inside my hoodie, his little tail whipping hard. I slipped a cracker in his mouth to keep him quiet.
If my dad had come outside, I wouldn't have backed down. Because I knew for sure now. I knew her name. What would he have done, pretended she didn't exist, just like he pretended nothing bad happened to Gonzy, just like he pretended all the bad things he did weren't real? I wanted them to come out so I could see them. So he'd know I knew.
It was his fault Gonzy died. I told him about the man who called the house that day after school, but he didn't listen. Your dad's dead meat, the man had said and hung up. It made me want to vomit the sandwich I'd been eating. A few days later there was Gonzy with the top of his head blown off, pink and gray brains spattered in the yard.
I yelled right in his face, my stupid, stupid dad, who thought I wouldn't understand why Gonzy got shot. You stupid asshole! You think I don't know why this happened? You think I don't know why some dude is that fucking mad? Of course I knew. Everybody knew, even Grandma who couldn't stay awake through Montel.
My dad was stuffing Gonzy into a black plastic lawn bag, trying to get rid of him. He didn't answer me, just grabbed up the plastic bag and rushed out of the yard.
He didn't come home that night. I talked on the phone all I wanted to Marina, in the middle of the living room even, but I never told her. Not even after.
Because what am I going to say about it? That the next day my dad brought me a new puppy? That he's still fucking some bitch named Margarita, whose husband wants to kill him?
The puppy snuggled against my chest, his muzzle in the hollow of my throat. I clutched him, my whole body trembling. I held it in, held it in until that weepy feeling folded up like a hard fist. Ernie was waiting out there. I wasn't going to be like my dad, all self-absorbed and fucking everyone else over. Not me.
There were no more voices. I walked into the yard with the puppy tucked into the crook of my elbow and did not look back. Climbing the fence was harder with only one free hand. I slipped and tore my sleeve, scratched my forearm from the back of my wrist to the elbow. It burned in the cold air. I gave the dog another couple of crackers. My shirt was probably smeared with peanut butter, but I didn't care.
Ernie was sweating. It was shining all over his face. "Jesus, Lulu! What took you so long?"
"Sorry," I whispered. I was. But I still didn't tell him what we were doing.
"What is that?" he asked, staring at the lump in my hoodie.
"Never mind! We gotta get out of here."
The car crept between the bulldozers, quiet and slow, but just when we got back to the street, Ernie got nervous and stomped on the gas pedal.
"Watch out, watch out!" I yelled, but he hit a speed bump dead-on. The car jumped and landed with a hard, horrible scrape on the asphalt. I hit my forehead on the window. The puppy started barking like crazy.
"What the hell is that?"
"It's a dog, duh. Let's go!"
"You swiped your own dog? That's fucking retarded!" Ernie caught a bad fit of giggling and the car stalled out.
"Hurry up, my dad's home!"
"Shit," he gasped, still laughing. He tore down the street, swerving around the speed bumps at break-neck speed. I pressed my cheek to the window, pretending it was his driving making my stomach lurch.
At the fork before the highway, he pulled into a 7-Eleven. He bought Cokes instead of Slurpees. Then he crouched in the crook of the open door with a flashlight, craning his head to see the undercarriage.
"Well," he said finally, "the oil pan's still there."
"Man, I can't believe you choked like that."
"Shut up." He hopped back in the car and smirked at me. "Let's see this dog."
I unzipped my hoodie. The puppy blinked around and then sprang onto the seat, snuffling the stick shift.
"Oh, damn. That's a pit bull."
Ernie put his hand over the puppy's face. It tussled with his forearm, mock-growling and gripping Ernie's wrist with its little teeth. He looked at me over the puppy's stout head. "So, what's the deal with this guy?"
"He has to go."
"Why you trying to get rid of your dog?"
"My dad's an asshole. I don't wanna talk about it."
"Whatever." Ernie shrugged. "I bet Sal would buy him. He's been saying he wants a guard dog over at Yellow Freight. Bet we could get two-fifty."
"Sell him?"
"Of course. What were you gonna do, dump him on the side of the highway? He's gonna get hit by a car out here."
"So?"
"God damn, Lulu. Are all the Muñozes bastards like that?"
My plan looked so different with Ernie sitting opposite me and the florescent light of the 7-Eleven streaming in through the windshield. I couldn't answer him. So I said, "We should go halfsies on what we get for him."
"Sure," Ernie said. He shook his head. "Hope I never piss you off."
At the lake, Ernie turned down at the end of a caliche road near the railroad bridge. It was an old iron bridge scalloped with low-slung black metal arcs, like a row of humpbacks running across the water.
The second international bridge was farther south. I saw the dim yellow lights of the customs port in the distance.
Ernie parked in the brush so the border patrol wouldn't see the car and come hassle us for drinking. He brought the bottle of Don Pedro and the Cokes. The puppy had crashed out on the drive to the lake, so I left him asleep under my hoodie in the back seat.
"You think anybody else would buy him? Somebody that doesn't know my dad?" I couldn't help it. "What if he runs into Sal or something?"
"Lulu, you just broke into your dad's house while he was home. You wanted to snuff a puppy. Don't puss out on me."
"You're the puss."
We found a big boulder to sit on. Ernie spiked my Coke, which made it taste like it had gone flat. He drank straight from the bottle just to tease me. He was taking little sips though, so I didn't feel that dumb.
The night had a hazy glow. A fingernail moon. Hordes of clear white stars. We were out on the chaparral, which even in late autumn was flush with pale gray cenizo so that the land above the shoreline seemed covered in low-lying silver clouds. The railroad bridge stretched over the water, its humpbacks studded with blue lights. Only the lake was slick and black.
Ernie kept brushing against me by accident on purpose. Why did it have to be like that? Everybody pretending they weren't when they were.
"What are you doing? Do you want to kiss me or something?"
"No," he said. What a liar.
He slid off the boulder saying he needed some music. A few minutes later, Los Fabulosos Cadillacs cranked out of the stereo. He didn't come back.
Whatever. I didn't need him. I just wanted to be here. No bullshit. Nothing but the water slapping on the rocks.
"I'm going in," I yelled, mostly so I could say I'd told him.
I took off my t-shirt and jeans and waded in. Fuck, it was cold. I kicked away from the shore, scissored my legs hard, arms stretching out and out, pulling myself into the deep black waves.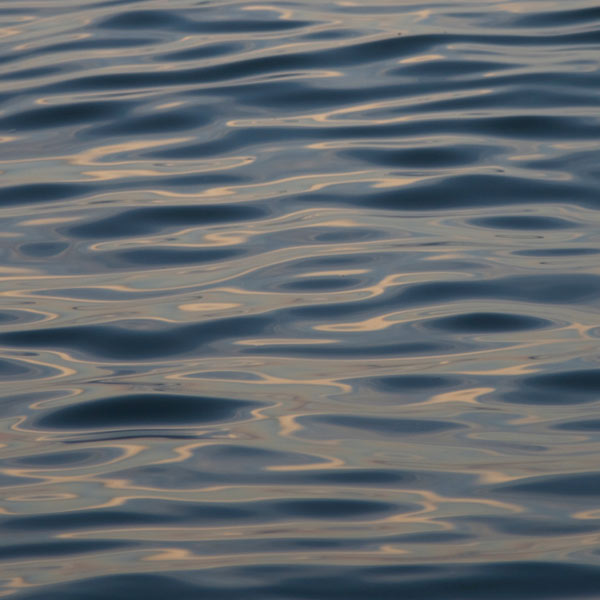 I like swimming. I'm good at it. I was on the swim team all during middle school. Mostly it's my dad's thing. He says no kid of his is going to go around not knowing how to handle herself in the water. So, I'm pretty good. Better than my dad. He's strong and fast, but in the water, I'm stronger; I'm faster. I can outswim him any day of the week. Not that it's hard to beat a forty-year-old whose only exercise is doing beer-curls every night, but still. That's why he won't race me anymore. Now he just brags that I'm going to be the only sophomore on the varsity team. I doubt that very much, but the thing to do when my dad starts talking is tune out.
I rolled onto my back and made lazy circles. I had drifted near the middle of the railroad bridge; the blue lights suspended over the water weren't small anymore. The water bumped and swayed. It was good here, outside of everything. No open patio doors. Or girls who drowned dogs. Just the occasional twitchy little splash of leaping bass. Even the music had cut off. I didn't want to go back home. Except the wind was picking up and the waves were getting choppy. I couldn't stay out much longer.
Ernie called my name, his voice far away and distorted. He yelled again, louder—Lulu! Lulu!—and a night bird called back to him, a long, warbling cry like a woman moaning and laughing at the same time. The kind of thing that would freak out my superstitious dad.
Michael Boyd drowned out here, I remembered suddenly. Last February. We went on the same mathlete tournament the weekend before he died. He let me borrow his Walkman on the way home. The next weekend was one of those fake-out winter heat waves you get in south Texas sometimes, 80 degrees and sunny out of nowhere. Michael went boating with his little brother and the brother fell out of the boat. Mike jumped in after him, saved his life. Only he got hypothermia because he couldn't get out in time. Horrible thought to have while treading water in the middle of the night, even if I was an ace at the 200 meter crawl.
If I drowned, my dad would know I took the dog. He'd know I'd seen him with her. With Margarita. But it wouldn't make him regret anything he'd done. He'd probably just decide it was more of his stupid witch-luck curse. But oh, Grandma. It would break her heart if I died as a thief and a boozer. A crinkly feeling swept over me: I mean, that would be a cursed way to die, right?
"Ernie!" I shouted, "I'm here!"
A spear of light cut across the water, narrow, but bright enough to guide me. Headlights. They seemed very far.
It was a hard swim back. The waves were rough. I fought them and they tossed me and I fought some more. I kept my eyes on the headlight beam. Not far, not far. I'd been stupid to panic instead of pacing myself. I was getting tired. Shit, I was tired. Worse, I was getting cold for real. It hurt to lift my arms and rake them through the water. But I could see Ernie in the spaces between the waves, a black shape running along the beach.
I reached the shallows, lungs burning, barely able to keep my legs moving. There was the rocky shoreline and the car in the acacia bushes, high-beams blazing. And Ernie in the water, splashing towards me.
"Jesus! Are you crazy? It's fucking freezing!"
The lake bottom was right under us; he was standing, but I wasn't tall enough to catch my footing. He grabbed my forearms and hauled me up.
"I'm fine," I said, coughing. "For real."
I wasn't though. When he dragged me to the shore, my legs were so rubbery and cold I could hardly walk. Ernie followed me to the car. The puppy started whining as soon as I opened the car door and Ernie scooped him up and set him outside. It ran off into the brush. I sank into the passenger seat, still trying to catch my breath. Ernie leaned across me.
"What are you doing?"
"I'm turning on the fucking heater." He fished a denim jacket out of the back seat. "Here, stupid, get under that."
I curled up beneath it, but it was like trying to warm up under a piece of cardboard. At least the heater worked.
Ernie stalked around the beach, picking up my clothes. He brought them in a wadded up ball. He turned his face away the whole time he was near me. He perched himself on the hood of the car with his back to me. He said, "Hurry up. I want to go home."
Ernie had to be cold, sitting out there in wet clothes. He wasn't even drinking the booze; the bottle was in the driver's seat next to me, still about half full. He dropped his pack of cigarettes on the ground, cursing because they were wet.
I didn't know before how easy it was for me to be a grade-A asshole. Other people were probably born good. Not me. "Ernie, I'm sorry. C'mon, man. At least sit with me."
"Whatever."
But after a few minutes he got in the car. He popped the seats back and I put my bare feet on the dashboard, letting the warm air dry them. We sat like that a long time, listening to that Fabulosos tape. Until way after the puppy had come back to the car and fallen asleep again.
"That is the most sleepingest dog ever," I said. "Dog narcoleptic."
"Sal will buy him. Couple hundred bucks, easy," Ernie said. "I'll take him over there tomorrow night."
"Thanks."
"Ready to go?" he asked. He was still mad, but not that mad.
"Can we listen to something else?"
"I guess." He took out the box of tapes he kept stashed under the driver's seat. "What'dya wanna hear?"
I lifted myself across the bucket seats, and settled myself in his lap. He tensed a little bit, but he didn't say anything.
"What about this one?"
He shifted beneath me, so that I was leaning into him, cradled, my face against the hollow of his throat, his hand light on my hip. I felt his breath against my forehead.
"Yeah, okay."
It surprised me how, up close, he was so much bigger than me. I fit into the crook of the arm he'd set along the window, between me and the cold glass, and he could still stick the tape in the deck without even jostling me, no problem.
"Lulu," he said, frowning. "You know the lake's too cold."
"I wasn't in there that long," I said, and kissed him. It was clumsy, a fast peck on the side of his mouth, but that was all the green light Ernie needed.
That feeling when you're warming up, that feeling when you've been so cold your body is half-dead, and when it's finally coming back to life, the whole thing is buzzing like a million bees live inside your skin. You're trembling and chattering and it almost hurts to touch anything because you're still frozen stiff, only the inside of you is hot and molten, and that feeling is spreading to the rest of you, that's why everything is tingling, because, little by little, it's killing all the cold. That's the feeling I had when Ernie gathered me up and kissed me.
That feeling's so far away this morning. Eclipsed, something I left in the dark. Because the sun came up and I had to call my dad to tell him Grandma wasn't breathing.
He said it must have happened in her sleep. But I don't believe him. I can still smell the lake in my hair and I know that last night, under that same bit of sky, Grandma woke from a nightmare of me drowning and, quick as quick, bargained her silver cord for mine.