It's rare that we are inspired by a political figure, but this last week it happened.
It wasn't a particular policy proposal that moved us. It wasn't a passage of rhetoric—the use of language to persuade, exhort, and motivate—that caused the light to flick on within us and suddenly illuminate the landscape before our feet. It wasn't even the careful theatrics of dress and semiotics of association that seem to occupy the lion's share of effort in modern American presidential campaigns. What inspired us was a logo.
A logo says nothing and everything at once—a condition that all political speech seems to aspire to. It is weightless and homeless, and yet by wandering the world, it is ubiquitous. It is brazenly, self-consciously manipulative, using its artifice to try to push you into actions for its own benefit, while acknowledging that is exactly what it is doing, like a magician slowly demonstrating the steps in his sleight of hand routine and then still waiting for the gasp of awe.
With that said, here is the logo that inspired us: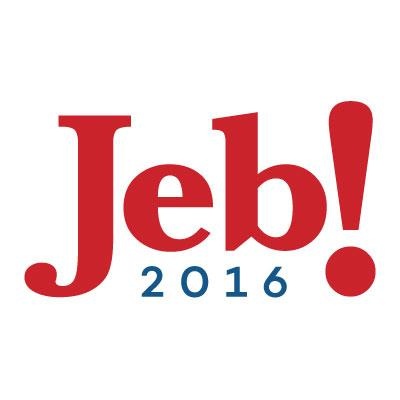 If you are like us, what will strike you first is the obvious charade of enthusiasm. The large exclamation point! The bright color! The logo is telling us it thinks we should be excited! In fact we really, really ought to be excited! In fact, anything less might just make us the kind of nonconformist undesirables who have no place in America! as led by right thinking men. Whether you can muster the right cheeriness in response is almost a citizenship test.
Next most obvious is the fact that it's only the candidate's first name. I call my wife by her first name. I call my friends by theirs. But a presidential candidate? And, in this case, it's a presidential candidate who was born into the old-line aristocracy, his head pre-fitted for busts and oil portraits. His family has been making the rules for our families for generations now. It's like he's trying to convince us he's a nice boss because he lets the help use his first name, and so wouldn't we like to sign on and join his staff? There's an opening for an industrious man or woman who knows how to polish silver chamber pots.
But there's more to this single name. What is his last name again? Remind us. Oh, yes, that's right! Isn't that last name associated with something from a few years ago? Is it just possible the logo wants to remove the mantle of war, death, and enmeshed crony capitalism, as if it were as easy as brushing a little dandruff off Jeb's shoulder?
This sprightly little logo tells us something important about how our country could drift from a semblance of representative democracy to a hearty oligarchy—which is in hushed silence. We imagine a statue with the Angels of Oligarchy carrying a sedan chair with a sleeping Democracy on top; the angels all are looking at us with their fingers to their lips. Hush. Hush. Don't wake her.
But that image wouldn't make a very good logo, would it? Too upsetting.
We bring this up not because we want to criticize Jeb! but because we want to criticize the whole process by which we stumble into selecting a new leader. We will soon see logos like this sprouting in front yards and street corners across the nation, as if they were the snowdrops of electoral spring. And each one is a little, deliberate, acknowledged lie. Each one is a little wink telling us that the disjuncture between what is said, what is talked about, and what actually matters will persist.
It's the lie spoken knowingly and heard knowingly and never treated as a lie but just allowed to keep talking and batting its eyes that angers us. Our whole electoral apparatus is premised on the idea that each vote counts, that there's a demos that needs to be reasoned and persuaded toward salubrious decisions, and yet here we have a conversation constructed of untruth and misdirection. We all see it but no one takes responsibility for it. The media reports on buffoonery because buffoonery is the news. What can they do? We all chuckle to each other, while standing in the backyard and flipping burgers, about what the people on the TV said. What else do we have to say? The campaign workers are just playing the game, trying to capture their slice of air time. No one can be identified as the father. Success has many proud fathers, successful idiocy has so many fathers that none can be blamed.
As we said, Jeb!'s logo inspired us, meaning that it prompted a new creation. In this case, our own logo. This is a logo for everyone watching the ridiculous electoral process, in its shambling sprint downhill toward that gulf we all know is waiting.
Yes, this is a logo for all of us. One that says exactly and completely what we think and feel about what's happened to our democracy. It also sums up everything we think about the 12+ months of electioneering we see in front of us. Like any good logo, it says nothing and everything.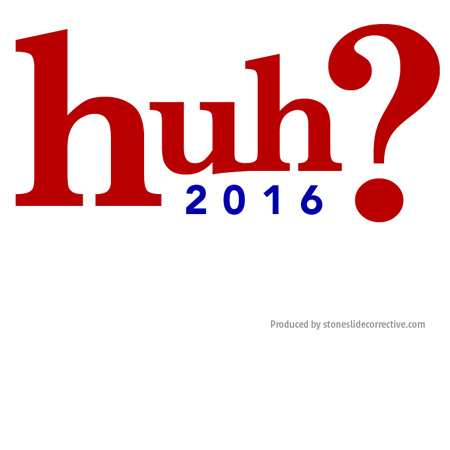 Note: As originally published, this story included an infelicitous reference to the trope of the Wandering Jew. After hearing from an astute reader, we decided that the reference caused more harm than good and removed it.