American education's new "MAGA Standards" provide teachers with goals and expectations so they can prepare students for the world of lost privacy, macro-economic bankruptcy, American whitening, feudalism, daily DEFCON 2 cell phone alerts, dark-web abortions, petroleum seeps, sea rise, and negotiating land grants on the Mars frontier.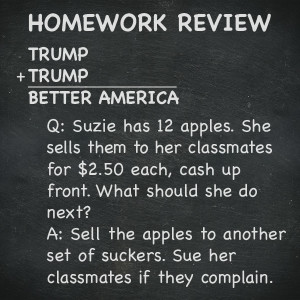 The standards establish goals and expectations for students, but they don't codify how teachers must teach—I mean, come on! This isn't a totalitarian regime! Plus, developing that portion of our plan would take real work.
After successfully privatizing the Department of Education, President Trump has tapped 10-year-old Barron Trump to pilot education in America. Who better than a young child actually in school, right?
While teachers are free to develop their own lesson plans, here are suggested activities and accompanying kits for professionals to use and adapt in their classrooms.
Power Words
Grades K-3
In this engaging hands-on activity, students connect letters with their related sounds to map out—on a crossword-style grid—the most important and effective words in the English language. Children will have fun creating and learning the only words that really matter!
Win/winning
Stupid
Weak
Loser
Moron
Bad
Huge
Zero
Rig/rigged
Nasty
Disgrace
Skittles
Hurt Others, Help Self (Mastering Game Theory)
Grades 5-12
Predicting what your opponents will do and shaping your strategy accordingly determine your success or failure in America. A little strategy can go a long way! So can a little deception! In this activity students set up two competing companies who make American flags. They agree to price-fix. Who will keep their promise agreement and who will break it to game their competition? Since every household in America is now required to own and fly the American flag, the market is huge! Playing cards and dice propel students' avatars around a board whose spots give players the chance to wiretap, for example, plant factory moles, use payola, and make outside agreements with Bangladeshi companies for cheap flags. Ideas are limited to students' imagination!
Design a Safe House
Grades K-5
Design and build a scale-model house using different radiation-resistant materials. Explore what's possible and how you can survive a nuclear attack in your very own ward. Covers the curriculum topics of architecture, engineering, and Apocalyptic planning.
Wanna-Be Rich
Grades 3-12
This activity helps students learn how to use money to buy things they can't afford! Go "shopping" using credit cards you never intend to pay off. Players pick and choose enticing items to display in the window of a scale-model department store, and then they buy, buy buy! ATVs, power boats, bottles of Dom, French nails, above-ground pools, puffy coats, lottery tickets, handbags, Timberlands, SUVs, Nikes. Course also teaches techniques for accessing payday lending, performing basic identity theft, and liberally using balance transfers to open new credit cards.
Note: Complementary "Turning the Indebted into Indentured Servants" lesson available for private schools.
Mathematical Dream Destroyer
Grades 6-12
Combine traditional Native American culture with STEM to take over and ruin Native American lands. In this fun classroom activity, students work in teams to read maps, build pipelines, drill oil wells and excavate land, while they simultaneously disturb sacred burial grounds and foul pristine waterways! Relies heavily on advanced geometry curriculum to establish corners, lines, and boundaries. Kit includes 30 game maps of fictional Indian lands.
Find Your Value in Society
Grades preK-1
This activity makes math fun for girls! Each player draws from a deck of cards showing illustrated women with corresponding hotness ratings (1 to 10). Players take turns trying to place their card correctly on a number-line game board, where only "zero" is showing. The farther to the right of zero the card belongs, the greater the woman's value in society! Honey-blonde, Eastern-bloc models in peep-toes are "greater than" brown-skinned, brown-eyed Walmart shoppers in slippas.
Teaches place value, comparing number values, and how to read and use a number line.
Black and White Don't Mix: Color Theory
Grades 3-12
There is a right way to arrange colors. In this hands-on painting-based activity, students place white on top, black at the bottom, and various shades of brown, yellow, and red in between. Rainbow colors are not permitted.
Overhearing Hovercraft
Grades 4-9
Sure students will learn the effects of weight, lift, thrust, and drag on air motion by building and flying these balloon-and-bottle-cap hovercrafts. But the real use of these building kits is to create a simple means for spying on and uncovering minority neighbors who haven't filed with the National Registry for Immigrants and the Marginalized. Grants for miniature cameras can be applied for separately.
Fracking Math
Grades 8-12
When does it stop making economic sense to snuffle up Earth's shale resources? Just about never! Students work in teams to set up fictional oil and gas companies. Then they use variables such as debt financing, costs per well, production per well, and U.S. benchmark crude oil prices to calculate the price at which "fracking" goes from profitable to unprofitable.
The math becomes more challenging as teams add rigs to their leases. The game includes chance cards that can drastically change the numbers. ("Better well design lowers production cost by 5%"; "OPEC fixes oil prices!"). But with the elimination of the EPA, it seems like fracking is always fruitful!
Gravity-Defying LGBTQs
Grades 6-12
Science is always at work—even during mob activity! Through collaboration and communication, students create 1:4 scaled versions of real-life lynchings. This hands-on activity encourages the use of moveable weights to explore what works to keep a victim spinning, still—even balancing head first! Covers the curriculum topics of stability, center of mass, and tension force. Each kit includes block and tackle; string; 3 each of ring, sphere, and bar magnets; plus a metal, bendable mini-figure with costumes.
Remembering Biodiversity
Grades 4-9
Once on Earth, many species depended on each other for food, shelter, and air. Measuring biodiversity was complicated. Now, lack of conservation and unsustainable use patterns have made measuring biodiversity simple! In this activity, students go back in time to graph and analyze the number of species living in a simulated historical ecosystem. Students then graph and analyze current ecosystems. How much simpler the job of the biogeographer has become!
Covers the curriculum topics of representing and interpreting data and graphing on a coordinate plane.
Hedgehog Hacking
Grades K-3
It's never too early for students to learn the vital skills of local, national, and international geopolitical hacking! In this activity, students lead their hedgehog token through other players' tunnel systems by stringing together colorful programming blocks to program the hedgehog's exact path. Clever use of cracking, doxing, packet sniffing, spamming, phishing, and even spear-phishing helps students infiltrate their neighbors' nest—and eat their young!