by Tia Creighton
Vanessa Stewart had been pushed to what she thought was her limit as a PTA president. Over her three years in the position, she had put up with a lot of nonsense.
The prior administration's treasurers didn't file taxes for two years, and the organization lost its 501(c)(3) status. Vanessa and her new treasurer had been fighting to re-establish the exemption all school-year long.
The traffic ladies stole prizes for the end-of-year carnival that parents dropped in the drop-off circle. So—door-to-door in a mere 36 hours—Vanessa and her Executive Board cajoled the local Dairy Queen, Burger King and Smithy Dog franchisees into donating meal-deal toys for the event.
The teachers complained because the PTA was forced to reduce the amount of money given for classroom supplies. As retribution, the teachers were refusing to place any PTA flyers in students' Thursday take-home folders.
Consistently all year long, the custodians had forgotten to unlock the library for PTA meetings. Several times, the PTA had to hold its meetings in the dark on the blacktop under the crossbeams of iPhone Flashlight® apps because the custodians had skipped out early and gone home for the night.
The PTA has an exclusive arrangement with a local coffee shop to decorate the shop's walls with student art. In the winter, the students' Van Gogh Starry Night art was taken down by a rival school's PTA and replaced with that school's 5th grade Audubon bird art series. Not only was the switcheroo nefarious, the art that went up was totally out of season. Calls and emails had been placed. All went unanswered.
The school office staff had been regularly stealing from the PTA. The office cashed checks made out to the PTA; stole the organization's yearbook cash, cash from school-play ticket sales, as well as cash from sweatshirt sales. There was denial all around, and the principal couldn't be bothered with the investigation.
Someone broke the lock on the PTA outdoor marquee letter-board sign; spelled out "Iff Yu Can Rede This Yu Mustof Gon Tu Scol Hear"; then replaced the lock with a boron alloy shackle that the custodians can't seem to cut off. The work order to the District Office to saw off the lock was approaching six weeks old.
Once while shopping for party supplies with the Events Chair, Vanessa was threatened by the Chair with a vanilla and mandarin orange scented pillar candle because Vanessa had questioned the woman's menu choices for the "Circle of Moms" fund-raiser.
But the drop that Vanessa felt would make her teacup of patience overflow came one spring day. The Communications Chair had taken a disliking to the PTA Vice President. Vanessa hadn't weighed in on the bickering, trusting the two could work out their differences in an adult fashion. Instead, the Communications Chair took an unforeseen tack. She turned to her Twitter account and began cyberbullying the Vice President, tweeting:
"Poor PTA Veep. She's a lifelong loser sans goals/ambitions/talent/hope/skills/friends/future. wikihow.com/Tie-a-Hangmans-Noose."
"Poor PTA Veep. She's an ill-bred, Nazi hag who can't pull off the fashion statement of the jackboot."
"Poor PTA Veep. She gives her husband $$ to visit whores, cuz even she knows she's ugly as a dead monkey."
Not only were these tweets wide-rangingly inappropriate, but this woman was the PTA's Communications Chair. She should have known better. Clearly, such marcomm was not in the interest of the Claude P. Sloan Elementary School PTA.
Vanessa was forced to sack the Communications Chair, stripping her of all her duties and changing the password to both the electronic newsletter and the PTA website. But the Communications Chair was a skilled IT professional, and so that very spring day, the ex-Comm Chair hacked into and took down the PTA website, leaving the following message: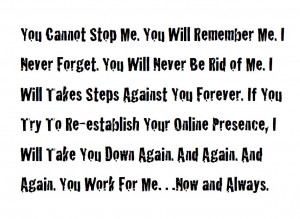 Vanessa had just gotten off the phone with her fuming Vice President, who'd discovered the security breach and was demanding legal action against the Ex-Comm Chair, when Vanessa's son came rambling in from school. As per usual, he said hi and headed to the kitchen for a snack. It was a Thursday, and that meant "take-home folders" couriered into the houses and apartments of each and every C.P. Sloan student. Her son handed her his folder on the way to the treat cupboard. Vanessa thumbed through it mindlessly.
She came across a poem in her son's folder. It was called "I Am." She read the poem, and as she got further along, her eyes began to fill with tears. It was her son writing about who he is, what he loves, what he fears, and what he wishes for. He had never written poetry before, and what he wrote was eloquent and revelatory. He had opened a window into his soul that allowed her to peer into his deepest worries, hopes, dreams and emotions.
Vanessa asked her son about his poem, and he said, "Oh that's our 'I Am' poem. Ms. Collette gave us the formula, and we filled in the blanks. See? 'I am,' and then we write in what we are. 'I am a boy who likes baseball.'
"'I wonder,' and then we write in what we wonder. 'I wonder how hard it is to play in the MLB.' Like that." He happily continued to munch his luau-style, barbecue chips standing at the counter.
Vanessa got a brainstorm. I, too, will write an "I Am" poem, she thought. I will turn to writing—as writers do—to make sense of my circumstances; to honor my emotions; to make a home for my pain; to make peace with life; to take a stand.
And so, that very spring day, Vanessa Stewart wrote her own "I Am" poem.
I Am a PTA President
by Vanessa Stewart
I am a PTA president.
I wonder why folks are so lame.
I hear people making watery excuses, and
I want to be less annoyed.
I am a PTA president.
I pretend that all will be fine.
I feel my scalp with the tips of my fingers.
I touch my lips with the backs of my fingers.
I worry that things won't get done, and I'll have to see everyones' commitments through.
I cry inwardly knowing there's no effing way these women are going to get anything done.
I am a PTA president.
I understand that people have flowery, 4-D brainstorms.
I say, "That's a great idea. Would you be willing to take that on?"
I dream they say, "Yes," and then run the event professionally and without drama.
I notice their lips purse tightly and their hands tuck under their crossed legs.
I try to be patient and smile through backstabbing and vain, over-budget missteps.
I hope I can cap my roiling resentment during this meeting because
I am a PTA president.
More on parenting:
Take Your Lazy-Ass Son to Work Day
Parents Use Big Data to Engage More Meaningfully with Children