An ongoing experiment in using the rhetoric of deception perfected in the resumé (aka, the CV) to reveal truth of the working life. Read the first installment.
• Kept colleagues regularly informed about my own superior credentials and experience.
• Maintained candy dish in reception area, keeping it at two-thirds level or higher over 92% of the time.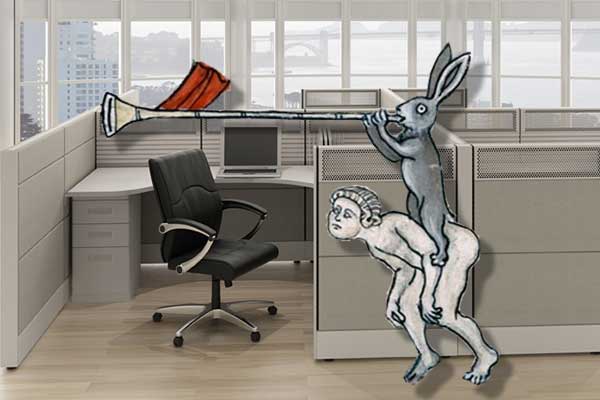 • Developed groundbreaking morale-building motivational slogan: "Go Fuck Yourself"
• Only badmouthed management to customers when it boosted revenues.
• Developed motivational techniques that raised team productivity, including sending emails in the middle of the night demanding immediate response and calling employees on vacation days to ask for reports.
• Strategic thinking: Utilized provision of marijuana-laced baked goods to ease tensions before potentially confrontational meetings.
• Was able to hide the fact that I did not fire twelve excellent employees and replace them with less-capable but cheaper ones.
• Twice promoted after encouraging wife to succumb to COO's advances at holiday party.
• My scathing observations about company were shared verbally, not online.
• Effectively delegated all labor to subordinates and thereby increased score on Farmville by more than 14,000%.
• Never even cracked a smile when fellow waitstaff spit in customers' food.
• Successfully reported more than 14 bathroom plumbing issues in six years, resulting in prompt clean up by property management company.
• Wrote and distributed under-radar newsletter called How Is the Company F*cking Us This Month?
• Twice commended by District Manager for having "a phenomenal rack."
• Assisted Vice President for Human Relations by producing regular reports on behavior of other line employees, including length and frequency of bathroom breaks, tendency to smoke outside designated areas, use of inappropriate language, and failure to maintain reasonable hygiene standards.
• Trained to become expert in use and management of office thermostat, successfully keeping environment at own preferred temperature, despite contrary requests and whining of coworkers.
• Certified in all forms of BS.
• Utilized entire travel per diem on Skittles and beer nuts.
More from Stoneslide on Work and Resumés
The dialogs and works of a middle manager
New Way of Calculating GDP Shows Economy Taking Off