I found out when I had the week off. What bothered me was how my wife introduced me to him while it was going on. So I called his wife and said, we gotta talk about your husband and my wife. She said, I don't believe you, Where's the proof? I told her, give me your address and I'll bring you the proof. She did. I drove over there, her husband answered the door, and I hit him. Broke his jaw. Broke his eye socket. I see his wife is twenty-nine weeks pregnant. The next day, knock-knock-knock, I hear a knock on my door and the police say, we have a warrant for your arrest and I said I know you do. I turned around with my hands behind my back. They put on the cuffs and said you know you broke his jaw, his eye socket? and I said yes. I told them what he did with my wife, and the police said I understand. I understand. And they loosened the cuffs. I had to pay five thousand dollars cash. No bail bond. I called my wife's sister's husband. He came right down with five thousand cash. Now, I have to wait for court. My hand is almost healed, you can still see on this knuckle, here. I love my wife. We have four kids. I think that if that man's wife, she is a school principal by the way at the Santa Rita School and he is a fucking substitute teacher, if she comes and knocks on my door and wants to beat the hell out of my wife, I'll let her.
A.E. Weisgerber
A.E. Weisgerber has recent/forthcoming work in SmokeLong Quarterly, The Collapsar, DIAGRAM, Structo Magazine, The Jellyfish Review, Entropy Magazine, and Shotgun Honey. She is a Best Small Fictions 2016 finalist. The Airgonaut recently nominated her story "How to Meet Marc Chagall" for Best of the Net. She is currently writing a series of features for The Alaska Star newspaper. She lives in New Jersey. http://anneweisgerber.com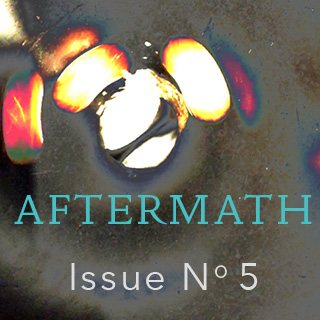 READ THE REST OF ISSUE NO. 5.
CONTENTS
Editor's Note
Aftermath Stories
Leave Your Drawings in this House
Fandanguillo
The Enormity