Today I bought canned food and stacked it in the garage. I filled up the water tank we usually take camping and rolled it in there too. Just in case. Last week, an earthquake struck the South Island of New Zealand, and it hasn't stopped wobbling since. I live on the North Island, in Auckland, where earthquakes don't tend to occur, but that doesn't mean they won't. Auckland is built on and around 53 dormant volcanoes. It sounds ridiculous to live here, 1.5 million people pretending the mountains we love to play on aren't looming threats.
On November 9, when the earthquakes were getting ready to rumble, my sister, Anna, arrived with her son. They live in Jackson Hole, a ski town in the American state of Wyoming. That night, as I refilled our wine glasses, Anna peered at her phone, refreshing an image showing the American states lighting up red and blue as the results came in. As the redness crept like a rash over her adopted country, she turned pale.
"This is happening, isn't it?"
"Surely not," I said, "maybe it will change."
That night, I stayed awake, staring at the ceiling. What did this mean? Was this the beginning of World War 3? Meanwhile, my two children slept soundly, with their cousin happily ensconced in a sleeping bag on the floor.
The next day, we moved my father into a rest home. After over twenty years with Parkinson's, he has stopped making sense. His dangerous and messy deeds have made it impossible to keep him at home, but even so, this has been a struggle to come to terms with, another layer on the dense cake of adulthood.
About two summers ago, I saw a man walking down the street in a suit. His face was bright red. The sun was blazing, hotter than it ever did when I was a child. Seeing him out there on the footpath, no shelter in sight, I felt panicked. I have noticed that people congregate under trees now. People do that in the Cook Islands, where it has always been hot. In the middle of the day, they rest together and laugh under the shade of trees. New Zealand is much further south, but in the middle of a spring day, it is becoming too hot to function.
I have become a vegetarian. Apparently that helps. I recycle soft plastics in a collection bin at the supermarket. I buy organic, despite the price. I choose products based on their packaging. I sign petitions. But I fear for my children's children.
Yesterday, I drove my sister to the airport and sent her back to the land of uncertainty. Today, I will visit my father and help him to remember what he is doing in that place. Then I will walk to pick up my children from school, with sun cream on my face and neck. And I will swallow back the panic.
Camille Khouri
Camille Khouri is a writer living in Auckland, New Zealand, with two little boys and a husband. She writes fiction and also works as a freelance journalist, writing about architecture and design.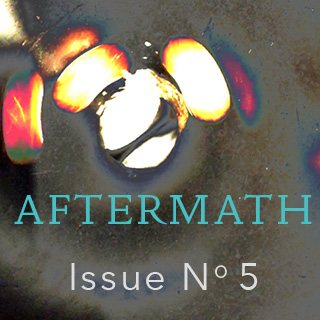 READ THE REST OF ISSUE NO. 5.
CONTENTS
Editor's Note
Aftermath Stories
Leave Your Drawings in this House
Fandanguillo
The Enormity