I watch the Canadian channel broadcast results of the US elections on my new iPod touch. Everywhere I step, folks stare wide-eyed into their devices, absorbed in their own imaginary US. Hold on, my device came from that country. Wait a minute, I thought… Well, that's weird, I wonder why they voted that way… I suspect others who stare into their devices think similar thoughts. Each person is surrounded, but alone. We are in a space between stories. Generation 6 users are fixed in spot, and loose, in thought, between things: these are the faces of people worrying and dreaming about their futures.
Patricia L. Morris
When people speak about their identity, some include a dry sense of humor. Me? An art school dropout and a Harvard grad, I have a damp sense of death. (I live in a rainforest.) I crave darkly comic fairy tales of our time. I read and write stories to quench this need.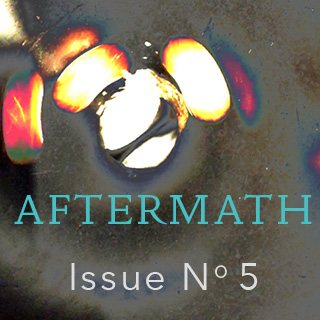 READ THE REST OF ISSUE NO. 5.
CONTENTS
Editor's Note
Aftermath Stories
Leave Your Drawings in this House
Fandanguillo
The Enormity