My feet carried me to Stonewall last week. It was a reminder of the fight that isn't over. As a queer woman, a Latina, daughter of a disabled parent, as someone with possible health issues of her own. No insurance. No current job. The depression that stagnates and holds and fosters its own roots. There is much to be terrified of in the days to come. And much else to focus upon.
I push it down. I don't allow tears to come. "It isn't over," the small voice in the back of my mind issues. I'm living in desperate financial circumstances, the dream and career I thought I would have begun in September having imploded. I knew it to be a risk, but I believed it would work out. My thirty-sixth birthday came and went. I am still scarred, healing from halted abuse whose effects simply don't melt away. Asked to change. I still let the words take shape now and then, but the uncertain times, the tightening of rights and freedoms to come, the opened gate on long-brewing hatred even before an inauguration makes me question if the time is right. If there will ever be a time (again?). I start to feel my age for the first real time, in the context of a closing window. The hushed desire that, if vocalized, would stab at the core of me, of us, would make it all seem more impossible. No, not now, not when there is little direction and too much desperation.
I want to trust, to settle in, to feel that the shift will come where the room to want again will fit. Where this longing for motherhood will not be accompanied by silencing my own voice, sending it to grieve for what's missing, bereft and afraid, filling in the hidden sore space around my heart. I fear. I love. I hope, regardless. I may be foolish. This era of what is to come may cost me this, and I don't know how to accept that. So I wont. I'll keep it here. Afraid, selfish, foolish. But hopeful. Still hushed. For now.
Christina González
Christina González is an empathetic, curious, bilingual writer who has written about video games, culture, food, and community. Always learning. Probably well caffeinated.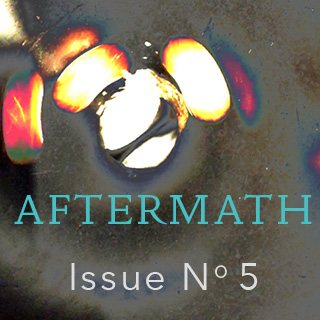 READ THE REST OF ISSUE NO. 5.
CONTENTS
Editor's Note
Aftermath Stories
Leave Your Drawings in this House
Fandanguillo
The Enormity